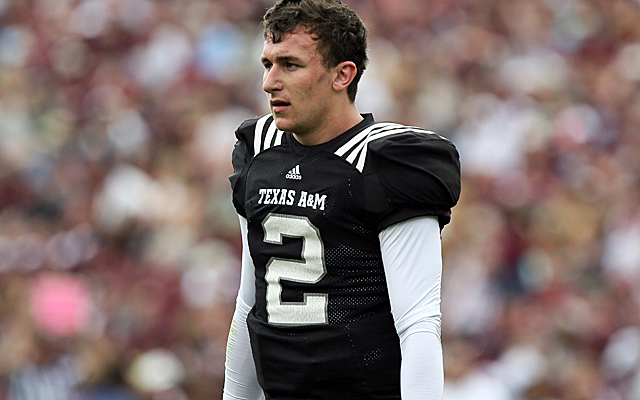 DESTIN, Fla. -- Kevin Sumlin's retorts fire faster than his hurry-up offense.
Reminded that SEC defensive coordinators haven't exactly spent the offseason at the beach in terms of scouting his Heisman Trophy winner, Texas A&M's coach shot back: "We've got a year's worth of film on them too."
Welcome to the Johnny Football Hangover. Consider this offseason some sort of morning after in the SEC. It's one thing for Johnny Manziel to win the league's third Heisman in four years. It's another for a redshirt freshman, an outsider, in his first year in the league to slice and dice his way to the award, setting the conference's total offense record. And then for Manziel to clinch the award basically by winning at Alabama, well, let's just reiterate the sand here at the Hilton Sandestin Beach had been totally devoid of coordinators.
(Full disclosure: Only head coaches are among those attending the SEC spring meetings but a scene-setter is a scene-setter.)
In a casual moment, A&M AD Eric Hyman was asked if Manziel can catch the league by surprise in 2013.
"Nope, nope, nope," said a man who not-so-fondly recalls being trucked by Archie Griffin, the only back-to-back Heisman winner, as a North Carolina defender. There's little tangible evidence that SEC D-coordinators are overtly riled, but more than pride is at stake. Those three Heismans in four years have been won against the best defenses in the country. But two of the three have been in the "family" -- Mark Ingram in 2009 and Cam Newton in 2010. Now here comes this 6-foot-something Tarkentonian kid out of nowhere tweaking the egos of Kirby Smart, John Chavis and Will Muschamp.
In order, those are the D-coordinators at Alabama and LSU and the defense-minded head coach at Florida. The Gators and Tigers were the only opponents to beat Manziel but it wasn't easy -- a pair of wins by a combined eight points.
"I think that they would recognize the advantages he has running the football," LSU's Les Miles said. "I think that sets up so much that they do. I'm talking about extended pass plays where he runs and throws or runs and runs."
Runs and runs? Chalk it up to Les being Les. LSU's coach hypothesized about his team's impact on Alabama the week before Bama faced A&M last season. Battered and bloodied in that 21-17 win at Baton Rouge on Nov. 3, Bama couldn't maintain the same level the next week against the Aggies.
"I suspect," Miles said, "that A&M came into Alabama and probably were just in the right spot [for A&M to pull the upset]."
Into this hangover, comes 27-year old A&M co-offensive coordinator and quarterbacks coach Jake Spavital. In his brief career, Spavital has helped coach Houston's Case Keenum (NCAA's all-time leading passer), Oklahoma State's Brandon Weeden (Cleveland Browns) and West Virginia's Geno Smith (second-round draft choice of the Jets).
Spavital is the youngest, freshest spawn of the nation's best offensive minds that includes Dana Holgorsen, Kliff Kingsbury and Sumlin. Before calling his first play Aug. 31 against Rice, he will have worked with all those coaches and quarterbacks listed above.
"The thing about this offense is Year 1 is kind of experimenting, learning about it," Spavital said. "Year Two is normally when they go off in the passing aspect."
Take note, if you're one of those coaches practicing beach avoidance.
Spavital knows no SEC defensive coordinators, calling himself a former "slappy GA." Self-deprecation and humor are probably a good thing at this point. If Manziel took the SEC (and country) by surprise last season, the next surprise could be a former quarterback and punter from Missouri State.
"No one thinks he's [Manziel] a pocket passer," Spavital said. "That's what we focused on in the spring. At the same time you don't want to handcuff him. He can add on to his game. He can complete more passes in the pocket. At the same time, he can make plays outside the pocket."
So motivated earlier this week, according to Spavital, Manziel "was pissed that he shot 73 on the golf course. I think he's got the mindset right now that he wants to prove a lot of people wrong and that last year was not a fluke." They speak with their game plans, these SEC coordinators. Florida held Manziel to a career low in his first career game (233 total yards).
"You don't give a starting first-time freshman all your game plan with College Gameday there and playing Florida the first game of the year," Sumlin said. "You have to figure what we can do, what he can do."
It went downhill from there -– or into the stratosphere depending on your view. The general vibe is those d coordinators aren't going to let it happen again. That would be some sort of '12 repeat by Manziel when he became the first SEC player to account for 5,000 total yards while leading the league in rushing.
More of a pocket passer? Defenses would love that. It's Manziel's spontaneity that made us fall in love -- and drove defenses crazy.
"I've seen him on the golf course. I've seen him play horse. I've seen him in ballgames down late," said George Whitfield, Manziel's personal quarterback tutor on this video. "I like watching his mind work. If he does come up against a slight incline ... it's almost as if you can feel him beginning to say something, he'll say 'I got it.' "
It is going to be a great show. SEC ego vs. Johnny Football's catch-me-if-you-can. The conference values its traditions and identity. Texas A&M is still that newcomer in Year Two. In the middle is Manziel who has not been spoiled by what looks like a life of privilege.
The offseason narrative coming out of College Station: Johnny Football is tough, too. Three weeks into the season we should know which way this is going to go. The season. The Heisman. The Hangover. Everything. Alabama comes to College Station on Sept. 14 with revenge -- not a repeat -- in mind.
"He's very motivated," Spavital said of his quarterback. "I was with him yesterday for a couple of hours. I was watching a little tape and he sat in. He has this whole perception that he's a running quarterback and can't duplicate it. When people say things, especially in today's social media world, there's always going to be a lot of [spit] talking."