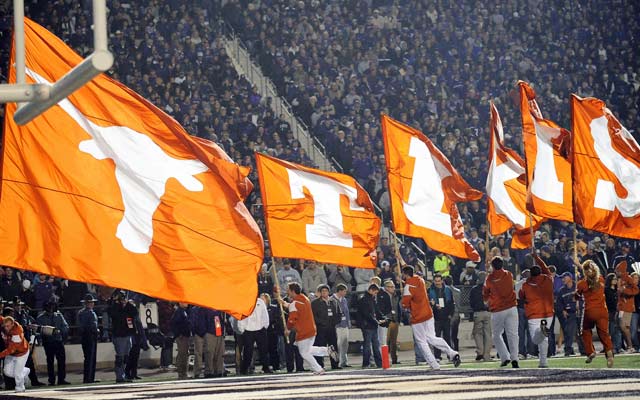 There is now clear and convincing evidence that a four-team playoff is a mere place-holder until the real -- and bigger -- fireworks begin. Turns out, all we had to do was ask about expansion to an eight-team playoff.
That was the message recently from three powerful college administrators who were at least intimating that the four-team playoff that hasn't even begun, won't last long. Texas AD DeLoss Dodds called a four-teamer a "baby step" last week at the Big 12 spring meetings, adding "I'm an eight-team person." Mountain West commissioner Craig Thompson said "everybody's following the script these days" for a four-team playoff. Thompson has long been on record supporting a 16-team playoff.
Michigan State AD Mark Hollis then told Sirius XM, "I'm not sure that four is the right answer," adding that the playoff debuting in 2014 is only a "short term" answer.
These men's opinions should not be ignored. Dodds oversees the largest budget in college athletics. Thompson is one of the 10 commissioners who devised the playoff itself. Hollis is an influential Big Ten AD, one of the most innovative in the country.
What in the name of Bill Hancock happened? We're still 14 months away from the first playoff season and there's already expansion talk.
Everything happened. The playoff structure is now out in the open in full view. We know how much a four-team playoff is worth. There is a realization of how easy it would be to expand to eight.
What these three power brokers are telling us: If four is good, eight is better. And it wouldn't be that difficult. Eight teams certainly would be fairer and less controversial.
"I think you're going to have more teams feel slighted [with four teams]," said Hollis, who folded in his experience on the basketball selection committee. "Exponentially the more teams there are, the more that feel they should have gotten in." An eight-team bracket would likely account for most of the best, something a four-team playoff can't do. That's why SEC commissioner Mike Slive argued stridently against conference champs only in a four-team structure.
Even when the commissioners decided to go to a playoff, they knew the argument merely fell lower -- from the discussion between No. 2 and No. 3, to No. 4 and No. 5. Using the BCS standings over the past five years, that ninth team making a case to get in would have been: Texas A&M (2012), South Carolina (2011), Michigan State (2010), Georgia Tech (2009) and Boise State (2008).
Of those five, only Georgia Tech and Boise State won their conference. Only Michigan State (11-1, regular season) and Boise State (12-0) had less than two losses. Of those five, only Georgia Tech played in a BCS bowl (as ACC champ).
That's less overall pressure on the process. That includes the increasingly difficult task of populating the selection committee.
"The ninth team is going to have a concern, but it's not like the fifth team," Dodds said last week.
Remember all that hand-wringing over impacting the regular season? In the era of conference championship games, league titles already have been devalued. Divisional play has seen to it. In leagues with conference championship games -- only the Big 12 won't have one by 2014 -- a conference's best team doesn't necessarily play in that league title game.
(See: Nebraska in 2001, Texas in 2008 and Alabama in 2011. Nebraska and Alabama won national championships despite not winning their divisions outright. While it's a debate whether Texas was better than Oklahoma in '08, the Horns did beat the Sooners head-to-head. Texas then lost out to Oklahoma in a three-team tiebreaker which kept the Horns out of the Big 12 title game and a possible BCS title game shot.)
The format for expansion of the bracket is already in place, something that didn't exist in the BCS era. Starting in 2014 there will be six games accommodating 12 teams in what has been drowsily named the College Football Playoff. Two of those games will be national semifinals. The other four are just ... games, the future equivalent of current BCS bowls.
Just make four of the six CFP games national quarterfinals, make the other two of them national semifinals, add another week of play and -- boom! -- we're there.
The managers of the playoff flame are saying all the right things about keeping it at four, but we've learned in this realignment era that nothing is forever.
As of this moment, the supposed barriers keeping us from an eight-team playoff have fallen before a four-teamer has started.
Why those barriers have fallen ...
The sanctity of the regular season isn't so sacred after all: We've already told you about how divisional play has stolen some drama from the regular season. The game has survived, even thrived. Now think of Ohio State and Michigan being locks for an eight-team playoff as they meet in late November. How would that steal the hype one bit from "The Game"?
One concern in that scenario is teams resting players. Maybe, but this is college where the rivalries are so much larger than those in the NFL. They're so much larger than the coaches and players themselves. I can't envision Urban Meyer resting Braxton Miller against Michigan because he has a playoff berth sewed up, can you?
An already record-setting length of season: Once again, please. When the playoff dates for the next 12 years were revealed on Jan. 7, we knew that the longest seasons in college football history were on the horizon. In other words, that seal has been broken. What's another week to accommodate quarterfinals? Either back up to Christmas or extend the season further into January? And if either of those seem impossible, just start the season a week earlier in August.
For years we were told that a playoff couldn't happen because it would impact finals. The presidents didn't want it. Blah, blah, blah. And then it happened. The BCS honchos have proven over the last 18 months that they can do anything they want.
It's becoming harder to believe these guys when they say, "Can't, can't, can't," then end up telling us they can.
The so-called negative impact on bowls: I knew this was a bogus excuse the moment Larry Jones stepped to the podium in April. The Fox Sports COO made a blatant plea to bowl executives that Fox would like to have their games.
Interest creates competition. Competition creates a bidding process for content. And content is king. There's a reason ESPN either broadcasts or owns (or both) 33 of the 35 bowls. Bowls draw ratings and advertisers because people want to watch. Unless viewer habits change overnight, an eight-team playoff doesn't suddenly make those secondary bowls less interesting.
If those games weren't watchable, there wouldn't be 35 bowls and competition from other networks to televise them. With an eight-team playoff, they become a heck of an appetizer.
Are we ahead of ourselves? Absolutely. Do eight teams make total sense before four teams even kick off? Absolutely.
All we had to do was ask.