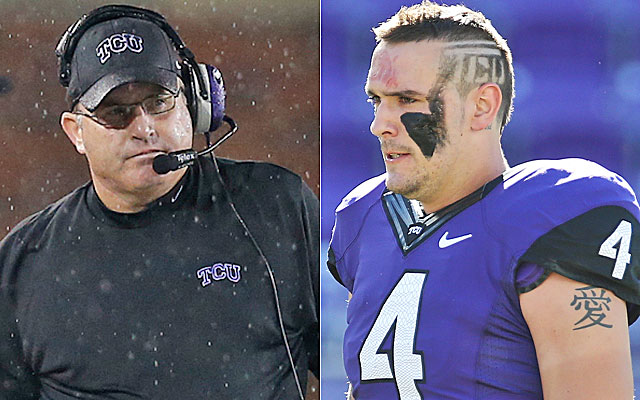 Casey Pachall is back -- with an entourage of sorts.
"He still has two or three sponsors through AA [Alcoholics Anonymous] that he meets with every week," TCU coach Gary Patterson said of his fallen quarterback. "He's got a lot of people trying to help him."
Casey Pachall is back -- with an untold story. The redshirt senior hasn't spoken publicly since being suspended indefinitely following an October drunk driving arrest. That came after the quarterback said he had once failed a drug test and told police he had used marijuana, cocaine and ecstasy.
Casey Pachall is back, but did Patterson expect to have him back?
"I didn't know," the coach said. "I put it in his hands. The biggest thing was to give him hope and understanding."
Patterson, entering his 13th season as TCU's head coach, has learned more about abuse, recovery and illegal substances than he probably ever wanted to know. Going back to February 2012, managing the influence of drugs, alcohol and recovery have been a big part of his job. That month four players were kicked off the team in the wake of a campus-wide drug bust.
A police report obtained by media revealed Pachall admitted to taking those substances. The only result, then, was embarrassment. The quarterback found himself apologizing for "mistakes." That was last August. He did not take questions from the media.
"One thing I've liked is that he's been honest," Patterson said in August. "His dad is a retired highway patrolman. One thing he's always been told to do is to be honest."
Then the quarterback, a team leader, son of a highway patrolman, was arrested for DWI in early October. The Horned Frogs were 4-0 at the time. They ended 7-6.
Casey Pachall is back and in a lot of ways is college football's new Honey Badger -- a lightning rod figure, talented, flawed and recovering. Both Pachall and Tyrann Mathieu have been suspended. Both have been given second chances.
On paper, Pachall is listed as co-No. 1 with redshirt sophomore Trevone Boykin after spring practice. Off the field, he was given a strict set of requirements to get back on the field.
"I think it turns out to be a great story," Patterson said. "Most of the things I've heard around the country, some people don't deserve extra strikes. The easiest thing for me would have been to suspend him for a couple of games because you're worried about wins and losses or just kicked him out of the program. I didn't think either one of those was the best answer for the kid.
"I've told people when he came back from rehab, he was like the kid who came out as a freshman -- the color back in his face, the way he spoke."
That's about as much as we know about Pachall post-rehab. A compelling case can be made that he never should have been allowed back. But Patterson does have a track record regarding the subject. He acted immediately in dumping those four players, including talented linebacker Tanner Brock, Pachall's roommate at the time. All-Big 12 defensive end Devonte Fields has been suspended for the first two games of 2013 for an undisclosed violation.
TCU football still fulfills its academic mission. Almost 100 percent of the 2011 seniors graduated. Last year's roster was populated with a handful of graduate students. Pachall himself is on track to graduate in December. TCU was the only Top 25 school devoid of any players with criminal records in a 2011 CBS News/Sports Illustrated story. Only TCU and Oklahoma were found to do background checks on recruits.
As one of the nation's highest-paid coaches, life has been good aside from those off-field concerns. Patterson has stayed loyal to the school and job. He has willed the program to the Big 12 by staying loyal and staying, period -- 15 years since arriving as defensive coordinator -- with no departure in sight. He and his wife Kelsey moved into a newly built home near campus on April 1.
None of us have been invited yet, but it is said the view is the best in Fort Worth.
"Most people tell you building a house is right up there with three or four things that cause divorce," the coach said. "It was my happy place."
Twice since 2004, Patterson said he has ordered team-wide drug tests. Nine years ago, "pretty much, it was a check off," he said. "Why didn't we play well this season?" That team finished 5-6 after going 11-2 in 2003.
On Feb. 1, 2012 he called for a team-wide test after a recruit relayed concerns about drug use at TCU. A few days later, law enforcement officials conducted their raid.
"It didn't take the thing in February to make me figure that out," Patterson said. "I've been fighting this. It's not an athletic problem, it's a world problem. You're trying to fight it, trying to do the right thing. Right, wrong, it's against the law.
"It's like the ocean, about every four or five years the ocean turns itself over and cleanses itself. I think programs are about the same. I tell people all the time that success is harder to deal with than failure."
The Rozel, Kan. native then trotted out one of his favorite analogies -- comparing good times to Kansas weather.
"I told my staff after the [2011] Rose Bowl, 'I don't know how many of you grew up in the Midwest.' The Rose Bowl is like an 85-degree day in January in Kansas. The worst storm in life is coming -- sleet, snow. You watch people that have had success in programs," Patterson said.
"It's taken us a year and a half, two seasons to work through all that stuff."
In the case of substance abuse, it's a day-by-day, hour-by-hour thing. The experts tell us that alcoholics are never "cured." They maintain their sobriety. Such is a similar case with TCU football this season. It is trying to maintain its status as a Top 25 program.
Patterson knows he has some of the best quarterback depth in the country. Boykin had two days' notice he was starting when Pachall was arrested. No biggie. Boykin had been moved to running back that week. Playing in 12 games, starting nine, he threw 15 touchdowns and was the team's No. 3 rusher.
Pachall is 15-2 as a starter, the nation's active career leader in pass efficiency. The battle resumes in August for the starter's job. It's the kind of battle Patterson never anticipated last October when the cops pulled over his starting quarterback. His team was undefeated. His quarterback was in the top 10 of NCAA statistics.
His new house was going up. The view was great, the future limitless.
"I want to make sure we keep that chip on our shoulder," Patterson said. "Coaches have windows. I'm realistic to know my time is not going to be forever at TCU. I'm fortunate going on my 16 seasons. If I can stay somewhere between eight and 10 more seasons, [that means] you stay somewhere 25 years. I'm a lucky sucker."
A lucky sucker who has to face LSU in the opener with 12 scholarship seniors on the roster. For now, Pachall is one of them.
"We're already," said the constantly fretting coach, "six-point underdogs."