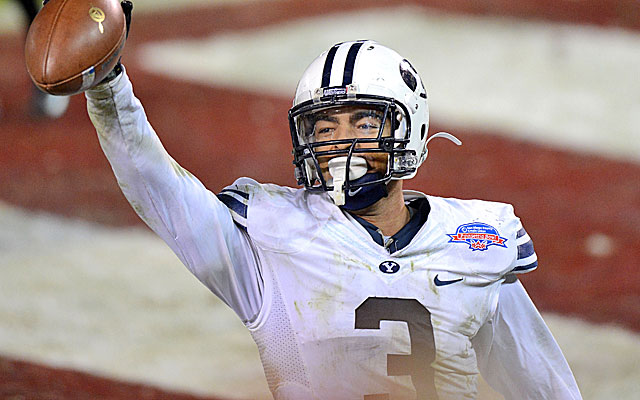 PROVO, Utah -- Somewhere at the intersection of Mormon, Manti Te'o and finding a man in full, there is an enigmatic football presence on this verdant Brigham Young campus looking for life's right of way.
Or maybe it's just the right way. Figure out Kyle Van Noy and you've figured out the antithesis of the typical stud 22-year old linebacker roaming campus in his final season.
Tradition, finances and common sense dictate that the senior should have taken that NFL brass ring months ago. Coming off one of the great individual defensive bowl performances in history, the second-team All-American (CBSSports.com) was certainly qualified.
Van Noy didn't need to come back to all this -- risking injury, draft slide and the obvious temptations on this campus that go along with being a preseason All-American.
"Let's say a beautiful young woman comes on to him," BYU coach Bronco Mendenhall said. "He has a moment of weakness -- like presidents do, or anybody. His career here is over."
Specifically, Van Noy didn't need come back to deal with the BYU honor code that dictates no tobacco, no alcohol and no premarital sex for students.
Mendenhall was more than candid when he said, "Things that are not criminal elsewhere, he's putting that at risk with higher status and exposure and scrutiny. Even if he chose to be at a place where there was alcohol [being served], even by being there that's against the honor code."
And you thought Johnny Football had it tough having to take online classes?
To be fair, those strictures are famously and historically embraced here. The code is the foundation of this place. Ninety-eight percent of BYU's students are LDS, members of the Church of Jesus Christ of Latter Day Saints. On the football team that number is 90 percent.
But Mendenhall says he believes his star is "drawn more" to that minority even though Van Noy, a Reno, Nev., native, is LDS himself and presumably never had an honor code violation.
"I think it's because he can relate to the choice and challenges that they have. I also think at times he doesn't think he measures up to the true LDS. I think he finds himself in between."
In the middle of an intersection, you might say.
Van Noy is back for his senior season not so much risking it all but testing himself -- again. He wants to be in this position. BYU football is the final crucible before a BYU linebacker becomes a BYU man.
"I think he came back because he didn't think his work at BYU was done," outside linebackers coach Kelly Poppinga said. "I think he felt like he needed BYU for one more year, to help him out in life."
Heck, four years ago all he did was get dinged for a DUI a few days before signing day. Serious stuff for sure but a mere speed bump at other schools for such a highly-recruited athlete. At BYU that was a deal-breaker.
Then, Van Noy, did the unthinkable. With secular safety nets from all over the country begging him to sign with them right away, he stayed with his BYU commitment.
Actually he stayed away from BYU, delaying college for an additional year, getting the DUI expunged from his record, proving to church elders that he was worthy. In the process, Van Noy spent a year off staying true to himself.
"No one is perfect," Van Noy said this week. "I don't like it when people have the perception that Mormons are perfect or they have that thing that all of them are holy-type people. We're like everybody else, we just believe in something different."
Kyle Van Noy is the best star player you don't know this coming season. Has to be. The kid doesn't know himself quite yet. That smile as big as the Wasatch Range fronts a talent that compares favorably with South Carolina's Jadeveon Clowney, at least statistically.
Van Noy comes back as the nation's career active leader in sacks. The pair tied for third nationally in sacks last season. Van Noy was tied for second nationally in forced fumbles and No. 3 in forced fumbles, two behind Clowney.
Different players, different positions, different perceptions. Just don't ask the average SEC bubba to accept that they are, on some level, comparable.
"Clowney is a more physical player, probably a little more developed than Kyle," said BYU outside linebackers coach Kelly Poppinga. "But I think Kyle's more athletic than Clowney, probably moves better in space than Clowney, probably could play more positions in the NFL than Clowney can."
The Gamecocks' star is the projected 2014 No. 1 pick, the one with the magazine covers, the legitimate Heisman run, the signature play. The highlight loop of Clowney blowing up Michigan's Vincent Smith should be on permanent display in the College Football Hall of Fame.
Out here, west of the Rockies, the lights are slightly dimmer. BYU remains somewhat of a college football outlier, in the third year of independence still trying to figure out what it all means. If BCS bowl access seems limited in the last year of the Bowl Championship Series, it is practically nonexistent in the playoff era that debuts in 2014.
"We have to be undefeated, and that might not get us to the national championship," Mendenhall admitted. "We might have to do it twice to get access to the game."
So anything Van Noy can contribute to the still-beating BYU aura helps the cause. He found himself on Wednesday's BYU media day ruminating on everything from his defensive potential to his defense of Marissa Powell. The two once dated. She's the Miss Utah who, um, recently upchucked her answer at the Miss USA contest.
"You know that she's smarter than smart and to see her fumble like that on the national stage was hard," Van Noy said.
As mentioned, the linebacker didn't exactly fumble himself on the national stage with that DUI. It certainly didn't deter others -- UCLA, Washington, Nebraska and LSU are listed as some of the more notable recruiters.
"He had several schools calling him and telling him, 'Come right away and you can play, no consequence'," said Kelly Van Noy, his mother. "But he's been raised there are consequences and you own it."
Van Noy was reminded that there have been consensus All-Americans who have been fallen by the wayside morally, even been arrested, on their way to greatness. It does not soothe him much. During that wayfaring 2009, he was angry -- at himself, at the world, at the time for blowing his big chance.
He wandered -- to the Pacific Northwest at the request of former teammate Jake Heaps -- to work a football camp. Van Noy took a few college classes locally to get him ready for BYU.
Even today, he admits to having few close friends.
"A lot of people [in Reno] criticized me," Van Noy said. "They haven't had, I guess, someone who was highly recruited come out of high school in a long time."
In the present, Van Noy had to change his cell phone number twice to keep pesky agents from contacting him. He prefers being a homebody.
"If you think about the college life, and how he's living it, it's a whole different experience from the typical fraternity, sorority, weekend college football party," Mendenhall said. "That's not his life."
Perhaps the best comparison is to Te'o. Van Noy is this year's version -- without the fake-girlfriend baggage. He is one of the nation's best defensive players at a religious flagship. Soft-spoken, admired, a leader.
They are more than friends, texting frequently, having met on a BYU recruiting visit. The difference being, Te'o was that catfish out of water, a Mormon at a Catholic institution. Their LDS interests may have diverged. A source said it became clear that Te'o wasn't coming to BYU for the same reasons Van Noy embraced the school -- the honor code and all it stands for.
"Kyle," the source said, "still wants this."
Much of his story will be detailed in the upcoming book, The System , by Jeff Benedict and CBS's Armen Keteyian. Both Van Noy and Mendenhall are practically glowing with anticipation of a section of the book portraying BYU.
Benedict, an accomplished author, already has profiled Van Noy's best bud Ziggy Ansah. Mendenhall doesn't know for sure but speculates the book relates to what he calls "the line of behavior" that schools are willing to cross to be successful.
"They're linking that with Kyle and myself where 70 percent of the team are returned missionaries," the coach said, "these standards and these codes and this almost fairy-tale existence."
One of Van Noy's closest relationships is with Mendenhall, whom he lovingly called "Bishop" during the recruiting process. That is an LDS church title.
"Bishop," Mendenhall remembers the recruit saying, "I want to play for you."
"What he was really meaning by that, is he wanted the stability and moralized structure that I think he wanted and needed in his life. When he told me that he intended to still come to BYU I said, 'That's not just up to you and I.'
With an unresolved legal issue, Van Noy couldn't be admitted right away, Mendenhall said. Six months later, before the season? Maybe depending on church evaluation and his dedication. With a legal issue unknown to church leaders, well, that's another issue but at BYU they don't take such chances.
"He and I both would have known," Mendenhall said. "You can't reach your true potential when you're carrying things like that."
Instead, Van Noy wrote a letter of apology to the coach, vowed to work his way back into the church's good graces and sign in 2010.
"When he said he wanted to do that, I was humbled," Mendenhall said. "I knew there was a substance to him."
But what the coach saw for a couple of years troubled him. Mendenhall called Van Noy a "slow blinker" for his perceived 50-50 stance on, well, caring at all on the practice field.
"You want to get the crash cart," he said of those types of players, "and jolt them into doing something."
"I was mad at him for most of his first two years because I didn't think he tried or practiced very hard, but he would always make plays. We didn't start him because we didn't think he was working hard enough.
"There was a separation there. He was able to turn it on and off. That took a while to figure out for me."
The ultimate turning point may not have come until last season. The nation's No. 3 defense had become so dominant that the staff decided to challenge it with what amounted to a series of war games. "Special conflict plays," Mendenhall called them.
On film, players studied four opponents who had similar concepts to that week's foe. The staff then recreated a situation in practice that would test Van Noy and the D.
"He played the play perfectly," Mendenhall said. "He came back laughing and under his breath he said to me ... 'Third quarter, 8:58 left on the clock, Nevada vs. Hawaii.' Not only the game but the play and quarter."
The obvious comparison for Mendenhall is Brian Urlacher. Both linebackers. Both driven by some unseen force. Urlacher, though, was a lightly-recruited prospect for Mendenhall, at the time New Mexico's defensive coordinator under Rocky Long.
"Underneath Kyle there is this strong self-esteem," Mendenhall said. "Urlacher was similar in that he viewed himself as a walk-on with only one scholarship offer and he improved late. They both had something to prove."
On the night Van Noy destroyed San Diego State six months ago, though, there was little left to prove.
"I was walking down the stairs from the press box with [former assistant Lance Reynolds] after the game," Poppinga said. "We just looked at each other and said, 'He's gone. There's no way he's coming back.' "
That's exactly what Van Noy told Poppinga a few days later in a succinct phone call. The coach wished him luck and mentally moved on. Who could blame Van Noy? His Poinsettia Bowl performance was one for the ages -- 3 1/2 tackles for loss, 1 1/2 sacks, a blocked punt and two touchdowns -– one on an interception return, another on a strip-and-score fumble recovery.
"Dominant," Poppinga said. "In my five years of coaching I've never seen that. In all my years of playing I've really never seen a defensive player take over a game like that."
Van Noy, a punishing 6-foot-3, 245-pound combination of instinct, smoothness and speed, had put a nice bow on what seemed to be a final, complete three-year package. BYU says over the last two seasons, he is the only FBS player to fill these defensive categories: tackles, tackles for loss, interceptions, pass break ups, quarterback hurries, fumble recoveries, forced fumbles, blocked kicks and touchdowns.
Draft projections had him in the top two rounds. If Van Noy killed it at the combine and at the Senior Bowl, who knew how high he could go?
Then "gone" changed to "gonna come back" a couple of days later.
"It was just a moment that you have, and I had one," Van Noy said. "The best thing for me was to stay."
Former Cougar basketball star Brandon Davies is a good friend. Davies is probably best remembered for being kicked off the team in 2011 after admitting he had sex with his girlfriend.
Davies, eventually readmitted, came back. So did Van Noy after turning down a different lure, that life-changing NFL.
As a Cougar, he has proven himself as a player. As a Mormon and a man, there is that internal hurdle, a conflict perhaps, that intersection, that right of way. Or maybe it should be called the right way.
Kyle Van Noy now wants to prove something to himself.
"I hope," Kelly Van Noy said, "Kyle's story doesn't end with his decision before college."