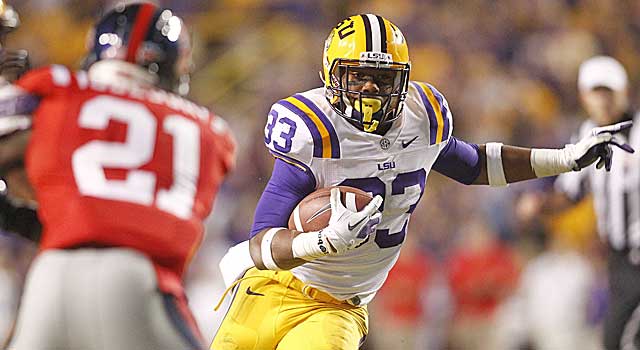 Jeremy Hill is a violent predator. He's a repeat offender. And he's on the football team at LSU.
Why is Hill a violent predator, with multiple convictions at age 20? Because something's wrong with him.
Why is he still on the football team at LSU? Because something's wrong with LSU.
Hill doesn't belong at Tiger Stadium being celebrated by 92,542 LSU fans, but if the courts in Louisiana won't lock him away, far be it from LSU coach Les Miles to keep him away. Miles earns $4.3 million a year to win football games, so he's not into doing the right thing. He's into doing the winning thing -- and Jeremy Hill helps him win. Hill is a great running back but a scary guy, viciously indiscriminant, guilty of preying sexually on a girl and preying violently on a young man.
In January 2012 Hill pleaded guilty to having "carnal knowledge" of an underage girl. The crime happened when Hill was a high school senior in Baton Rouge, a 6-foot-1, 220-pound football star, a man of 18.
She was 14.
Baton Rouge police said Hill pressured her into a sex act -- and Hill wasn't alone. Another 18-year-old, Avery Tate II, was with him when police said they pressured the girl into performing oral sex on them in the Redemptorist High locker room.
Les Miles gave him a scholarship -- Hill was a four-star recruit -- and then gave him the football. Miles doesn't care what kind of person Jeremy Hill is, any more than Urban Meyer cared what kind of people were representing the University of Florida when he was winning national championships there. Miles is like Meyer (and too many other coaches) in that he wants to win, and he'll play who he has to play to do it. How many drug tests did former Heisman finalist Tyrann Mathieu say he failed before LSU kicked him out of school? Ten?
Les Miles doesn't care how bad you are. He cares only how good you are.
And so Jeremy Hill played for LSU last season. He ran for 755 yards and 12 touchdowns as a true freshman -- with 684 yards and 10 touchdowns coming in the final seven games.
In April, he attacked Connor Baldridge.
Hill pleaded guilty Friday to misdemeanor simple battery, a legal term that doesn't do justice to what happened April 27 outside a bar in Baton Rouge, La., when Jeremy Hill -- wearing a purple shirt with "LSU" in big, gold letters across the chest -- approached the 20-year-old Baldridge from behind and launched a leaping sucker-punch into his face.
But Hill is more than a predator. He's also a coward, a follower -- or worse, a "leader" -- who doesn't do his despicable acts alone. Just like that day in the Redemptorist High locker room, Hill had a friend with him the night of April 27. The friend, Robert Bayardo, followed Hill's sucker-punch with one of his own, hitting Baldridge in the back of the head and knocking him briefly unconscious.
Hill and Bayardo celebrated by laughing and high-fiving.
Someone caught the attack on video. Watch it for yourself.
When Hill was charged in April, Miles -- or someone above him -- suspended Hill indefinitely, meaning he will miss the games LSU doesn't play in April. No games in May, June or July, either.
After pleading guilty to a predatory attack for the second time in 15 months, Hill was given a six-month suspended jail sentence and two years of probation. He has to report weekly to a probation officer. He has a nightly curfew. All of that happened Friday, and not a word could be heard from Miles, just empty blather from an LSU spokesman: "Jeremy Hill remains indefinitely suspended from the football team and Coach Miles will not comment any further until the legal process surrounding this matter is completed."
Ah.
So Miles is waiting for Aug. 16, when a court in East Baton Rouge Parish will review his 2012 guilty plea from the incident with the girl -- when he received probation -- and determine if his guilty plea Friday violated the conditions of that probation. Which it damn well better have.
But this being Louisiana, and Jeremy Hill being a football star, who knows?
Neither Hill nor his friend, Tate, received jail time for the two-on-one incident with the 14-year-old girl. Neither Hill nor his friend, Bayardo, received jail time for the two-on-one attack of Baldridge. And that curfew Hill received for the assault of Baldridge? District Judge Mike Erwin, a 1976 graduate of LSU, carved out an exception for LSU-related football activities. When the Tigers have night games at Death Valley, the honorable judge wants Jeremy Hill to be available.
Sickening, really, which is why my hope for Hill's court appearance Aug. 16 before District Judge Bonnie Jackson -- a 1978 graduate of the LSU law school, and a 2012 recipient of the Distinguished Alumni Achievement Award -- is so laughable. My hope is for Jeremy Hill to show up for court, expecting the judge to do what LSU judges and LSU football coaches have always done and tell him it's OK, only to be sent directly to jail. Do not pass go, do not play in 2013 for LSU, do not do a damn thing, you vicious predator, but sit your ass in prison while the world goes on without you.
I'm a little bit angry, can you tell? I'm angry most of all at Jeremy Hill for being the worst kind of predator -- using his size (he's now 235 pounds) and stature to do as he pleases. He did as he pleased to that 14-year-old girl, and he did as he pleased to Connor Baldridge. They were props, objects to be used. And he was Jeremy Hill, you know?
I'm angry at the Louisiana court system, where judges with LSU diplomas keep giving breaks to a gifted running back needed by LSU. That judge who will review Hill's probation on Aug. 16, the honorable Bonnie Jackson? She's the one who didn't send him to jail in 2012 for the locker room incident at Redemptorist High School, when he was one of LSU's top recruits.
I'm angry at LSU, too. What are you waiting for, Les Miles? There's a monster in your midst, and he's still on your football team. Miles could fix this whole thing on Thursday when he meets the SEC media in Hoover, Ala., and announces that Jeremy Hill will never play for LSU again.
But it's like that LSU spokesman said Friday, after Hill pleaded guilty:
Coach Miles will not comment any further until the legal process surrounding this matter is completed.
Miles is waiting for Aug. 16. He's hoping the judge, the distinguished alumna from LSU, doesn't send Hill to prison. He's willing to let this wonderful football player, this rotten human being, represent LSU.
Geaux, Tigers.