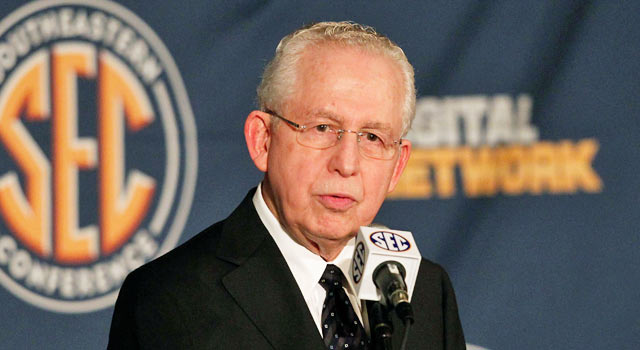 HOOVER, Ala. -- Commissioner Mike Slive enjoys making his yearly remarks to open the SEC's football media days.
It is an opportunity for him to take a few minutes to brag about the conference. And with seven consecutive BCS championships in football and a slew of national titles in other sports, Slive has reason to be proud.
But Slive also uses this annual opportunity to push for the things are important to him. And on Tuesday, with more than 1,000 media members present, the 73-year-old former judge threw down a subtle, but effective, gauntlet in front to the National College Athletic Association.
His message to the NCAA? It's time for you to lead and bring about the change that is needed in college athletics. If not, it's probably time for the conferences to step in and make the changes on their own.
At these meetings two years ago Slive called for a number of changes, particularly an adjustment in the value of an athletic scholarship to cover the full cost of attendance. That is a dollar figure established for each school that goes beyond the scholarship -- which includes room, books, board, and tuition -- to provide a stipend that covers the inevitable incidental expenses all college students incur.
Like most good ideas that go into the maddening abyss that is the cumbersome NCAA governance structure, this one has basically gone nowhere. You could hear the frustration in Slive's voice.
"The NCAA has not been successful in meeting the full cost of attendance of our student athletes, whether through the so-called miscellaneous expense allowance or some other model that provides broad access to additional funds," said Slive, about to begin his 12th year as commissioner.
The issue, in a nutshell, is that some schools can afford to pay the stipend and some can't. Those that can't are able to keep the idea bottled up. Those that can, like schools in the SEC, are getting tired of it.
"Conferences and their member institutions must be allowed to meet the needs of their student-athletes," Slive said.
And then he said this: "In recent conversations with my commissioner colleagues, there appears to be a willingness to support a meaningful solution to this important change."
Translation: All of the schools playing big boy football are on this train and it is getting ready to leave the station. We would like for the NCAA to be on board. But if we have to, we will leave without you.
Slive also expressed concern that the NCAA has been unable to "hit the reset button" on recruiting regulations. The NCAA put together a modest proposal that would have eliminated some 25 pages in the rule book that included ridiculous regulations such as limiting text messages, etc. Even those minor changes could not get passed.
"While progress has been made, the efforts at sweeping reform fell short of our desired goal of resetting the approach [on recruiting]," said Slive. "In some areas we remain bound by what has been the way we've always done it rather than being motivated to see a better way to achieve the new result."
Now he was on a roll.
"The current regulatory approach would be more a home in the era of Johannes Gutenberg's [when's the last time you heard a Gutenberg reference on football media days?] printing press than in our fast-paced, technology-driven society and will no longer serve to functionally govern recruiting behaviors moving forward.
"As Albert Einstein once said: 'We can't solve problems by using the same kind of thinking we used when we created them.' "
Slive said he has also written to NCAA president Mark Emmert asking the governing body to "lead, organize, and spearhead" an effort to deal with the issue of concussions in college football.
"The point here is that the issue of concussions is not limited to one conference or one region," Slive said. "It is incumbent that the NCAA provide the leadership as outlined in the letter while each of us in our conferences contribute to the research and the development of best practices."
Translation: The NCAA needs to step up on this and a bunch of other issues.
"In order to deal with these issues in an effective way, intercollegiate athletics requires remarkable and innovative leadership to slash through our Gordian knot. Our challenges are complex. They always have been and they always will be.
"With that said, we have supported and continue to support the NCAA as the appropriate governing organization for intercollegiate athletics."
Here comes the "but:"
"But at the same time, however, we will continue to push for changes we believe are in the best interest of our student athlete."
Slive has been consistent on this issue. He wants to make changes while working within the NCAA governance structure. But if change continues to get bogged down in the minutiae of governance, it may be necessary for a new structure, like a separate division within the NCAA's Football Bowl Subdivision. And to that end he asked four significant questions:
"What changes need to be made for the NCAA structure to provide significant roles for the stakeholders, the presidents, chancellors, athletic directors, institutional administrators, conference administrators and coaches?
"What is the proper role, function, and composition and size of the NCAA Board of Directors?
"Do we need all of the services provided by the NCAA's national office, its many committees and task forces, or are there some of these services better provided elsewhere?
"And how do we streamline the NCAA committee and legislative process to provide leaders and visionaries who will ensure the NCAA's future?"
And he finished with this:
"In the words of [poet and social critic] James Baldwin, not everything that is faced can be changed. But nothing can be changed until it is faced."
Final translation: Good morning, NCAA. You are on the clock.