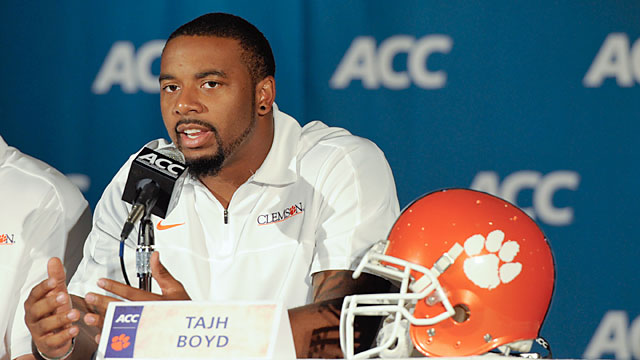 GREENSBORO, N.C. -- There were more than a few smiles earlier this year when quarterback Tajh Boyd announced that he would be returning for his senior season at Clemson.
For Boyd, a first-team All-American and the ACC Player of the Year, the timing was right to go. After winning an ACC championship as a sophomore in 2011, Boyd led Clemson to its second consecutive double-digit winning season. Then, in the Chick-fil-A Bowl, he guided his team down the field and put Clemson into position to kick a winning field goal on the last play.
"I'll never forget it," Boyd said Sunday as the ACC's annual Media Days began. Boyd would later confess that at the time he thought it would be his last college game.
Those who have followed Boyd closely thought he was a lock for no worse than a second-round pick, given the NFL's recent embrace of multi-dimensional quarterbacks. But he received a mid-round grade and, ultimately, Boyd decided to come back to school.
"There was an opportunity at Clemson to win another championship and so I wanted to try," Said Boyd, who threw for 3,896 yards and 36 touchdowns last season as Clemson led the ACC in scoring (41 points per game). "It was the best decision for me."
Clemson offensive coordinator Chad Morris certainly was glad Boyd was returning. But in their first meeting after the decision, Morris decided to pull no punches.
"I gave it to him pretty straight," said Morris, set to begin his third season at Clemson. "I told him that if he wanted to be a first-round draft choice and an All-American he was going to have to let me coach him like one. This was going to be his last shot and he was going to have to give me more."
Boyd comes from the Tidewater section of Virginia, which seems to produce an abundance of great football players. He is very likeable and genuinely cares about his teammates. He is not a selfish player.
But Morris believes Boyd could be more mentally tough and dedicated to learning the nuances of his craft.
"I love Tajh Boyd, but there are certain things you have to do -- and do them every day -- in order to be an elite quarterback," Morris said. "Tajh is going to do what it takes to be good. But I want him to be exceptional. He can be the best and he knows that."
Beginning last spring, Boyd dialed up the intensity of his workouts and his practice habits. He has always been willing to study film. Now he takes more notes and asks more questions.
"There are so many little things to Coach Morris' offense that you learn once you really try," Boyd said. "More than once he has told me that there are no short cuts."
There is much on which Boyd can improve. He has a chance to throw for over 3,800 yards for the third consecutive season. He has thrown double digits in interceptions (12 in 2011, 13 in 2012) the past two seasons would like to get that down to a low single digits.
"Sometimes throwing the ball away is a good play," Boyd said. "You don't have to force things."
There are a number of reasons to believe Boyd will have a memorable senior season.
He had to say good-bye to running back Andre Ellington (1,081 yards rushing), one of the most underrated players in college football. Wide receiver DeAndre "Nuke" Hopkins set the world on fire last season with 82 catches for 1,405 yards.
But Boyd still has plenty of weapons. Wide receiver Sammy Watkins, a rising junior, saw his production slip (57 catches) in 2012 after catching 82 passes as the nation's best freshman in 2011. Watkins, from Fort Myers, Fla., has rededicated himself to football and everyone in the Clemson program expects him to have a monster season if he stays healthy.
Watkins also is going to move to the "boundary" receiver position, where Hopkins was virtually unstoppable last season.
"Sammy is ready to bounce back and show everybody that he is a great player again," Boyd said. "We are expecting big things out of him."
Four of five starters return on the offensive line, although Clemson will miss center Dalton Freeman, a finalist for the Rimington Trophy. Ellington was just a splendid back who knew how to make plays in the clutch. Rod McDowell has been waiting three years for his chance at running back and now he gets it.
The schedule certainly gives Boyd a chance to make the case that he is an elite quarterback.
The Tigers open at home on Aug. 31 against Georgia, which will also field one of the nation's best offenses. His counterpart at quarterback, senior Aaron Murray, is expected to end this season as the all-time passer in SEC history. It promises to be quite a shootout.
"We are looking forward to playing Georgia," Boyd said. "Aaron is a great quarterback and Georgia came very close to winning the national championship last season. That game is one reason I wanted to come back." There is the Oct. 19 showdown at home vs. Florida State, which will probably decide the ACC Atlantic. Then there is the Nov. 30 trip to South Carolina, which has beaten the Tigers four straight times.
Beat Florida State and Boyd very likely goes back to the ACC championship game in Charlotte. Win all three of those games and win the ACC Championship game and the Tigers are likely playing in Pasadena for the crystal football.
"If everybody does their part, this team is good enough to compete for the national championship," Boyd said. "Clemson has won it before [1981] and there is no reason we can't do it again."
Win it all and it's a pretty good bet that Boyd's NFL stock will go up.
"I will worry about that after the season," Boyd said. "I'm just looking forward to being with my guys one last time. I'm here because we have a chance to do something special."