1992-2012: 20 most meaningful bowl games
| | | |
| --- | --- | --- |
| 19 | 2004 Rose and Sugar Bowls | |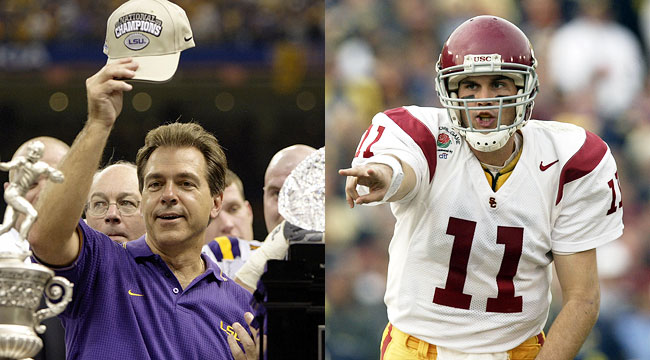 Nick Saban and LSU won the BCS title, but USC took claim to No. 1 in the AP Poll. (Getty)
By Bryan Fischer
Controversy? Just a tad. Despite a triple-overtime blemish early in the season to Cal, USC had risen to the top of the polls by the end of the season as the offense, behind quarterback Matt Leinart, rolled to seven straight game of 40 or more points. The Trojans figured to have a ticket punched to the national title game -- especially once Oklahoma lost in the Big 12 championship game -- but instead fell to third in the BCS standings and were instead headed to the granddaddy of them all as semi-enthusiastic Pac-10 champions.
The game figured to be a good one with fourth-ranked Michigan making the trip to Pasadena but USC controlled the game throughout behind Leinart's passing (23-of-34 for 327 yards and three touchdowns) and a suffocating defense that racked up nine sacks on a Wolverines offensive line that had given up just 15 all season. Although the score seemed to narrow late in the second half, Leinart all but sealed MVP honors and the victory with a touchdown catch from wide receiver Mike Williams.
Watch USC vs. Michigan | Watch Sugar Bowl highlights
USC stated their case for the national title and, after a slug-fest in New Orleans that resulted in a 21-14 LSU victory, got one after the Associated Press awarded the Trojans their trophy. Because the Tigers won the BCS championship, 2004 marked the first time there was a split national title since 1998 - right before the BCS was created to help solve that exact same problem.