The Neil Reed I knew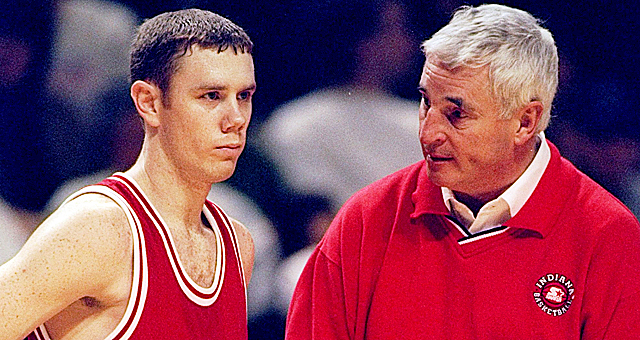 Years later, Neil Reed never seemed too guarded when the incident with Bobby Knight came up.
(Getty Images)
When people hear that Neil Reed passed away, those who recall the name probably will recognize him as the Indiana basketball player that Bob Knight choked. To most people Neil was That Guy. That wasn't the Neil I got to know. That wasn't the Neil any of us who worked in the ESPN Magazine offices in New York about a decade ago, got to know.
Neil interned in our office after going to grad school at LSU. I vaguely remember that he was interested in the business. Or that he wanted to explore writing. I'm not really sure even how he ended up with the ESPN Mag internship. I suspect it was because he was That Guy.
His basketball career was over when he arrived in New York about a dozen years ago. He had gained some weight. O.K., maybe a little more than just some. We used to joke with him about how different he looked from those pictures when he was a scrawny McDonald's All-American back in the mid-90s. We got Bourbon-and-Coke Neil. And that Neil, the one in his mid-20s, was a friggin' blast to have around.
He had a self-effacing sense of humor. He could be silly and goofy; a baby-faced Louisiana kid trying to figure out the concrete jungle. He played for our softball team. He was pretty good although he took it less seriously than everyone else on the team. He just loved to be part of the group. He wanted everyone around him to be happy and laugh, and over time, you come to realize that people like that are pretty rare.
ESPN Magazine had an office basketball team that played in a league on the west side of the city. We had a few decent players: a business guy who had been a walk-on guard at Clemson; a former NFL cornerback and well, a bunch of other guys who stunk. Neil came out and played with us a few times. He was probably 40 lbs. heavier than in his days at IU, but he was still the best one on the court, of course.
He didn't really even try to score. He just wanted to get everyone else easy shots. One night we faced the top-seeded team in our league. Those guys acted like they belonged in the NBA. They happened to wear all-white IU shorts as part of their uniforms. No lie. That night, I think Neil wanted to score.
They were much bigger than us. Didn't matter. We whipped them. Actually, Neil whipped them. The funniest thing was, they had no clue that the guy who destroyed them that night was That Guy. It was sweet.
We seldom spoke about Indiana basketball or Knight. For the first few months we seemed to talk about everything but. I always figured that's all he probably got asked about by everyone else. Besides, what more did I need to know about that part of his life? You grasped that it mattered but you knew he didn't want it to define him, and there was so much more to him than that.
When "It" did come up, he never seemed too guarded about the whole deal. I reminisced with a friend from those days Thursday night, who said that he was always impressed by how open Neil was, especially after what he'd been through just a few years earlier in such a public situation. Neil even wrote about how awkward that was, particularly when he was in basketball circles and that's all that people want to bring up—the Knight thing.
What I loved most about him was that any mundane situation could turn into the funniest experience you ever had. There was that five-hour lunch on the first nice day of spring. Or that drive up to Bristol. Or that train ride from Hoboken. Or that football game in Central Park. Or that trip to the emergency room for his foot.
Eventually, Neil left New York and settled in California. I knew he had a few different jobs over the years. We'd lost touch but a few months ago, we reconnected via Facebook. I'd seen that he was married. He and his wife had two cute little daughters. He was working as a PE teacher and coaching basketball and golf at Pioneer Valley High about three hours north of Los Angeles. On the top of his page, he had John Wooden's Pyramid of Success. In all of the pictures, he looked really happy. He still had that baby face.
We traded messages a few weeks back and talked about getting together. I figured we would at some point. I guess we often feel like there'll always be time. My thoughts are with his family and all those he made smile.