Chizik out at Auburn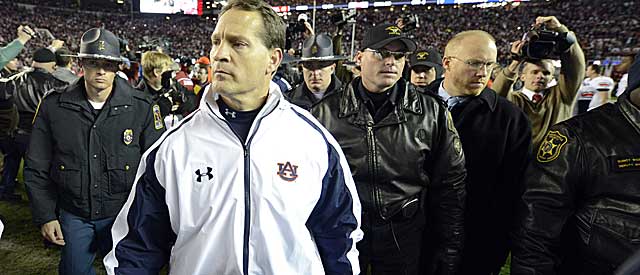 Gene Chizik leaves the field for the final time as Auburn coach, after a 49-0 loss to Alabama. (US Presswire)
Two years ago, Gene Chizik coached Auburn to the BCS national championship. On Sunday, Chizik was fired by the school, a source told CBS.
More on Gene Chizik
Related content
Players were scheduled to be informed of the situation at a team meeting at 1 p.m. CT.
The Tigers finished the season 3-9 after getting hammered by arch-rival Alabama on Saturday, 49-0. The loss dropped Auburn to 0-8 in SEC play. The team was ranked No. 25 in the preseason.

In four seasons at Auburn, Chizik was 33-19. Only once in his four years did the Tigers finish in the Top 25 -- in 2010, when they won the title by going 14-0 behind Heisman winner Cam Newton.
Chizik's buyout reportedly is $7.5 million on Dec. 1. Earlier in the week, Yahoo! reported that the Tigers' football program is being investigated by the NCAA.