Mark Helfrich to be named Oregon head coach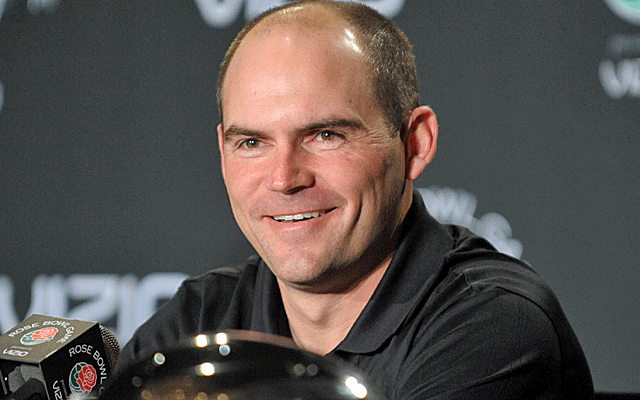 Mark Helfrich should keep Oregon running smoothly.
(US Presswire)
Oregon is promoting offensive coordinator Mark Helfrich to head coach, a source told CBS Saturday night. Helfrich will be announced as the Ducks' new coach on Sunday.
The 39-year-old Helfrich, who grew up a Ducks fan, replaces Chip Kelly, who was hired last Wednesday by the Philadelphia Eagles. Helfrich was the frontrunner to get the job, keeping continuity with Kelly's system, although Oregon did interview Stanford assistant Pep Hamilton on Friday morning as part of the search process.
Helfrich, son of a Duck offensive lineman, was a quarterback at Southern Oregon in the early 1990s. He got his start as a graduate assistant at Oregon in 1997 under Mike Bellotti, working closely with then Ducks OC Dirk Koetter before following Koetter to Boise State as quarterbacks coach from 1998-2000.
He then spent five seasons as quarterbacks coach at Arizona State (2001-05) and three seasons in the same role at Colorado (2006-08) before landing back at Oregon in 2009 when Kelly was promoted to head coach after Bellotti stepped down.
Inside the Ducks' program, Helfrich has been seen as one of the unheralded stars in Oregon's rise.
"This is (Kelly's) system, people know this, so they automatically think Helfrich has little input on what happens on Saturdays. This is simply not true," former Duck QB Nate Costa told CBSSports.com in the fall of 2012. "Helfrich doesn't get half the credit he deserves. He is one of the smartest people in the college football world and has a great football mind. He has a large amount of involvement in the game-planning, scripting and coaching on a weekly basis. He may not call all the plays on gameday but he has a high amount of input in what plays are called and why they are called."