Kevin Sumlin, Texas A&M agree to new six-year contract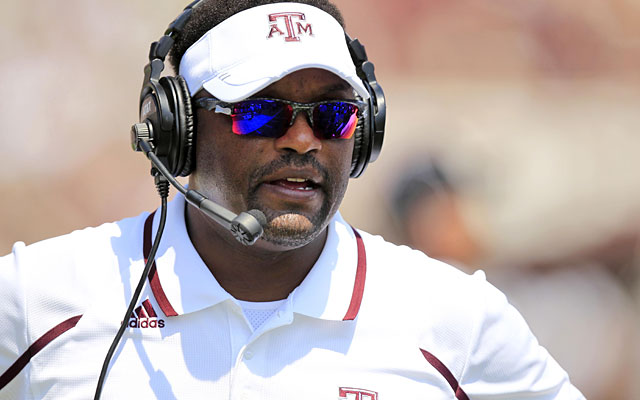 Kevin Sumlin, the hottest commodity in the college coaching world this fall, has recommitted to stay as the head coach at Texas A&M, sources told CBSSports.com on Saturday.
Later in the day Saturday, the school announced that it has reached an agreement in principle with Sumlin on a new six-year contract, AD Eric Hyman said.
The 49-year-old Sumlin, who in 2012 led Texas A&M to its first top-5 finish in 56 seasons, is 19-5 in his two seasons with the Aggies. In his time at A&M, Sumlin helped groom Johnny Manziel into a Heisman Trophy winner last year and beat No. 1 Alabama in Tuscaloosa. Before Sumlin's arrival in College Station, the Aggies hadn't finished in the top 10 in 18 years.
Combining his time running the University of Houston program, Sumlin is 54-22 in six seasons as a head coach. In 2011, he led the Cougars to a school-record 12 wins. Last winter, Sumlin turned down opportunities for substantially more money from the NFL to remain at A&M.
Sumlin was considered to be the top target for Southern California in the wake of the Trojans firing coach Lane Kiffin earlier in the fall, according to sources.