Notre Dame DC Diaco to be new UConn head coach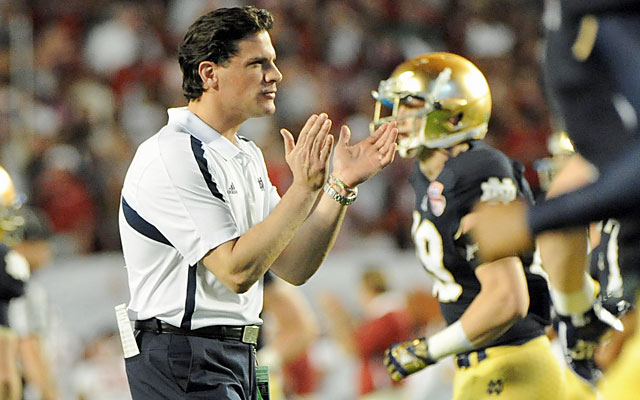 Notre Dame defensive coordinator Bob Diaco will be the new head coach at UConn, a source told CBS Wednesday. Diaco has agreed to a five-year deal that starts at $1.5 million per year.
The 40-year-old New Jersey native won the 2012 Broyles Award as the nation's top assistant coach, becoming the first Irish assistant coach to ever be honored with the award. His D ranked second in the FBS in scoring defense in '12 - allowing just 12.77 points per game. Diaco helped spark the Irish to a BCS title game appearance last season. This fall, ND went 8-4 and ranked No. 32 in scoring defense and No. 45 in total defense.
Diaco was a two-time all-Big Ten selection at Iowa under Hall of Fame coach Hayden Fry and was named team's co-MVP in 1995. He replaces 64-year-old Paul Pasqualoni, who was 10-18 on three seasons with the Huskies before being fired in mid-season, after an 0-4 start. He'll be charged with turning around a UConn program that dipped to 3-9 under Pasquaolini and interim head coach T.J. Weist in 2013, the worst showing for the program since 2001. The Huskies were 86th in FBS scoring defense and 92nd in passing yards allowed.
Michigan State defensive coordinator Pat Narduzzi, the 2013 Broyles Award winner, had been offered the UConn vacancy but opted to return to MSU, sources told CBS.