Clowney gets his Freak on in Indy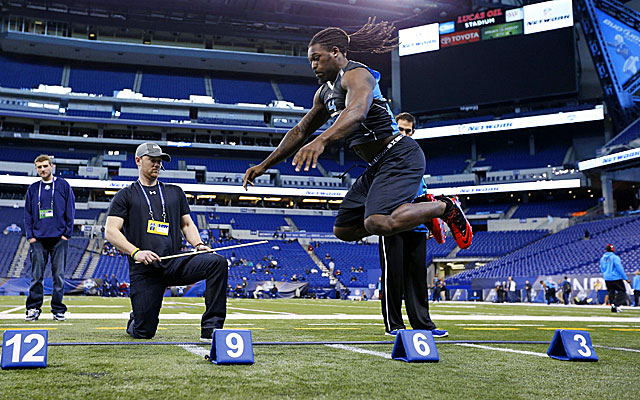 More Draft: NFL Mock Drafts | Prospect Rankings | NFL combine workout results
INDIANAPOLIS -- Joe Connolly felt the phone in his pocket going crazy, and he knew what that meant.
It was 9 a.m. ET Monday morning and the South Carolina strength coach was in the middle of training 22 Gamecock football players for their combine. It's a testing day for Steve Spurrier's team, a staple of their off-season. But it was actually the performance by another Gamecock player working out 600 miles away that Connolly knew would create the day's big buzz -- just like the one happening in his pocket with a cell phone gone wild.
Jadeveon Clowney, Connolly's star pupil, had just run the 40-yard dash at the NFL combine. At 266 pounds, Clowney sprinted to an unofficial 4.47 40-yard dash time. That was about the same amount of time it took for Clowney to be trending on Twitter.
"With social media the way it is, there is no way that I wouldn't have known about the 40 time," Connolly said Monday. "I can't tell you how many people bet me he wouldn't do it. With his quickness and his track background in high school it's crazy. His best 40 in college was a 4.46 so I feel pretty good about it."
"We are testing our guys this week also, so hopefully we can find someone else that can do things equally as incredible. But I don't think it will happen."
It's highly doubtful another guy quite like that one exists. While many were stunned to see a man so big moving so quickly (check out the video of Clowney's run overlayed against that of Oregon speedster De'Anthony Thomas) it's just the latest Freaky display for the South Carolina D-lineman. Last spring when Clowney ranked No. 1 on the annual Freaks list, Connolly provided the best case for his man in the top spot. Forget for a moment the blazing 40-time and consider the Tendo.
"It measures velocity and power in meters per second," Connolly told me last spring. "It'll give you a power number, and it's expressed in watts. It takes into account body weight and different things. (Clowney) is in the 8000s and we're talking repetitive numbers in the 8500-range, and there isn't anybody on the team within 2000 of that.
"Clowney has a 8655w peak power reading. The closest number that a teammate has is a 6800w peak power reading. This differential is pretty vast. One major difference is JD can produce this kind of power repeatedly. Nobody else can do that.
"Clowney first jump: 8655w. Jump two: 8653w. Jump three: 8650w. The rest of the word: Jump one: 6600w. Jump two: 6300w. Jump three: 6000w."
The former No. 1-ranked recruit arrived in Columbia at a chiseled 6-foot-6, 238 pounds and measured at 274 pounds two years later while clocking a 4.54 40 to go with a 38-inch vertical.
On Monday, Clowney, eight pounds lighter than he was last spring, beat his 40-time (the NFL officially says he clocked a 4.53), verticalled 37.5 inches and broad jumped 10-feet, 4-inches. Only UNC's Kareem Martin (10-9) jumped further among D-linemen.
The workout numbers backed up everything Connolly said Clowney could do. Something many were skeptical of given Clowney's size. And now that the Gamecock is done in Indy, the next phase of his football career begins: proving to NFL folks how much he loves football and how hard he's willing to compete. They know he's a Freak but how much more is he than that?