New Penn State revelations on Sandusky scandal in upcoming book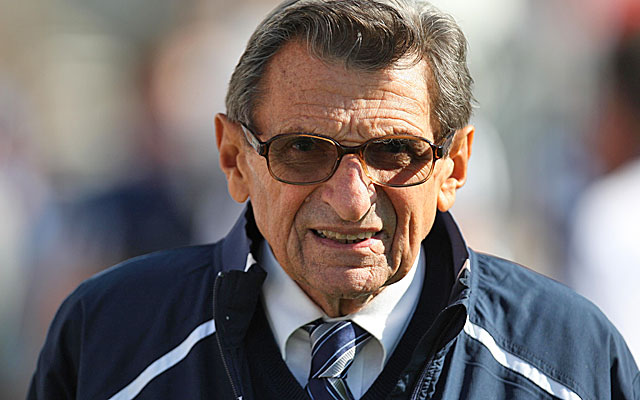 Jerry Sandusky was recognized as an "old guy who worked out here once in a while," by Penn State players who first saw his picture on TV in connection with his horrific crimes.
The revelation, among others, came Friday when the Wall Street Journal excerpted the new book Fourth And Long: The Fight For The Soul of College Football, by author John Bacon. Bacon followed four Big Ten programs over the course of the 2012 season -- Penn State, Ohio State, Michigan and Northwestern. The book provides an inside -- and in some cases previously unreported -- look at Penn State in the days following the revelation of Sandusky's crimes.
"They used to hang people at the Centre County courthouse," former linebacker Mike Mauti says in the book of Sandusky, "and frankly I would have been OK with that. Hell, give us the rope, and we'll do it for you."
Mauti and other seniors from the 2012 team are portrayed as leaders of a program enduring unprecedented NCAA sanctions. Those seniors and others held the program together in days following the sanctions when players were allowed to transfer immediately.
"I thought it was the end of Penn State football," defensive end Pete Massaro is quoted as saying.
Joe Paterno is portrayed in the excerpt as a doddering senior citizen who "confused the situation, got players' names wrong or just yelled at them by their numbers," according to the author. Through a spokesman contacted by the Journal, son Jay Paterno said the characterizations of his father were inaccurate. Jay Paterno told the paper his father led every team meeting and had "direct play-calling input."
Running back Mike Zordich said coach Bill O'Brien wanted a "hard deadline" of Aug. 1, 2012 for those transfers. But O'Brien was talked about of it by Zordich and Mauti, who convinced their new coach that a hard deadline would send players running for the door and negatively impact recruiting.
O'Brien's ability to listen to his players is portrayed as a key to the team accepting the new coach and being able to post eight wins in the first of four consecutive seasons with a postseason ban.
Only a few key players transferred, including tailback Silas Redd (USC) and kicker Anthony Fera (Texas).
The excerpts appeared in Friday's Journal. The book is scheduled to be published in September. Per an agreement with the author and his publicists, CBSSports.com is not allowed to disclose other details in the book until Monday morning.