Trollin' 25: Can any team stop Tide's roll in BCS curtain call?
It used to be called 25 Things To Watch and customarily resulted in more hits than a Mafia contract man.
Nothing has changed except the name and acknowledgment of the obvious. We're trying to get you to read. What better way than a provocative series of bite-sized, brain-teasing, interactive nuggets to preview the season. We write, you click. It's that simple. Our sponsors thank you. Onward with the Trollin' 25 to kick off 2013 ...
1. Goodbye, BCS
In the 16th and final year of the Bowl Championship Series, we bid a fond farewell to a petulant juvenile of a postseason structure. Revealed 15 summers ago to the unknowing masses, the BCS helped push college football to unprecedented heights -- and embarrassing lows. We'll remember the ratings, the games and the chokehold of the SEC. We'll also remember the marginalization of the non-BCS and the incongruity of 2004. Auburn went undefeated and couldn't play for it all. Southern California also went undefeated and had to give back its championship.
Does the BCS have one more surprise -- or three -- left in its final season?
2. BCS Bowls
BCS championship: Ohio State vs. Alabama
Fiesta: Oklahoma State vs. Oregon
Rose: Stanford vs. Nebraska
Orange: Clemson vs. Louisville
Sugar: Georgia vs. Florida State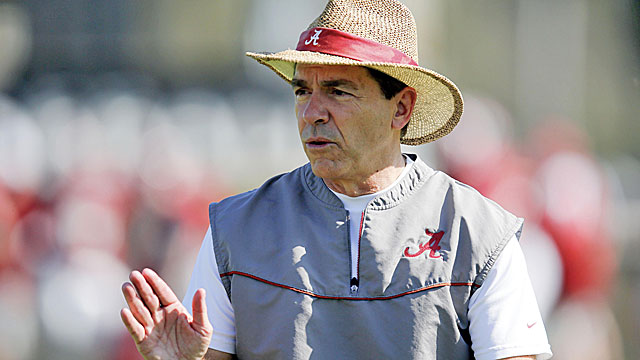 3. Saban, revealed
It hit me while reading page 262 of this month's GQ. There's a profile of the Alabama coach from Warren St. John, author of Rammer Jammer Yellow Hammer. It's good but what crystallized Saban, Bama and this current run of three out of four is the coach's reaction after winning his fourth national championship in January.
"That game," Saban is quoted as saying, "cost me a week of recruiting."
If you have further questions why Bama has found its way into every crevice of our college football lives, well, you shouldn't.
4. At least one Hall of Famer at Alabama
If the Tide win again, quarterback AJ McCarron would have four national championship rings among his 11 -- yes, 11 -- that he would have earned with the program. (Alabama awards rings for SEC, BCS bowls and national championships. He is one of seven current players able to earn four championship rings this season.)
Slam dunk for the HOF, right?
If McCarron never plays another down of football after this season, he'd still have to wait a decade for eligibility. Even more difficult, McCarron, per the National Football Foundation which oversees the Hall of Fame, would have to receive (in all caps, per the NFF) "FIRST TEAM ALL-AMERICA RECOGNITION BY A SELECTOR RECOGNIZED BY THE NCAA AND UTILIZED TO COMPRISE THEIR CONSENSUS ALL-AMERICA TEAMS."
McCarron has never been an All-American. In fact, this season he was the coaches' third-team preseason all-SEC quarterback behind Johnny Manziel and Aaron Murray and has never finished in the top 10 in Heisman voting. That may change this year. The shame of it is one of the most decorated players in the game's history wouldn't be decorated enough to become a Hall of Famer.
5. In support of Johnny Manziel
It was borderline gutless for the SEC coaches voting on the preseason all-conference team to obviously penalize Texas A&M's quarterback for his off-field conduct.
Voting from glass houses aren't we, fellas? Who among them -- while collecting millions of dollars in salary -- hasn't had a kid step out of line? James Franklin? Four players charged with rape. Les Miles? Jeremy Hill. Nick Saban? Geno Smith. Steve Spurrier? Stephen Garcia. I don't know how any of the coaches voted individually. I am saying as a group it was a bit disingenuous to punish the defending Heisman Trophy winner and obvious first-team SEC preseason quarterback.
I'll repeat what Johnny Football has said himself: "I haven't broken any laws."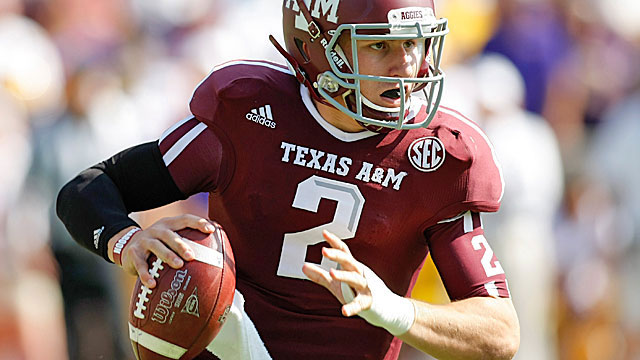 6. Your new best Twitter follow
@BretBielema If you don't know why, I feel sad for you.
7. Miami angst
Coach Al Golden is hopping mad that he enters a third season with the Hurricanes with probation hanging over his head.
No matter what you think of the NCAA, Nevin Shapiro or any of the other players in the drawn-out drama, Golden deserves to be upset. After 2½ years, the NCAA still has not been able to give resolution on a case that should have been decided long ago.
Educated guess: When the whip does come down, it will be determined that Miami has suffered enough. No additional bowl ban and a few scholarships. Meanwhile, Al simmers and recruiting suffers.
8. Five for the Heisman
Braxton Miller: If Urban Meyer has his way, Miller will actually touch the ball less this season.
Jadeveon Clowney: Only question is motivation.
Tajh Boyd: Johnny Football with meat on his bones.
Johnny Manziel: Voters and SEC defensive coordinators won't allow him to repeat.
AJ McCarron:Throwing to the best set of Bama receivers ever?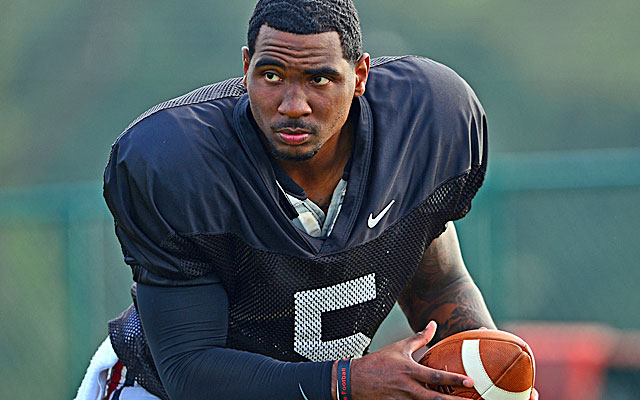 9. Coach of the year (non-Saban/Meyer division)
Tim DeRuyter, Fresno State. Two years ago he was run out of Texas A&M after his defense flopped under Mike Sherman.
Hired in 2012, DeRuyter led the Bulldogs to nine wins in his first season and is a favored BCS buster this year with 15 starters back and a stout defense. Remember David Carr? His brother Derek quarterbacks the Dogs and should be a shoo-in for a 4,000-yard season.
10. Offensively speaking
To no one's surprise, we are living through the most exciting era of offense in history. Records were set last year nationally in 10 offensive categories (yards per rush, average attempts, average completions, completion percentage, average passing yards, yards per attempt, average total offense, yards per play, touchdowns per game, points per game).
The top five scoring seasons of all time have all come since 2002:
2012, 29.5 points
2007, 28.4
2011, 28.3
2010, 28.0
2002, 27.2
11. Realignment is dead
Or extremely sleepy. The ACC's grant of rights essentially put the brakes on realignment for the near term.
As for super conferences, we're already there folks. Seven of the 10 FBS leagues have at least 12 teams after this latest round of realignment (it will be eight of 10 when the American gets to 12 in 2015).
Think of them as media conglomerates more than leagues to the point that some traditions have been lost in interest of creating those conglomerates (West Virginia in the Big 12?).
Want to win a bar bet? Memorize the teams in the Conference USA East and West divisions. The same for the Big Ten, which is getting rid of the thoroughly confusing Leaders and Legends.
The Mountain West essentially said, "Ah, screw it." Its division names beginning this season are the Mountain West Mountain and Mountain West West.
Got all that?
As far as the next round of reshuffling, the Big Ten is next up with speculation still swirling that it will add a couple more schools before its TV deal is renegotiated in a couple of years.
12. Bookish
The season begins with a literary bang. These three books are must reads ...
Bart Wright's Football Revolution is the definitive history of the spread option, zone-read up-tempo offense. Wright traces its origins back to Grays Harbor, Wash., post-World War II and a high school coach named Jack Swarthout. It gets more fascinating from there ...
Although John Miller's The Big Scrum was published in 2011, it is relevant now more than ever. Issues of violence and player safety led a nearsighted Harvard grad named Teddy Roosevelt to save the game as we know it as president in 1905. Miller's description before and after that year is rich with historic detail. Many of the issues are relevant today. Consider that this book is or will be read by a significant amount of college administrators. Word of mouth is spreading.
Buzz is even louder for The System, The Glory and Scandal of Big-Time College Football. Authors Armen Keteyian (CBS News) and Jeff Benedict have painstakingly researched the modern state of the game. Fittingly, this book is due to be released three days after the Alabama-Texas A&M game.
13. Most misleading headline of the offseason?
Mid-August, smack dab in middle of the Johnny Hancock controversy, this headline popped up on my screen.
"Heisman winner signs with CFL"
Holy cr--! What the ...? Hamilton Tiger-Cats have Manziel's CFL rights! NCAA closing in!
False alarm. It was Troy Smith signing with Montreal. Moving on.
14. Preseason polls have become Groundhog Day
Alabama has been No. 1 in 20 of the past 35 AP Top 25s and 12 of the past 17. Obviously, the Tide are consensus No. 1 heading into 2013.
But what are the only other seven teams to be ranked No. 1 since Bama ascended to No. 1 late in 2009? Answer below. Extra credit: How many times has Alabama been the preseason No. 1 since 2009 (AP)?
15. Without Googling, answer these relevant questions
How many independents are there this year?
Counting the move to the ACC in 2014, how many conferences will Louisville have played in since 1996?
Old Dominion, in FBS or not in 2013?
The number of starting quarterbacks at USC not from Orange County since 2000?
Name the nation's leading returning rusher.
I'll welcome your answers -- remember, no Googling -- on Twitter at @dennisdoddcbs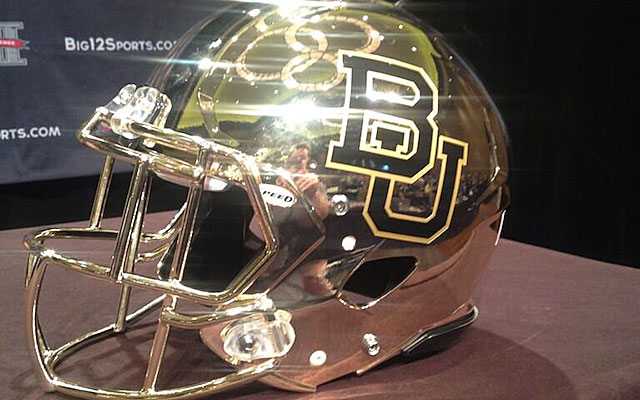 16. In and out (trends and such)
In: Up tempo
Out: Down time for student-athletes
In: Uncle Nate
Out: Sugar daddies
In: Football facilities that include German-built lockers with their own ventilation system and a pool table made by designers who serviced Michael Jackson.
Out: Good, old-fashioned arms race.
In: Personalized signatures
Out: Autographs
In: Manning Passing Academy
Out: Sobriety
In: CFP
Out: BCS
In: New unis that would make Peter Max blush
Out: Old traditions
In: Ejections
Out: Head shots
In: Litigation
Out: Mediation
In: Watching the game on a mobile device
Out: Unwired college stadiums
In: Texting
Out:Play-by-play
17. Happy anniversary
2013 is the 10th anniversary of ...
Nick Saban winning his first national championship
... the 20th anniversary of ...
Bobby Bowden winning his first national championship
... the 30th anniversary of ...
Miami winning its first national championship
... and the 100th anniversary of ...
18. Speaking of, happy 25th to Jim Delany
The Big Ten commissioner celebrated a quarter century in the position with a tour of all 12 conference campuses, the first time since he took office that the Delany over America Tour had embarked.
Some bullet points from one of the most powerful figures in college sports:
• On the Big Ten primary media rights negotiation that will begin in 2015: "I think our timing is good because we're on another kind of cusp of technological change."
• On stars such as Johnny Manziel profiting off their autograph and jersey sales: "He knew the rules of the game when he came [to A&M]. If you don't agree with the rules of the game, he can go into another game."
• On the NCAA possibly reducing the sanctions against Penn State: "I don't know that we'd become an advocate but we're obviously interested in the progress that's being made."
19. On that subject, God bless Bill O'Brien
And the victims. May they find closure.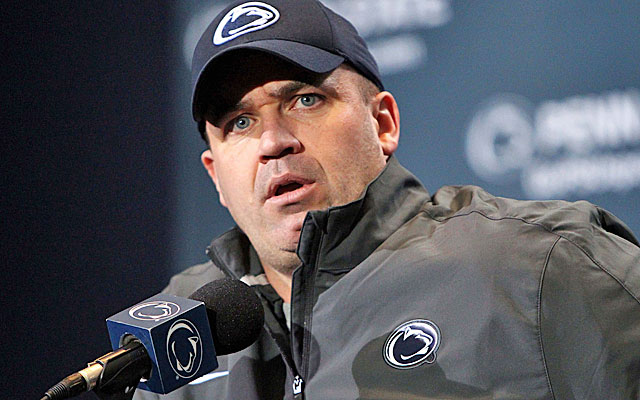 20. Dark horse
This may sound weird but I'm going with LSU.
No one is talking about the Tigers, who have a supposedly improved Zach Mettenberger, a stable of running backs and a still serviceable defense.
They have to play at Georgia and Alabama as well as starting the season Saturday against TCU. But Les Miles' guys have shown an incredible ability to compete with Bama. Cam Cameron brings plenty of experience as the new offensive coordinator.
Just sayin' -- the Tigers shouldn't be an afterthought and certainly have the schedule to make a run to the championship game.
21. Smartest persons in room
(alphabetical order)
Bob Bowlsby
Chris Conley
Jim Delany
Woodie Dixon
DeLoss Dodds
Mike Glazier
Al Golden
Mark Hollis
Julie Roe Lach
Burke Magnus
Nick Saban
Greg Sankey
Mike Slive
John Swofford
Wright Waters
22. Ejections
The country is torn (or so it seems) over the new rule that calls for an automatic ejection each time a player is flagged for "targeting" the head.
Consider the next logical evolution of the game. Critics have decried the softening of a manly sport but fighting was once accepted in football. So was the head slap. Players will adjust because they have to.
23. Big 12 stadiums will show highlights of other games
A seemingly innocuous announcement in July has big ramifications. College football is facing a slight, but noticeable, drop in attendance.
"One item that will keep people from staying home in front of their televisions," Big 12 commissioner Bob Bowlsby described it.
"We see people that have a 60-inch television, [Internet] on their laps, no lines at the restroom, no charge for concessions, have a cold beer when they want to, don't have to spend 6-8 hours traveling to and from the stadium."
As TVs get better and gas gets more expensive, the stadium experience has to improve. ADs are sensitive to a drop in student attendance. If students don't fall in love with their team, they don't give to their school later as adults.
Jerry Jones himself created that monster video board at Cowboys Stadium to recreate the experience of watching a 60-inch TV in your living room.
24. All-name team
QB: Vad Lee, Georgia Tech
RB: Fitzgerald Toussaint, Michigan
WR: Quinta Funderburk, Syracuse
WR: Quron Pratt, Rutgers
WR: Dolapo Macarthy, Purdue
C: Mustafa Johnson, Florida Atlantic
OG: Duran Christophe, NC State
OG: Brynjar Gudmundsson, South Florida
OT: Rowdy Harper, Houston
OT: Fou Fonoti, Michigan State
TE: Stanton Seckinger, Clemson
DT: Isame Faciane, Florida International
DT: Mister Cobble, Kentucky
DE: Nosa Eguae, Auburn
DE: Silverberry Mouhon, Cincinnati
LB: Steele Divitto, Boston College
LB: Yawin Smallwood, UConn
LB: Blaze Caponegro, Temple
DB: Cassius Sendish, Kansas
DB: Daytawion Lowe, Oklahoma State
DB: Carrington Byndom, Texas
DB: V'Angelo Bentley, Illinois
K: Mauro Bondi, Nebraska
P:Baker Swedenburg, Mississippi State
25. A final wish
The possibility exists for Michigan and Ohio State to meet in consecutive weeks. It may never happen again with Big Ten divisions being rearranged geographically in 2014.
So for the good of college football, let's hope, root and pray that following the Nov. 30 meeting at The Big House, the Legends and Leaders winners meet again the next week in the Big Ten title game in Indianapolis.
(Answers to No. 14: Seven teams have been No. 1 in AP since Alabama ascended in late 2009 -- Ohio State, Oregon, Auburn, Oklahoma, LSU, USC and Notre Dame; number of times Bama has been a preseason No. 1 since '09: twice, 2010 and 2013.)