Pac-12 reinstates Cal player called for targeting after replay screw up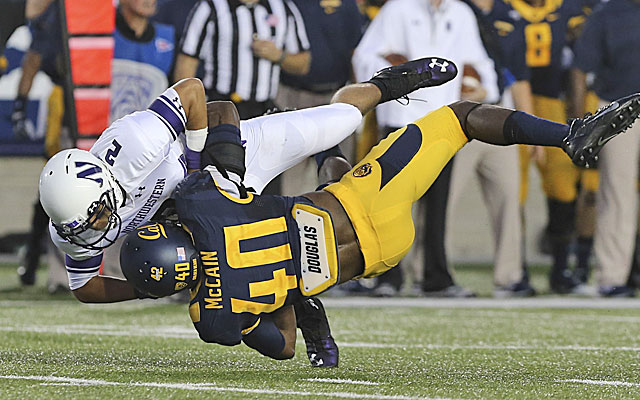 Welcome to another unforeseen interpretation of the new targeting rule.
Cal defensive lineman Chris McCain was reinstated by the Pac-12 Tuesday morning after being kicked out of Saturday's game against Northwestern. McCain had been called for a roughing the passer and targeting penalty in the fourth quarter but according to the conference "a technical failure and resulting breakdown in communication," the play was not reviewed.
A new caveat to the four-year old targeting rule carries an automatic ejection for a violation that can be reviewed by the video replay official. In this case, the Pac-12 said McCain's violation "was not actually reviewed."
Chalk one up for technology. McCain missed the rest of the fourth quarter and would have missed the first half of this week's game against Portland State.
The Pac-12 reviewed McCain's hit and "determined that [he] should have been reinstated into the game." The review confirmed the roughing the passer penalty. Ejections for targeting that are confirmed by replay are not reviewable by a conference or the NCAA.
The conference said in a release, "this circumstance provided a very narrow exception because the ejection was not actually confirmed by replay."
The technical issue has been resolved, the conference said. The replay crew was "disciplined" for a breakdown in the process.
What, did someone turn off a power strip?