Petersen bolting Boise State for Washington? Right move, right time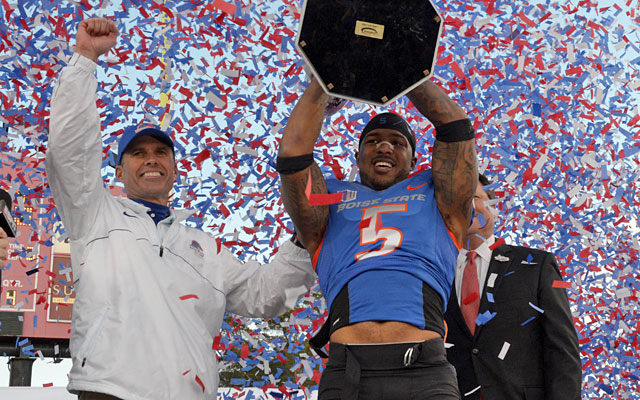 The lure of the big time finally got to Chris Petersen -- and there's absolutely nothing wrong with that.
Washington's new coach just completed an unprecedented eight-year run at Boise State. The man went 92-12, won 88 percent of his games, manufactured three undefeated regular seasons and earned two national coach of the year awards. He single-handedly led a former junior college to the top five.
That it took this long for Petersen to leave is the news. The man spent eight years trying to get respect, recruiting underneath the radar, scheduling games against the big boys from Georgia to Landover, Md.
Playing 5½ hours from the nearest international airport (Salt Lake City) and in mostly lowly regarded conferences, the Broncos were a traveling road show. Of excellence.
That it took until this week for Petersen to leave is more than symbolic. The BCS is in its final days -- the BCS that provided so much torture and pleasure is in Coach Pete's rearview mirror. He's about to go national.
Washington is that new challenge, a sleeping giant (Husky). That Rick Neuheisel and Steve Sarkisian couldn't wake it up doesn't mean Petersen can't.
The Pac-12 was arguably the best conference in the country this season. Petersen knows U-Dub won't have to beg for respect in the new playoff era. Schedule strength is unlikely to be an issue. In fact, the Southern California AD who interviewed him for his opening earlier this week, Pat Haden, is on the selection committee.
Petersen has seen the potential of a big budget and monster facilities. His teams played those teams while scratching out an existence on the edges of the non-BCS. Washington is one those monster programs. UW AD Scott Woodward just put the final touches on a $250 million upgrade to Husky Stadium that is, frankly, stunning.
Beats playing in front of 38,000 in the state capital of Idaho.
Petersen wants to feel what the big time is like. There are only so many linemen you can recruit/mine out of Fairbanks, Alaska, who can be coached into NFL veterans.
With this move, "Pete" is not only taking care of himself and his family, he is putting an unofficial end to this run. Twelve losses in eight years? No one does that. Bo Schembechler lost 17 games in his eight years as a head coach. In the eight years since he arrived at Florida, Urban Meyer has lost 15 games. That includes the current 24-game winning streak at Ohio State.
Sometimes things just get old -- the recruiting, the surroundings, even the winning. This year's Boise State went 8-4, the worst in Petersen's tenure. It was time to get out. There was nothing else he could do there.
The downside -- one that Petersen no doubt has considered for years -- is the Boise Curse. The turf isn't always bluer. Ask Dan Hawkins. Petersen's old boss left for Colorado and never had the success he did at Boise. Same for Dirk Koetter (1998-2000).
But it was time. No more clawing up the BCS standings, trying to impress faceless computers and too many prejudiced voters. True, the BCS helped create the Boise brand but, Lord, was the struggle exhausting.
Cinderella is all but dead in the new playoff structure. Schools like Boise will be marginalized even more beginning next year. To merely get into one of the playoff bowls, Boise will have to finish first among the 55 schools in the Group of Five conferences (Mountain West, Conference USA, American, MAC, Sun Belt.)
That's one heck of a big "conference" to win.
At Washington, Petersen won't even have to win his conference to get in the four-team playoff.
Meanwhile, Petersen will be remembered at Boise for his quiet demeanor as much as for his ruthless coaching style. The trick plays were always a hoot. They were -- will be -- part of his legacy.
While we were debating the all-time ranking of Auburn's Kick Six last week, perhaps we need to recall Boise's State of Liberty play in the 2007 Fiesta Bowl. It was a metaphorical little guy tweaking a traditional power with a backyard play.
I'll always remember a writer rising up in the press box that night at University of Phoenix Stadium to declare, "Best bowl finish ever."
Maybe the best game ever.
Now Chris Petersen gets the best job ever -- of his career. And no one can blame him.