Don't shoot holes in it, SEC scheduling format sheer genius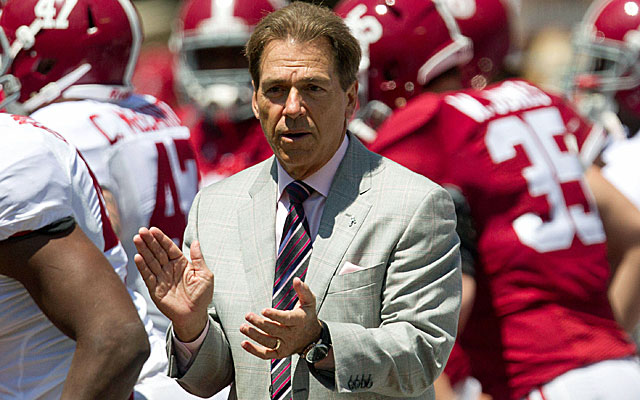 More: SEC decides eight is enough | ACC monitoring SEC's decision
There are probably plenty of holes to shoot in the SEC scheduling format announced Sunday. I just don't have the proper firearm at the moment.
Essentially, Mike Slive's conference is propping up its playoff era strength of schedule on the backs of the other BCS leagues. Beginning in 2016, SEC schools will play one non-conference game per season against either the ACC, Big 12, Pac-12 or Big Ten.
The rich already have gotten richer. Now the strong are just Hulk-like. Start with the premise that the SEC is No. 1. Now apply Sunday's news. How in the name of Bryant and Denny does that make the conference any less dominant?
The league retains scheduling flexibility by staying at eight conference games. Part of that flexibility goes to playing a national schedule. This is better football, great football, national football, that you'll pay top dollar to see. Helloooo, SEC Network.
If you haven't noticed, strength of schedule is everything in the new playoff era. You are who you play, without the complications of those BCS computers and faceless Harris voters.
This is not about just winning championships. We know the SEC has won seven of the last eight. It's about putting the league's teams in a position to win championships.
There's a reason Slive lobbied mightily for the four best teams to populate the that four-team playoff, as opposed to conference champs only. In any given year, the SEC could have two teams in the top four. Maybe even three.
A strong, broad national schedule helps. What's the biggest criticism of the SEC -- it seldom ventures out of its Southern chain link to play anyone out of conference? That critique just died. Think of Florida going to Michigan, USC coming to LSU, Miami and Alabama. Yeah, there are going to be some stinkers in there but on balance it's better than leaving schools to their own devices.
Remember, this is a conference that brought in a consultant to help its basketball programs schedule better in the non-conference.
No consultant needed here. I have this image of Slive simply getting on the phone to his peers and asking if they wanted to play.
In this case, the word "yes' was replaced by the phrase, "Are you kidding?"
The Big Ten has a highly successful network. The ACC is seriously thinking about launching one. The Pac-12 Network could use a serious jolt. The Big 12 isn't doing a network but it does need schedule-strength help without a conference championship game.
I kind of think Slive and the boys know what they're doing here. That is, beating out everyone again with a philosophy borne from a playoff think tank.
Speaking of which, it's amazing what that playoff selection committee has done since its first public appearance last November.
Essentially, nothing.
But conferences and commissioners and coaches have reacted to it. The ACC and Big 12 want to control how they pick their championship game opponents. Those neutral site games are becoming like mini-Super Bowls. The Pac-12 and Big 12 play nine conference games. The ACC is wringing its hands over whether to stay at eight.
Coaches' contracts are being rewritten to include language about getting to/winning a national semifinal.
It's all about that selection committee and how it perceives that schedule strength. No one knows exactly how it's going to work, only that scheduling Akron isn't going to help.
As intimated above, you might want to assume a few of these cross-sectional games end up on the SEC Network.
The SEC is a bit like Texas. Both are wealthy, powerful and talented. I've long asserted that Texas never signed a contract it didn't know how to get out of. (Beware Big 12 and your grant of rights.)
The Strength Everywhere Conference knew exactly what it was doing Sunday. Start with the fact it was Sunday. Slow news day. The release hit the wires in time for an overnight treatment. Then the talk shows come calling bright and early Monday morning.
Who needs programming directors when you've got these guys handing you topics?
Some Twitter wag suggested the other leagues are strengthening themselves too by playing the SEC. I guess, but every SEC school will be playing one of these games. Every year. In turn, the top SEC contenders will be playing conference foes who play one of these games. Every week.
You better believe that selection committee will be considering opponents and opponents' opponents. It's BCS computer theory with a sweater vest.
And probably more common sense.
Think how this is going to enhance the schedules of South Carolina (which already plays Clemson) and Florida (which plays Florida State). Sure, Auburn getting stuck with Indiana one year could be the difference between a playoff berth and New Year's Eve against Texas Tech.
But there's a difference between scheduling Indiana and having them come up randomly in a structured scheduling agreement. Or at least there should be a difference to the selection committee.
Remember the best word to describe that committee.
Subjective.
They were reading the same press release you and I were on Sunday. The difference is, we lit up Twitter with our reactions. Theirs are attached to their frontal lobes, ready to be called up for reference in that that first week of December 2016.
Subjective implies emotional. Emotional implies opinion. Opinion implies perception. Perception oftentimes is reality. Mate that with past performance = SEC No. 1 now and in the future.
See how quickly I got there?
And I don't even own a sweater vest.