Progress made with playoff bowls who have yet to sign contracts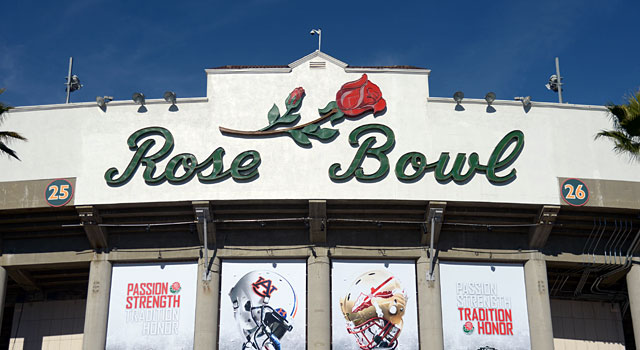 More college football: Jon Solomon | Jeremy Fowler | Latest news
College Football Playoff officials have removed a sticking point in ongoing contract negotiations with the CFP's bowl partners, two sources familiar with the process told CBSSports.com.
Language was eliminated calling for three-year look-ins to the agreements with the so-called "host" bowls – the Cotton, Peach and Fiesta.
The look-in would have allowed for CFP officials to open the contract and evaluate the bowl's performance a quarter of the way through the overall 12-year playoff deal. As it now stands, the Cotton, Peach and Fiesta are believed to be comfortable signing six-year deals with a six-year CFP option.
Those bowls were understandability skittish about having to possibly undergo scrutiny only three years into the 12-year playoff agreement.
"Some new bowl might come up that's terrific or [other existing host] bowls might struggle," one of the sources said.
The sources were intimately knowledgeable of the ongoing talks but did not want to be identified because of the sensitive nature of the contract negotiations.
The contracts with all the New Year's Six bowls – including the Rose, Sugar and Orange – remain unsigned. The season kicks off in 41 days.
"There's no issue, there's no problem but we're still working on it," CFP executive director Bill Hancock said.
In May, CBSSports.com first reported on a three-year look-in in detailing the issues regarding the unsigned contracts.
The look-in was not included in the original Request For Proposal document given to bowls interested in bidding to be part of the CFP, according to a source.
The contract bowls have full 12-year agreements. Because those bowls have conference agreements in years when they don't host national semifinals, they need to finalize agreements regarding the four years they would pass through the system.
In the eight years they do not pass through as national semis …
--The Rose Bowl will host teams from the Pac-12 and Big Ten (champions when available).
--The Sugar Bowl will host teams from the SEC and Big 12 (champions when available).
--The Orange Bowl will host an ACC team (champion when available) usually against the highest-ranked amongst Notre Dame and teams from the SEC and Big Ten.
The Peach (Atlanta) and Cotton (Arlington, Texas) are new to the system. The Fiesta is a BCS veteran along with the Rose, Orange and Sugar. But in the playoff era, the Fiesta, Cotton and Peach have no conference affiliation.
One of those three bowls will annually take the automatic qualifier (highest-ranked) from the 60 teams in the Group of Five conferences -- MAC, Sun Belt, Conference USA, American, Mountain West -- if that team is not involved in the playoff.