Oklahoma enters as Big 12 favorite thanks to Bama High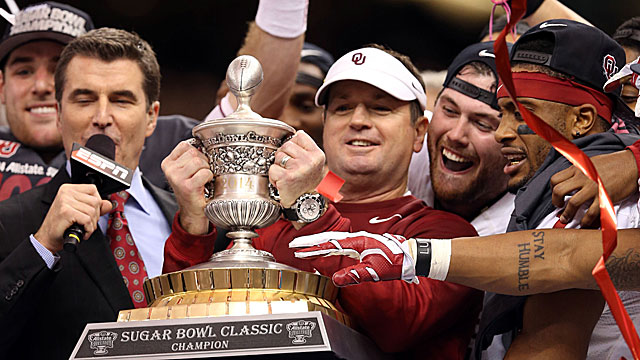 More college football: Jon Solomon | Jeremy Fowler | Latest news
DALLAS -- It might as well be named The Alabama High.
Oklahoma lived it, inhaled it, held it in its lungs, let it course through its bloodstream. The exhale comes when the season starts.
Everything is different at OU because of that High. Different because the Sooners haven't won an outright Big 12 title since 2010 and beating Alabama in the Sugar Bowl feels like a championship. Different because Jerry Schmidt -- call him the Nick Saban of strength coaches -- never saw such an off-season effort for his dedicated Sooners. Different because despite the game contested between two all-time top-five programs, it felt like a huge upset.
"You can't even put it in words how we felt after that game," OU safety Julian Wilson said at Big 12 media days. "Basically the whole world counted us out. ... We've never been predicted to get blown out [to] have our fans leaving at halftime, that we were going to get murdered."
A little melodramatic, perhaps, but not when you consider Bama was favored by 16. No doubt, it was one of Saban's worst losses. There had been only 14 other previous L's at Alabama.
And this one should come without an asterisk perceptively attached since the Sooners sealed the 45-31 victory ...
... that it was tainted by the something less than a full effort by Bama. No championship was at stake. The Tide had left their hearts and souls at Jordan-Hare Stadium.
"Yeah, I heard that," offensive tackle Daryl Williams said. "I don't believe that."
Neither do the rest of the Sooners.
"I kind of take that as disrespect too," Wilson said. "You already counted us out saying we're going to lose the game, now we win the game and now you're saying [Alabama] wasn't playing hard? I've never heard anything like that."
The assertion is especially disrespectful considering Oklahoma had to rally from 7-0, 10-7 and 17-14 deficits. But we're not here to a conduct a forensics test on history. They're favored, these Sooners, to win their ninth Big 12 title in the past 15 years. They're confident that an Oklahoma team sporting an 11-1, 12-0 record is going to be playoff bait. The Sporting News has them preseason No. 1.
In the afterglow, beating Bama was one of the biggest of Bob Stoops' career. The teams hadn't met since OU swept a home-and-home in 2002-03. It certainly was his most significant bowl win in the 13 years since claiming that 2000 national championship. Only four times since 2003 has OU ended the season with a win over a program currently in a Power 5 conference.
Alabama was one of them, and it doesn't happen every day. Saban has lost only nine times since 2008. So, yeah, The High is special.
The 45 points tied for the second-most given up by a Nick Saban-coached team in 15 years. There were no excuses for a dynasty that experienced a similar Sugar meltdown to Utah in 2009.
"You realize," Baylor defensive end told The Oklahoman this week at the media days, "if it's not the national championship, Alabama don't even care who they play."
No, there was none of that. Not this time. Two quarterback careers diverged that night. AJ McCarron's may have been his worst game -- sacked seven times, two picks.
Trevor Knight, well, emerged. Knight is projected to fulfill his four-star, dual-threat promise because of the residue left from that High. Injuries and inconsistencies gave way to a 348-yard, four-touchdown game against the Tide.
"We've seen how we can play now ... " Knight said. "People can say what they want. Ask any 19-, 20-, 21-year-old. They're not going to lay down because it's a certain game. They [Alabama] were playing as hard as they can."
That's how quickly the season turned. Going into the Sugar Bowl, Stoops had played three quarterbacks -- none consistently distinguished himself. Kendal Thompson transferred after the season. Knight won the job, got injured, then won it back again. But prior to New Orleans, he had started and completed only two games.
Remember Blake Bell, the Belldozer? The dude came off the bench to win the Oklahoma State game, started eight games and threw for almost 2,000 yards. Now he's on the Mackey Award watch list as one of the nation's best tight ends without having played a snap at the position.
"Blake was recruited definitely as a quarterback," Stoops said. "But when you look at him now after three years, he is the prototype at tight end.
"I go back to even it's in his genes. His dad [Mark] was NFL tight end for [six] years. So he fits the bill perfectly."
Fortunes turned so quickly that Knight is expected to be the next great one at OU. Fortunes turned so quickly that the defense could be one of Stoops' best a year after leading the Big 12 in total D. Fortunes turned so quickly that receiver depth could be helped at some point by the transfer of Missouri's Dorial Green-Beckham. At worst, DGB will be eligible in 2015 if he doesn't go to the NFL.
The jaded among you know the obvious: OU has been favored before -- several times. Six times since 2001 the Sooners have been in the preseason top five. Twice, they've been the preseason AP No. 1 (2004, 2011). During that time they've won seven Big 12 titles.
These Sooners already know The High won't be everlasting. At some point they have to exhale.