What I Learned During Media Days: From clean underwear to SEC overkill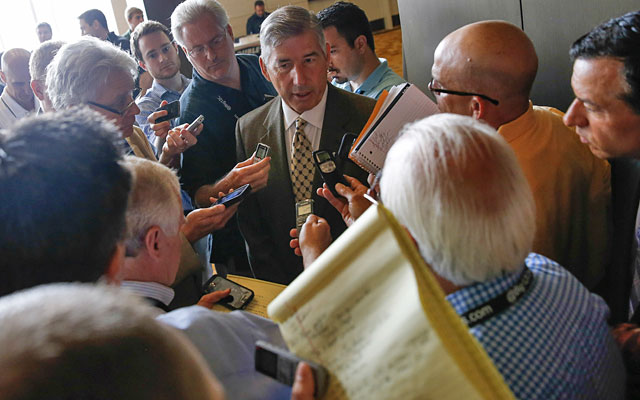 More college football: Dennis Dodd | Jeremy Fowler | Jon Solomon | Latest news
What I learned at four conference media days over the past two weeks. Well, other than clean underwear is overrated ...
• As glorious and big and vast as the SEC media days have become, the Strength Everywhere Conference may have jumped the shark.
The event is becoming too big -- 1,200 media members this year. Coaches and players are rushed from interview to interview, reinforcing the term -- "car wash" -- given to such routines.
There are exceptions, of course. Les Miles never fails to deliver. Nick Saban is always compelling. Mike Slive makes news with his state-of-the-league address. We have to be there because the SEC is the best league with the biggest personalities, but the league needs to start exercising a bit of discretion. Not everyone who applies for a credential deserves to get in.
I understand and appreciate SEC hospitality. It wants everyone under the tent but it all got a bit ridiculous when the Hoover (Ala.) Chamber of Commerce was issued a credential. I know this because the person asked several questions of coaches in the main interview room.
The situation did raise a key question: When was this guy's deadline, the monthly chamber newsletter?
• If you don't understand the College Football Playoff, that's your fault. The CFP had a representative at each of the Power 5 media days making detailed presentations. The media covered accordingly.
One thing that can't be predicted: How those committee members are going to vote when (for example) the perceived best team in the SEC doesn't win its division.
• Big Ten Network anchor Dave Revsine has written a compelling early history of college football. His The Opening Kickoff (debut in August) chronicles the sport's fitful birth years from 1890-1915.
Turns out, many of the same issues that plague today's game were in effect then. Namely, paying players, fielding ineligible players, players dying, school presidents submitting to coaches.
And you wonder why the game is in its current state? In many ways, it never changed.
• As long as we're honking books, also pick up The Thinking Fan's Guide to the College Football Playoff by Foxsports.com's Stewart Mandel.
• Don't know if they'll ever come about but a couple of interesting ideas were hatched in the past two weeks.
Bo Pelini says get rid of signing day -- when a kid commits, he's able to sign. SMU's June Jones also suggested that the Group of Five conferences switch their seasons to the spring.
It's easy to shoot down both concepts but there are germs of genius in both. Not saying they're going to happen, but both certainly would solve a lot of problems.
• Rating the commissioners on level of outrage/lambast from the podium re: current state of college athletics:
1. Bob Bowlsby, Big 12: His "cheating pays" claim earned a response from the NCAA.
2. Mike Slive, SEC: Not much new but quoted historical and world leaders.
3. John Swofford, ACC: Better listen to the commissioner of the league of the defending champs. Autonomy is not perfect, he said, but will pass.
4. Larry Scott, Pac-12: Made case for his league running in the same lane as the SEC.
5. Jim Delany, Big Ten: Subdued as Big 14 welcomes Maryland and Rutgers.
• Lost in the haze of Power 5 stances, American Athletic Conference commissioner Mike Aresco made his case for playing with the big boys.
Give Aresco credit for pressing the issue. His conference won a basketball championship and a BCS bowl within four months. Others may scoff, but when/if the Power 5 ever break away I have a feeling they'll take a hard look at the AAC and Mountain West before building college athletics' version of the Berlin Wall.
Aresco may be laying the foundation.
• Miami (Ohio) and Chuck Martin could be one of the most inspiring stories of 2014 (via Yahoo Sports! Dan Wetzel.)
• Sorry but every time I see Bo Pelini now, I chuckle. That stunt with a 4-year-old Siberian named Anya at the spring game showed Nebraska's coach has a sense of humor. And a soul.
• News nugget. Look for Nebraska to make a serious run at Bubba Starling if he fails at baseball. Starling, a 2011 first-round pick of the Kansas City Royals, is hitting a career-low .222 in Class A, striking out once every 3.46 plate appearances, as of Thursday.
Recruited by the Huskers to play quarterback in 2011, Starling -- a massive star at Gardner-Edgerton (Kan.) High -- instead signed with the Royals. Kansas City says Starling has football out of his system.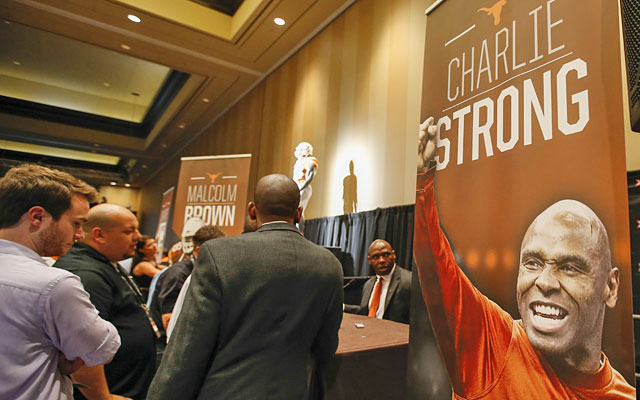 • Don't know if Charlie Strong wins the Big 12 right away, but his Longhorns are going to be tougher -- mentally and physically. Count on it.
• If I have to endure another hotel staff tearing down a media days ballroom while I write, someone's getting hurt. The least they could do was leave the power strip.
Best perks
Snow cones at the Pac-12 ... Riverchase Galleria Chick-fil-A at SEC ... College Football Playoff COO Michael Kelly at Big Ten ... Fox media reception at the Big 12 featuring Barry Switzer, who then proceeded to tweet about it ... Having a Bob's Steak and Chop House right there inside the Dallas Omni Hotel ... Media guides on zip drives, although I don't know if I'll ever get used to it. I like me some glossy papyrus.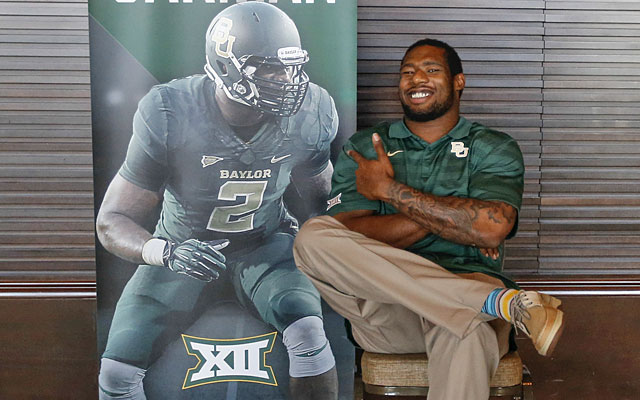 Best interviews
Shawn Oakman, Baylor: The Bears defensive end seems to relish his role as a team spokesman.
Adam Butler, Vanderbilt: Glad James Franklin is gone.
Les Miles, LSU: Just because. Always.
James Franklin, Penn State: Complimented scribe on his choice of shirt. Wait, fashion and sportswriters? No way.
Jim Mora, UCLA: Blunt, refreshing, taking LA.
Mike Leach, Washington State: Now and forever an interview Hall of Famer. I now totally understand his stance regarding blowouts after reading his fine book Geronimo. Whether losing or winning big, Leach asks no quarter, nor gives none. Always attack, just like his hero Geronimo.
Quoting
I learned while I was away at SEC media days that Zach Mettenberger will forever be a former SEC quarterback:
"It is never fun to get punched in the face. But you have to take the high road in some situations." -- Mettenberger, now in the NFL with Tennessee, on being punched in a bar by an Alabama fan.
Finally, we go to Northwestern's Colin Ellis for the media days walk-off. The linebacker who endured the unionization invasion at his school after a depressing 5-7 season in 2013 said to CBSSports.com's Jon Solomon, "We're so ready for football."
Amen.