Florida State doesn't live up to standards in close call over OK State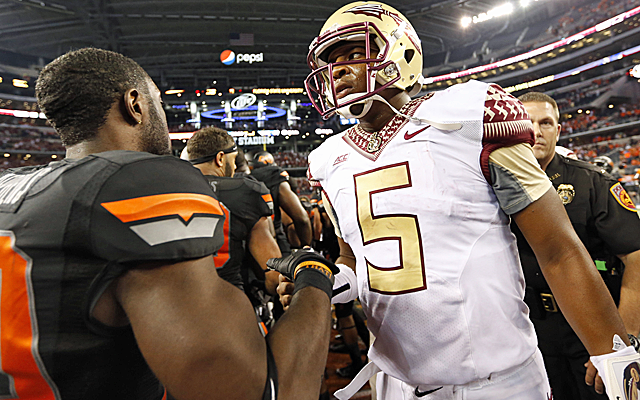 ARLINGTON, Texas -- None of them smiled. Not one.
The defending national champions left the field Saturday night stern, introspective, worn. They had been up 17-0, scored 37 and -- in the end -- had to explain what went "wrong."
"We have to get more hungry," Jameis Winston said.
Fortunately for Florida State, upset was an emotion not the result at Jerry World. Still, a significant question hung in the air after No. 1 Florida State beat Oklahoma State 37-31. Should the Noles have been relieved or hacked off following a less-than-impressive opener against a (seemingly) middle-of-the-road Big 12 opponent?
"Both," cornerback P.J. Williams said.
"Right now, as a team," Jimbo Fisher said, "we're a work in progress."
A work in progress? An FSU media handout filled with glitzy graphics and stunning numbers told us there were 13 All-Americans on various preseason teams -- five returning All-Americans. Eighteen draft picks the last two years. Five seniors on the offensive line with a combined 113 career starts.
Fisher found himself at the end saying, "We never did swing the momentum. They still had the momentum at the end of the game."
Now that Florida State has set the standard, it has to live up to it. Arguably the nation's deepest team opened a schedule that has -- at most -– two tests on it (Clemson, Florida). The Cowboys weren't supposed to be one of them.
But human nature is human nature. Fisher has been through this before. He was the offensive coordinator for '03 LSU that had to defend a championship.
Let-downs in these situations are natural. It just wasn't expected to be so soon.
"I think we were just worrying ... 'I don't want to lose this game,' the coach said. "Worrying about results."
True to his mentor's teachings (see: The Great Saban) Fisher got his champions to pay enough attention to the mystical Process to pull it out. The margin of victory tied for the second-closest in the school-record tying 17-game winning streak.
"We're not defending at all, we're still chasing," tailback Karlos Williams said. "It's a new trophy, a new playoff system ... There's nothing to defend anymore. The BCS is no longer around."
They just have to start convincing themselves. Loaded wasn't the word for Florida State Saturday night. That much we knew about them.
About the only thing the No. 1 Seminoles aren't defending -- Heisman, national championship among them -- is the Alamo. It's the interest level that needs to be measured -- or rather the lack of it. The pay-attention gene was lacking. There was a point Saturday night when Florida State could have named the score.
Seventeen-to-nothing looked like 170-0. At least they'd have an easier time looking at themselves in the mirror. But when you're playing against your own standard, it's not just the "if", it's the "how".
"It puts you on the big stage and you have to show up," Williams said. "We know how to grind. This is a grind game for us. This definitely taught us not every game is going to come easy."
The highest-scoring team in the game's history (723 points in '13) was supposed to blow Oklahoma State all the way back to Stillwater.
At 17-0, Winston threw the first of his two interceptions and, well, momentum is hard to snatch back. The Cowboys scrambled back to within three, 27-24, in the fourth quarter.
There was even an issue for a moment whether the best quarterback with the initials J.W. wasn't on the Noles sidelines.
Oklahoma State's J.W. Walsh dual-threated his way to 254 yards in total offense. He threw a 55-yard touchdown pass to David Glidden, who was so open it looked like the Noles forgot he was in uniform.
"The blessing was we were never down in the game," Winston said.
No, we didn't forget about Mr. Shellfish. Those interceptions were damaging but Winston was smart to know when to kick it in. Late in the third, he started featuring himself as a runner, scoring on a 28-yard scramble to bump the lead to 10.
He was smart enough to lean on senior Rashad Greene who caught 11 balls for 203 yards.
Some media wag actually asked Fisher if Greene was being targeted too much. Winston basically clinched the game by fitting a ball into a tight window to Greene that led to a 50-yard score with four minutes left.
"No," Fisher answered, "because I called it. Game was on the line. You go to your money guy."
That depth is also a blessing. A P.J. Williams hit almost caused Walsh to turn a somersault in mid-air. It absolutely did cause the quarterback to fumble near midfield in the fourth quarter. Earlier in the quarter defensive end Mario Edwards forced Walsh into an intentional grounding that ruined a possession.
There is just so much speed and too many athletes for the all the fuses to blow out at once on this aircraft carrier. Fisher's catchphrase during the offseason has been colorful and telling: "Don't eat the cheese." In other words, don't believe all the good things they're saying about you.
"Chasing is fun, going to get it is fun," Karlos Williams said. "Hunting something is fun. Why do you think people love to hunt. They love to study animals."
It's still early but for the wrong reasons and for long stretches of Saturday, the Seminoles seemed more like big, old hungry rats.