Notre Dame AD says potential Big Ten additions have 'zero effect' on ACC deal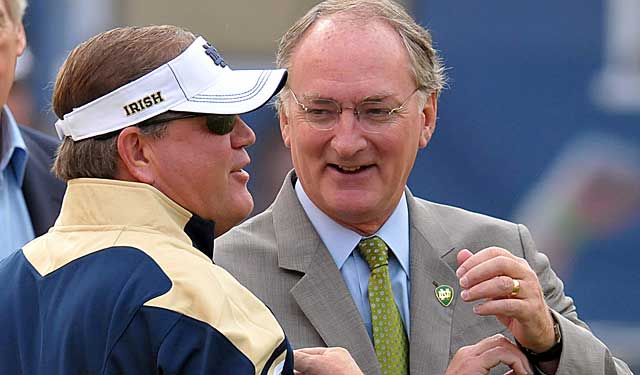 Swarbrick (with football coach Brian Kelly) says ND is happy where it is in relation to the ACC. (US Presswire)
SOUTH BEND, Ind. -- Maryland's potential defection to the Big Ten has "absolutely zero impact" on Notre Dame's allegiance to the ACC, Fightin' Irish athletic director Jack Swarbrick said after Notre Dame's 38-0 win over Wake Forest on Saturday night.
More on Big Ten moves
Analysis

Stories
In September, the Irish joined the ACC in all sports but football and hockey, while agreeing to play a five-game football schedule against conference schools every season.
"Wouldn't change anything about our decision-making process if we were going to engage in that today," Swarbrick said.
Both Swarbrick and Wake Forest athletics director Ron Wellman said the report, originated by ESPN, on Saturday night of Maryland and Rutgers in talks to join the Big Ten didn't surprise them, citing Fox's reported interest in acquiring the New York City-based YES Network as a potential driving force.
"If anything else was going to happen with the Big Ten, it was going to be East," Swarbrick said.
Wellman considers college football in a "period where there's going to be change," despite what many considered to be stability among the five power conferences -- SEC, Big 12, Big Ten, Pac-12 and ACC -- after Notre Dame's ACC deal.
The ACC is secure -- for the short and long term -- without Maryland should the Terps leave, Wellman said.
"I think we're very solid," Wellman said. "The five [power conferences] we have right now, while there might be some change within those conferences, I don't see five going to four."
ACC teams reportedly must pay a $50 million exit fee to join another conference. But the Big Ten can likely absorb the hefty sum up front while taking from the Terps' yearly media rights fees on the back end, according to a source.