NCAA president Mark Emmert hopes to unveil new stipend plan in April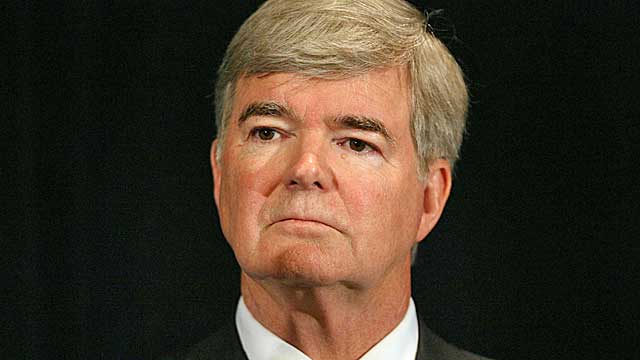 Emmert believes the current scholarship model of room and board, books and fees is antiquated. (US Presswire)
More than a year after widespread rejection of a proposal to provide players a $2,000 stipend to cover expenses a traditional scholarship won't, NCAA president Mark Emmert told CBS Sports he hopes to unveil a retooled stipend plan likely to include a "need-based component" to his board of directors in April.
This is a crucial push of reform agenda for Emmert, who admitted in early December at the IMG Intercollegiate Athletics Forum in New York that his original plan got "crushed."
Last fall, the board approved a plan to funnel a $2,000 stipend to scholarship athletes regardless of need. This didn't sit well with the 161 schools that overrode the legislation in December 2011.
But Emmert says there's more interest in a need-based plan, and that his NCAA task force continues to vet concerns from the NCAA membership.
Among the plan's options, according to Emmert:
Athletes applying for money through the Free Application for Federal Student Aid.
Giving universities or conferences discretion over how funds are allocated.
Calculating stipend payments based on family contributions.
The NCAA Convention in Dallas starts Jan. 16, which Emmert says is too soon to present a finalized plan because of the complexities involved.
"Whatever approach we take, we'll try to make it as administratively simple as possible," Emmert said.
Once the board of directors approves a plan, there's a 60-day window when schools can request an override. If 75 or more schools request it, the plan gets kicked back to the NCAA for reconsideration. Otherwise, the proposal goes to a vote of all the Division I schools.
"I don't want to handicap it in any sense," said Emmert when asked how the provisions would be greeted by membership. "We've listened closely to the concerns people have."
A need-based plan can be seen as glorified financial aid, especially when nearly 20 percent of NCAA student-athletes already receive a Pell Grant, a federal program that gives students in need up to $5,500.
The original proposal likely would have cost schools more than $400,000 per year because of Title IX regulations.
The thought of subsidized universities tacking on a few hundred more dollars to the student body's already-high yearly tuition rates is a hard sell, said Alabama-based attorney Gene Marsh, a former NCAA committee on infractions chair who helped Penn State navigate recent sanctions.
"Why would you vote in favor of a proposal that would further hemorrhage your athletic budget and try to compete with the revenue surplus that Alabama has?" Marsh said.
But Emmert believes the current scholarship model of room and board, books and fees is antiquated, and that a need-based model is progress.
"Providing more resources for students that don't need resources doesn't really address concerns the task force has," Emmert said about the need-based plan.
The public backlash might be less this time around, and there's a faction of Bowl Championship Series schools that prefer a stipend because they can afford it.
"Everyone in [the Big Ten Conference] is supportive of need-based model," Ohio State athletics director Gene Smith said.
But no doubt this issue is still divisive.
UConn athletics director Warde Manuel said he wouldn't change a thing about the current scholarship model.
"With talking about stipends they may receive, people need to start talking about the investment institutions make -- tuition dollars, support, all the things we do for student-athletes," Manuel said.