Pac-12 commish Larry Scott: Schools inquire by phone about membership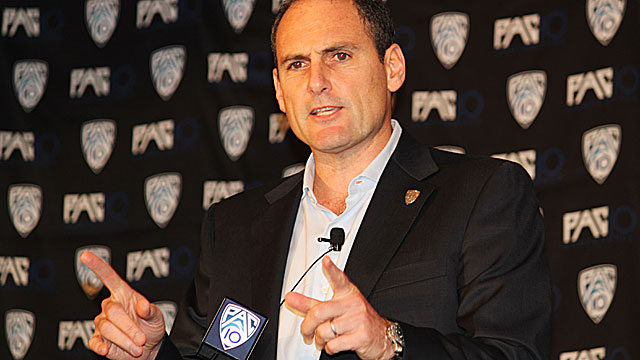 WALNUT CREEK, Calif. -- The Pac-12 appears content at 12 teams, but commissioner Larry Scott still gets a few just-in-case calls on occasion.
Scott said he fields "a good handful of calls, not that many" in a typical year from schools inquiring about membership.
"Most would be western schools who say, 'Hey, if you ever think about expanding, don't forget about us,'" Scott said. "I don't get a lot of calls, because I think we've made it pretty clear we're not looking to add schools."
Scott declined to disclose specific schools. Perhaps a few Mountain West schools called in recent years. Scott mentioned last year that Boise State and San Diego State could be targets if the league expanded but added "we don't have any plans" for that.
Scott almost pulled off the 16-team powerconference coup in 2010 with a push for Oklahoma and Texas before the Big 12 -- and the Longhorn Network -- salvaged its membership.
Scott said he's not nostalgic about what could have been but still speaks to his league presidents about "a world where there are 16-team conferences" in case the landscape trends that way. The Big Ten could have a lot to say on the matter in the next 2-3 years.
"There's really nothing I see happening with other conferences growing that, in my opinion, would put us at any kind of competitive disadvantage," Scott said. "I feel we're at the top of the pyramid right now in terms of TV access to a playoff. I can't imagine a scenario in the foreseeable future where we feel we're at a competitive disadvantage being at 12. In fact, in some areas we may be at an advantage."
Scott cites scheduling, managing costs, class schedules, access to postseason basketball and football, television exposure and revenue per member as reasons why 12 is the right number.
Other updates from Scott during an interview with CBSSports.com on Monday:
* The league is taking a progressive look at how to distribute tickets for bowl games. Scott is intrigued by the idea of two conferences and a bowl partnering in ticket distribution and moving from the dated model of schools selling their own allotment, which was a struggle for several BCS schools last season.
"It's become clear fans have a lot of options when it comes to sourcing tickets," Scott said. "The idea an individual school is responsible and can be accountable for delivering their fans to a particular bowl I think is a bit of an anachronism."
Though the Pac-12 is speaking with several conferences about potential bowl agreements -- bowl contracts run out after this coming year -- Scott said the league is happy with its current western-based tie-ins.
"Everyone's ... taking a step back and thinking, 'Is there a better approach for the conferences, maybe to talk directly with the bowls on what the matchups look like?'"
* On the stalled DirecTV negotiations, seems like Scott isn't budging. "We know they are hearing from their customers who are eager to get it. We're hopeful they'll be persuaded." This one could take awhile.