Old Big East faces decisions on Tulsa, new name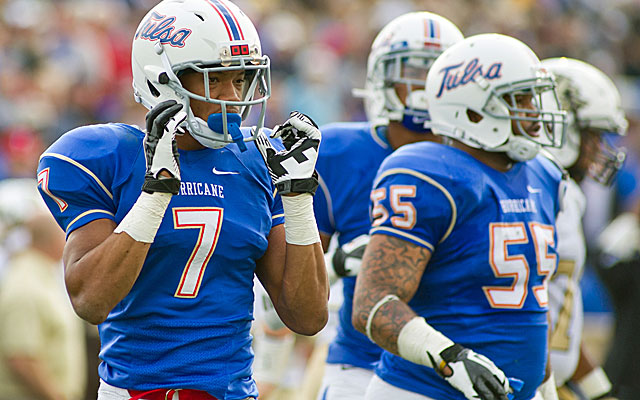 With an ESPN media rights deal and a breakup with the Catholic 7 basketball schools both finalized, the (old) Big East can properly address two issues: Finding a new name, and finding a new school.
A decision could come soon on Tulsa, which garners strong support within the membership to become the league's 12th school, according to a source.
"The decision is on [commissioner] Mike [Aresco]'s desk," the source said.
If the Big East extends an invite to Tulsa, the school would present the invitation to its board of directors for approval. C-USA schools make roughly $1 million per year in television revenue, so a move to the Big East – which signed a seven-year deal with ESPN worth a projected $20 million annually to be spread among members – seems logical.
USA Today reported in late January the Big East liked Tulsa but wanted to complete the television deal, which was completed nearly a month later.
The league has a 10-team lineup for 2013 and 2014, when East Carolina and Tulane replace Louisville and Rutgers. Navy is committed as a football-only member in 2015. Tulsa, a small private school coming off a Conference USA title, would make 12.
The Big East's contract with ESPN likely includes provisions to accommodate the league's expansion or reduction based on the future ripple effects of conference realignment.
A 12th team allows the league to conduct a league championship game that adds additional revenue, but the yearly pot would be split 12 ways instead of 11, at least in theory.
"We are looking at expansion. I haven't made any secret of it," said Aresco last week. "We obviously wanted to wait until conference tournaments were over until we start the process in earnest."
The league's biggest financial coup might be its $100 million treasure chest in exit fees and NCAA tournament credits, which will be spread among members. Deciding how to distribute that money could take awhile, especially because senior members such as UConn and Cincinnati could make an argument for a bigger cut.
As for the new name – which is necessary because the Catholic 7 took the "Big East" handle in the divorce -- the league recently presented membership officials with several possibilities to consider.
"The America, the Metro, Collegiate, the United – it covered everything," said a source with knowledge of those discussions.
The source wasn't sure whether "Collegiate" or "United" Conferences were realistic names but said the above quote spoke to the wide-ranging nature of the brainstorming sessions among members. "America" and "Metro" have been reported as potential names.
The Big East is working with a branding specialist to develop its new look in time for next season.