Coaching Changes Daily: Assessing the odds on Texas search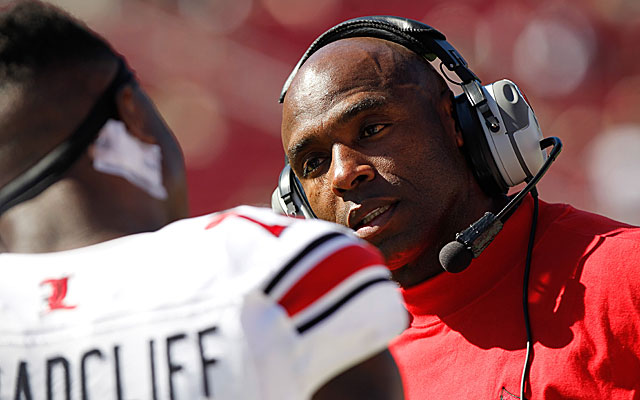 The country's highest-profile coaching search + Vegas odds = unadulterated Internet heaven.
The Texas search will one day descend upon us with clarity. But we all know the routine. It's far too early for that. The job opened Saturday night, so on Monday, any coach with a winning rep was asked by local reporters about being linked to the job.
This is the What-is-your-level-of-interest phase of the search.
The answers from coaches varied. Even if they play it off, best believe coaches want to be asked about other jobs. It enhances their profiles.
•"I guess the way I would answer that, I see Michigan State as a destination, not a stop." -- Michigan State's Mark Dantonio
•"Let's not get my name into that." -- LSU's Les Miles
•"No matter what I say, the rumors aren't going to stop." -- Stanford's David Shaw
Today, the search transitions to the What-do-the-odds-say phase.
Below are the recent odds released by @BovadaLV, which is seriously pumping Charlie Strong, along with my take on each. Apparently coaching odds come from offshore sportsbooks, but for us this is simply an easy way to spark conversation about potential UT candidates.
You can look at these odds through two lenses. One is that you believe Texas, in all its splendor, can have any coach it wants. The other is you believe Texas will get a darn fine coach but will also get used for leverage by several coaches who are totally comfortable making loads of money where they are.
I probably fall somewhere in the middle.
Charlie Strong (2/1): Disagree. Great coach and recruiter, but just seems like an odd fit. He can either stay at Louisville or wait out Florida, where he has a long history and a good relationship with the people there. Louisville AD Tom Jurich isn't about to be outbid. Strong's mild-mannered. Can coach in shadows at Louisville -- and make nearly $4M a year doing so.
Art Briles (9/2): Disagree. No doubt Texas was part of the conversation when Briles and Baylor finalized a contract extension last month worth more than $4 million per year. Both parties already got what they wanted. Bailing on Baylor before unveiling the new stadium that he built would be a tough sell for a guy with a soul like Briles. Maybe I'm naive. Just don't see it.
James Franklin (5/1): Agree. In the next few weeks, expect Franklin to be in the conversation. It's a good time for him to consider a job like this. Texas could use an injection of youth and energy. Franklin oozes that much. Making $3-plus million per year at Vandy isn't a bad gig, either.
Mike Gundy (7/1): Agree. In fact, maybe Gundy's odds should be a bit stronger here. Monday's "Coaching Changes Daily" post outlined why Gundy makes a ton of sense at UT -- if you can get past his 1-8 record vs. Oklahoma.
Bill O'Brien (15/2): Disagree. Could be wrong, but my guess is Penn State or NFL for O'Brien. According to CBS Sports' Jason LaCanfora, O'Brien carries huge NFL cachet. Penn State is a better job than the scholarship reductions indicate. Because of the restrictions, O'Brien doesn't have to win big every year.
Chip Kelly (10/1): Disagree. He has a better job. This isn't Bobby Petrino 2.0. The Eagles are actually pretty good. Kelly left Oregon to test his mettle in the NFL. One year isn't enough of a sample size for that. There were whispers that Kelly brushed off simple booster duties at Oregon. Now he wants to handle the Longhorn Network?
David Shaw (10/1): Disagree. He's just so adamant about being a Stanford guy. Hard to believe all coaches, but Shaw seems sincere about his desire to stay.
Jim Mora (10/1): Agree. UCLA probably thought Washington was the only fire it'd have to put out. If Texas has Mora on its short list, this orange might be hard to extinguish. Mora fits the profile -- high energy, good with boosters, good talent evaluator, would have more resources than at UCLA. If he's interested, I could see this one.
Jimbo Fisher (15/1): Agree. I'm surprised these odds aren't stronger in Fisher's favor. FSU dropped the ball not raising Fisher's pay after last season. Will he remember that when UT calls? FSU has tried to ease concerns with a recent extension to $4.25 million per year, and my guess is the Seminoles will fight to keep their guy. Win or lose in Pasadena, Fisher's roster for 2014 will be loaded and will be hard to leave.
Jim Harbaugh (20/1): Disagree. Has one of the best jobs in all of football. Zero chance.
Mike Tomlin (20/1): Disagree. Zero chance. Just don't see it.
•Coaching staff update: Wake Forest coach Dave Clawson plans to bring Bowling Green offensive coordinator Warren Ruggiero and defensive Mike Elko with him to Winston-Salem. An announcement will likely come after the Falcons' Dec. 26 appearance in the Little Caesars Bowl, according to a source.