UF's Roper, WVU's Holgorsen among most important offensive coaches
More college football: Dennis Dodd | Jeremy Fowler | Latest news
A friend once told Kurt Roper of college coaching's great truisms: They are all temp jobs. Roper already knew this since his dad, long-time coach Bobby Roper, worked for several major schools, including Tennessee.
This begs the question: Why did Florida's new offensive coordinator just buy a house in Gainesville shortly after taking a job that might expire in 12 months if Will Muschamp doesn't bounce back from 4-8?
"We love setting roots," said Roper, hired by UF in December after six years as David Cutcliffe's OC at Duke. "We hope it's for a long time,"
To confirm Roper's comfort, the Gators probably need to be at least 11 points better each game. From Roper's experience calling plays in the SEC with Ole Miss and the ACC with Duke, 30 points usually lends a decent-to-good chance to win.
The Gators' feeble 2013 offense averaged 18.8 points per game in 2013.
That differential, coupled with the Swamp-sized expectations placed on Muschamp's hire, make Roper the most important offensive coach of 2014.
WVU head coach Dana Holgorsen is a close second (more on him in a minute) in a top 10 list of coaches with the most to gain or lose based on how the offense performs.
For Florida, West Virginia, Arkansas and TCU – storied programs in full reclamation mode this offseason – offense shall set them free.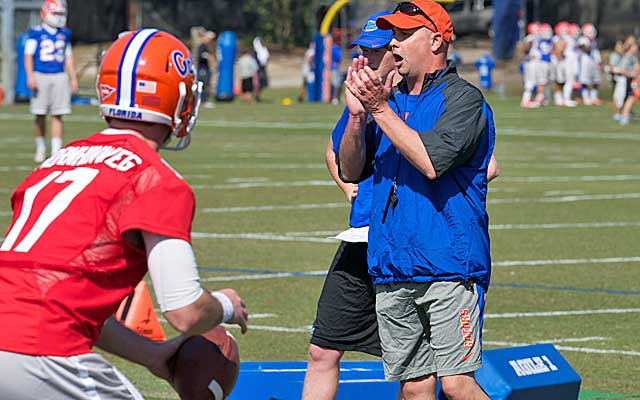 Roper seems cool with the pressure. He didn't watch any Florida film before taking the job. He left a good job at Duke in part because he wants to be a head coach one day and figured this was a positive step.
Early on, Muschamp had a clear message for Roper, who first called plays for Cutcliffe at age 29: More up-tempo, more shotgun formations, utilize Jeff Driskel's dual-threat ability.
So this is what Muschamp is getting, according to Roper: "Spread formation team with spread run game principles with pro-style drop back pass game."
For the Cliffs notes version: "Speed in space."
To understand his play-calling style, think Roper and Roper, LLP.
"I kind of look at it like a lawyer -- I want to know the answer before I answer the question," Roper said. "When I call the play, I want to have a pretty good idea about what's going to happen. Then you better be able to fix your problems. Problems will arise every day."
And, also, players shouldn't think too much in Roper's offense. Slows them down. And do like Peyton Manning does – treat every practice rep like a game rep. He watched Manning do this during Cutcliffe-organized offseason workouts at Duke.
What else from Roper? Execution beats tempo all day, Florida needs one-on-ones -- but not these kind of one-on-ones. Though, to be honest, Roper appreciates the effort on that viral blunder. He says this kind of thing happens more than you'd expect. With 75 snaps or so, a lot can go wrong.
These 10 can't afford that.
1. Kurt Roper, Florida OC: See above.
2. Dana Holgorsen, West Virginia head coach: It's surprising to hear Holgorsen say "we did not play winning offense" when, from 2007-12, his offenses finished in the top 13 in scoring every year.
Last year, 79th.
What happened? The short answer: Playing three quarterbacks can make a coach miss Brandon Weeden and Geno Smith.
Actually, Holgorsen wasn't displeased with WVU's ability to move the ball (more than 400 yards per game). He was upset with ranking near the bottom of the Big 12 in turnovers, third down conversion rate and red-zone efficiency.
A popular locker room message this offseason: "Finish, finish, finish" games, Holgorsen said.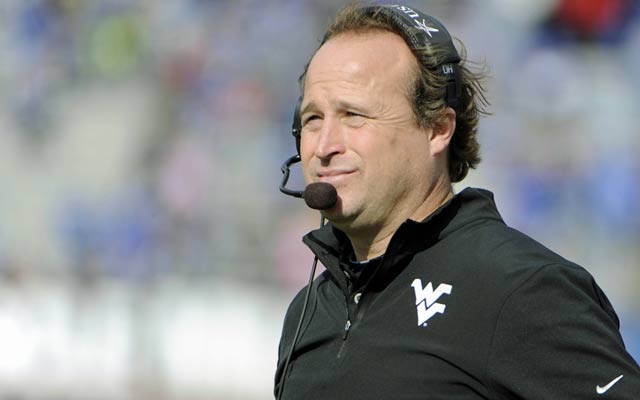 "It's not many Geno Smith or Tavon Austin-type bodies running around right now -- we have to win as a team," Holgorsen said. "We've got to win with good depth. I think we're at that point right now."
Holgorsen said his first West Virginia team, pre-Big-East-departure, had about 65 scholarships. Lack of depth is the biggest reason for the slow transition to the Big 12.
After recruiting in bulk the last few years, West Virginia is counting on Pitt transfer running back Rushel Shell and a trio of 2013 junior college playmakers – Dreamius Smith, Kevin White and Mario Alford – to emerge.
The quarterback job likely belongs to Clint Trickett, who won't be ready for on-field work until August because of shoulder surgery. Trickett, an FSU transfer, started slow after missing most of last offseason and battled injuries during the year. His stat line of 87-of-149 passing for 1,104 yards over his last four full starts isn't stellar but is something to work with.
"I'm really confident he'll be able to play better," Holgorsen said.
3. Jim Chaney, Arkansas OC: After back-to-back-to-back-to-back 3,000-yard passers, Arkansas could barely muster half that total in Bret Bielema's first season. The Razorbacks' power running game is solid but you need more in the SEC today. Alabama and LSU run pro-style sets but they have elite talent to do so. Arkansas doesn't right now. Chaney must make it all work -- all while deciding whether Brandon Allen is the answer at quarterback.
4. Doug Nussmeier, Michigan OC: Brady Hoke is betting on Nussmeier's experience with quarterbacks (A.J. McCarron, Jake Locker, Marc Bulger) to help Devin Gardner feel less helpless than a year ago, when he ran out of necessity. Gardner won't take as many hits in Nussmeier's pro-style system that emphasizes the running game -- you know, with actual running backs. Michigan started several underclassmen on the line last year. They should be ready now. Derrick Green finally looks like the every-down back Michigan expects.
5. Doug Meacham, TCU OC: The Horned Frogs had zero balance in Gary Patterson's worst season in Fort Worth: The Big 12's second-best defense offset by the second-worst offense. Patterson hired Meacham from Houston to speed things up. Maybe 100 more plays from last year's offensive total of 822 and TCU might have won a few of those four conference games it lost by three points or less. Former Texas Tech assistant Sonny Cumbie will help call the offense.
6. Mark Mangino, Iowa State OC: Imagine it's 2007 and Todd Reesing is throwing the perfect corner route in Mangino's offense. You're welcome. When Mangino had KU rolling, not many offensive coaches were better. But make no mistake, this is a bold offseason hire by Paul Rhoads because Mangino has been out of high-level football since 2009. Perhaps some things don't change – and Mangino knows the Big 12. Rhoads must know that, with better offense, the Cyclones snag a few more Big 12 wins.
7. Ralph Friedgen, Rutgers OC: Nostalgia fills this list with Mangino and now Friedgen, who needs to alleviate Kyle Flood's near-ulcer from every time he watched the offense turn it over last year (-12 in turnover margin, ranked 121st nationally). Rutgers enters Big Ten play as a projected bottom-feeder unless Friedgen gets the best out of Minnesota transfer Philip Nelson or whichever quarterback wins the job.
8. Lane Kiffin, Alabama OC: Kiffin isn't higher on this list because he won't exactly be breaking new ground at Alabama, where a run-first offensive identity was established long ago. He doesn't have to reinvent Saban's process. But maximizing the potential of the new quarterback, likely FSU transfer Jacob Coker, will be his top assignment. If Head Coach Lane doesn't interfere with Play-caller Lane, the play-caller could be pretty good.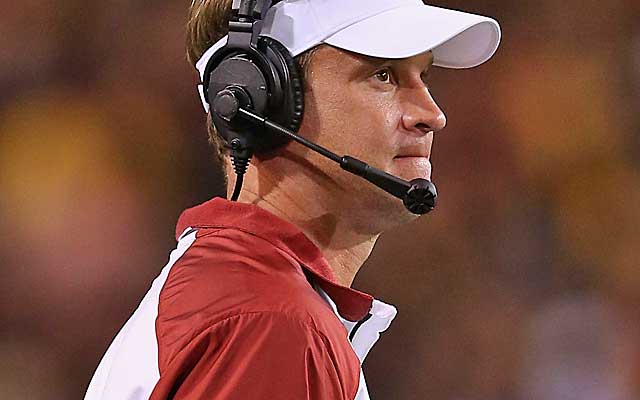 9. Scot Loeffler, Virginia Tech OC: This is the year to see what Loeffler's all about. His one-year stint as Auburn OC seemed futile because the program was a mess, and last year he inherited Logan Thomas without sufficient playmaking around him. If Beamer Ball is destined for one last major push, it starts with the offense. The defense is always stocked.
10. Bill Blankenship, Tulsa head coach: Blankenship had a chance to hire Colorado School of Mines head coach Bob Stitt – many high-profile head coaches swear by Stitt's creative one-back methods – but instead Tulsa's head coach will continue to call the plays. Coming off a 3-9 season and entering the first year in the American, Blankenship needs to lift the country's 101st-ranked offense.