Derek Carr successor? QB Brandon Connette visiting Fresno State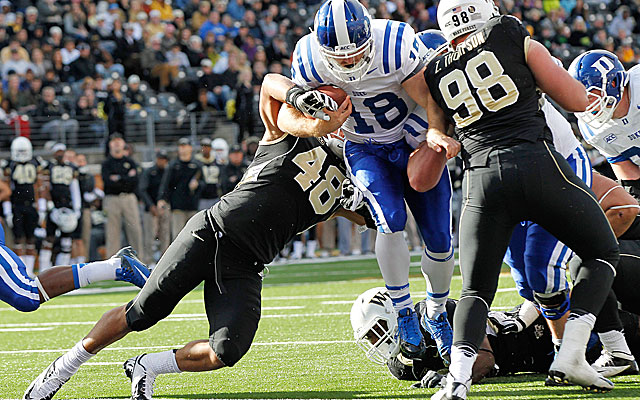 More college football: Bruce Feldman | Dennis Dodd | Jeremy Fowler | Latest news
Fresno State appears to be looking to the ACC to usher in the post-Derek-Carr era.
Former Duke quarterback Brandon Connette, who scored a school-record 27 touchdowns last year, is scheduled to visit the Bulldogs next week and, if all goes well, is expected to sign there, according to a source.
Connette, a senior who can play right away after graduating from Duke, is looking to get closer to home because of his mother, Nancy, who underwent surgery in December to remove a brain tumor.
Fresno is about a four-hour drive from Connette's home town of Corona, Calif., and he'll get plenty of chances to develop as a passer in Dave Schramm's spread system.
Carr, who could be a first-round pick in May's draft, threw more than 50 times a game and still completed 68.7 percent of his passes.
Expecting Carr's passing production from Connette would be a bit unfair, but Connette has high-level experience after completing 90-of-145 passes for 1,212 yards, 13 touchdowns and six interceptions last season. He was especially effective in the red zone, rushing for 14 touchdowns on 101 attempts as a dual-threat quarterback to complement starter Anthony Boone.