College Football Program Draft: Did your team make the top 32?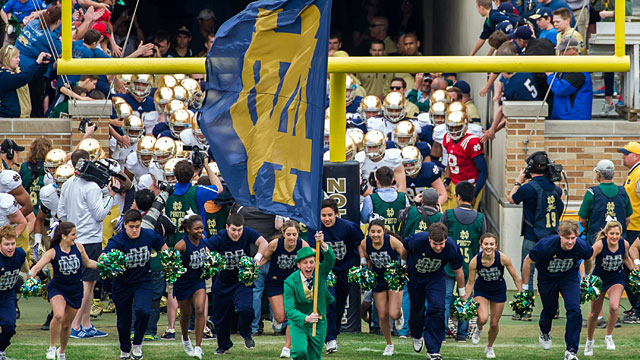 At some point between the formation of the College Football Playoff and today, the phrase "Power 5" has become a passable classification in the game's hierarchy.
Apparently the 65 teams from the five power conferences must have the floor before anyone else speaks.
Well, if we're really playing class warfare, doesn't the power belong more to a handful of schools than conferences? The reason certain conferences have superior television deals is because of the attractive schools to which they attach.
That notion brings me to this exercise, the search for the top college football programs in the form of an NFL-style draft.
Let's trash the Power 5 concept, reignite realignment and start our own league with the best teams, regardless of affiliation.
CBSSports.com's seven-man college football team has worked up a five-round draft with one simple goal in mind: Picking the best programs while keeping both short-term and long-term success in mind. The operative word is 'programs.' Picking the best teams would be a preseason top 25. If you needed to buy stock in college football programs and couldn't sell for a while, this would be a guide.
Here's a quick breakdown.
Format: Seven GMs presiding over a 32-team draft.
Making the picks: Jeremy Fowler, Dennis Dodd, Jon Solomon, Jerry Palm, Tom Fornelli, Jerry Hinnen, Chip Patterson. (Fowler gets first pick because, well, he's also the league's commissioner. He will pay himself a Larry Scott-sized salary).
Criteria: Must account for athletic budgets, resources, current coaching/lineup prowess, recruiting success, history, fanbase.
Wild cards: Among non-power schools submitted for consideration: Boise State, UCF, Cincinnati, BYU, Houston, UConn. Schools with annual budgets under $40 million will not be eligible for selection.
Let's get right to it. The diversity early on was a welcome surprise. Not as SEC-heavy as you'd think -- well, until the SEC took over.
1. Alabama
Drafted by: Jeremy Fowler
Coach: Nick Saban
Record last three years: 36-4
Explanation: No weaknesses. Not one. Even when the Tide were down, you sort of knew they would explode again. Normally Texas would make this a difficult pick, until the Longhorns decided to make the choice rather easy thanks to a first-year coach, an uninspired last four years and the emergence of other schools in the state. This is as safe a bet as knowing Bo Pelini will win eight or nine games next year. It's a guarantee. -- Jeremy Fowler
---
2. Ohio State
Drafted by: Dennis Dodd
Coach: Urban Meyer
Record last three years: 30-9
Explanation: Coach, cash and crazy Columbus. Having the nation's No. 2 athletic budget is all fine and dandy but having the Big Ten's best football program (sorry, Michigan State) makes it all pay off. Sorry, I can't do any more alliteration with the words "Urban" and "Meyer" but Coach Comeback (from two resignations) is building the Bucks in the image of an SEC franchise. -- Dennis Dodd
---
3. Florida
Drafted by: Jon Solomon
Coach: Will Muschamp
Record last three years: 22-16
Explanation: Yeah, Will Muschamp might not be the answer in Gainesville. But this is a longterm investment. Since I don't pick again until No. 10, I can't pass on a traditional SEC power that's located in talent-rich Florida, ranked No. 6 in total revenue and has won two national championships since 2006. AD Jeremy Foley and the fans won't let this program stay down for long. -- Jon Solomon
---
4. Texas
Drafted by: Jerry Palm
Coach: Charlie Strong
Record last three years: 25-14
Explanation: Well, fine. I'll take TEXAS. Yes, they're in transition with a new coach, but one who has been successful before. The Longhorns print money and have a plethora of home-grown talent to choose from every year. They may have the occasional lull, but they won't be down for long. -- Jerry Palm
---
5. Notre Dame
Drafted by: Tom Fornelli
Coach: Brian Kelly
Record last three years: 29-10
Explanation: Well then I guess I'll be a homer and take NOTRE DAME. We've discussed the budget, even though we don't know it, we know it's healthy. The helmets are paved with gold I tell you! They also have that national television deal of their own that puts them on TV across the country every Saturday, and they continue to play all over the country to keep the national brand strong. There's some question about if that'll change now that it has its scheduling deal with the ACC, but something tells me if Notre Dame could survive the last 25 years of mediocrity and still be a national brand, playing some teams from the ACC won't hurt too badly. -- Tom Fornelli
---
6. USC
Drafted by: Jerry Hinnen
Coach: Steve Sarkisian
Record last three years: 27-12
Explanation: Lane Kiffin, schmane schmiffin. Plug even an average coach into the biggest talent magnet in a state as talent-laden as California and you'll be fine. Plug in a Pete Carroll, and you get the defining college football dynasty of the Aughts, at least on the conference level. I don't know if Steve Sarkisian is up to quite up to Carroll's standard, but with the Trojans' recruiting cachet and ample resources, he'll have a better shot than anyone else in the Pac-12 at repeating it. -- Jerry Hinnen
---
7. Oregon
Drafted by: Chip Patterson
Coach: Mark Helfrich
Record last three years: 35-5
Explanation: Going for the program with "tremendous upside" since we are still in the midst of the Ducks' most prosperous years. There is no such thing as budget when Phil Knight is footing the bill, and we've seen his impact as Oregon's flashy uniforms and state-of-the-art facilities reset standards for the entire sport. Mark Helfrich will find it hard to replicate Chip Kelly's four-year blitz of success, but Marcus Mariota could be the player, and the College Football Playoff could be the format, for Oregon's first national championship. -- Chip Patterson
---
8. Florida State
Drafted by: Jeremy Fowler
Coach: Jimbo Fisher
Record last three years: 35-6
Explanation: I take Solomon's Florida pick and raise it 10 more wins. The steal of the draft is here, in Tallahassee, where Jimbo Fisher is a few hours from 40 percent of the country's top players. And he closes on them -- often. Couple FSU's roster/coaching/recruiting magic with the tradition set by Bobby Bowden and FSU looks like the SEC, smells like the SEC, but doesn't need the SEC cachet to win big. -- Jeremy Fowler
---
9. Michigan
Drafted by: Dennis Dodd
Coach: Brady Hoke
Record last three years: 26-13
Explanation: Can't believe this recently underachieving program is still here at No. 9. Whether Brady Hoke survives or not, athletic director Dave Brandon will endure. The marketing department just needs a football team it can be proud of. -- Dennis Dodd
---
10. Oklahoma
Drafted by: Jon Solomon
Coach: Bob Stoops
Record last three years: 31-8
Explanation: Thanks, Dodd. While you figure out whether Michigan will be relevant again, I get a Sooners team on the rise again after beating Alabama. The Sooners' recent commitments to pay Bob Stoops and for stadium renovations show they're still a player. -- Jon Solomon
---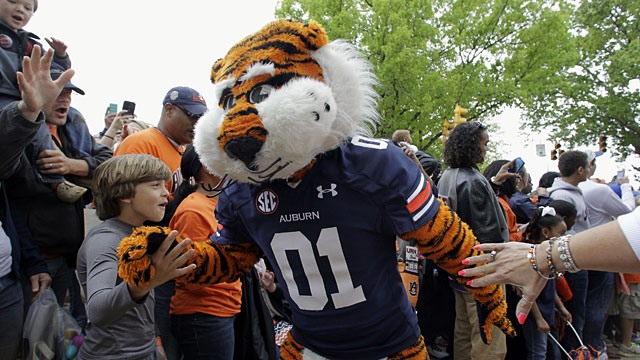 11. Auburn
Drafted by: Jerry Palm
Coach: Gus Malzahn
Record last three years: 23-16
Explanation: The Tigers have been in two of the last four title games -- with two different coaches -- and are considered among the favorites to get there again. The current coach, Gus Malzahn, has his program ready to be an annual challenger to its in-state rival and he has the resources to keep it going for the long haul. -- Jerry Palm
---
12. Georgia
Drafted by: Tom Fornelli
Coach: Mark Richt
Record last three years: 30-11
Explanation: Georgia may not have the title history of some of the schools already chosen, having only won two national titles (the last being in 1980), but it's still an annual contender in what has been the best conference in the country for the better part of a decade now. It also has coaching stability with Mark Richt running the program for the last 13 years, pulls in nearly $100 million in revenue, and is located in a state with a very fertile recruiting base. So it's not a top 10 pick for a reason, but it's always threatening to become one. -- Tom Fornelli
---
13. LSU
Drafted by: Jerry Hinnen
Coach: Les Miles
Record last three years: 33-7
Explanation: Well fine, guys, if you're going to leave me the only major program in a state as awash in NFL-caliber prospects as Louisiana, guess I'll have to take you up on it. Les Miles could still stand to do a better job managing the quarterback position, and the SEC West is a bear, but the bottom line is that you can count the number of rosters with more year-in, year-out talent on one hand... or maybe just a couple of fingers. -- Jerry Hinnen
---
14. Texas A&M
Drafted by: Chip Patterson
Coach: Kevin Sumlin
Record last three years: 27-12
Explanation: It is tempting to pick up that #goacc flag and select Clemson, but I've had my eye on the Aggies and their massive stadium expansion for a few picks now. Johnny Manziel started the mania, but Kevin Sumlin's staff (with the help of the Swagcopter) has torn up the recruiting trail to make sure the A&M offense continues to fill those seats moving forward. It'll take a more consistent defense to steal the SEC West from the state of Alabama, but the support of the 12th Man makes up for that -- in the stands and in the bank -- in our draft of franchise-ready programs. -- Chip Patterson
---
15. Stanford
Drafted by: Jeremy Fowler
Coach: David Shaw
Record last three years: 34-7
Explanation: Blasted, Chip! Was eyeing the Ags. Might offer a trade with cash considerations and a future second-rounder. I'm picking Stanford because in Palo Alto I can replenish my 401K and win Pac-12 titles. I can drink Pinot Grigio at the tailgate. And with an annual budget pushing $100 million, a fertile recruiting ground and serious leadership, this is a decision I won't regret in 10 years. -- Jeremy Fowler
---
16. Oklahoma State
Drafted by: Dennis Dodd
Coach: Mike Gundy
Record last three years: 30-9
Explanation: T. Boone Pickens' bucks are just beginning to be realized. This is an investment for now and thefuture. -- Dennis Dodd
---
17. Clemson
Drafted by: Jon Solomon
Coach: Dabo Swinney
Record last three years: 32-8
Explanation: This was a toss-up between Clemson and South Carolina. If I was picking solely based on now, I'd go Gamecocks. But Clemson has the far better history and Spurrier won't coach forever. Also, this follows my strategy of picking lower-round teams that have to win fewer tough games than SEC teams to make the playoff. If they beat Florida State, the Tigers have a better shot at the playoff than the Gamecocks have of surviving the SEC. -- Jon Solomon
---
18. Wisconsin
Drafted by: Jerry Palm
Coach: Gary Andersen
Record last three years: 28-13
Explanation: Care to guess which athletic department is second in revenue behind Texas? Not Notre Dame. Not Alabama. Not Ohio State. Wisconsin sits second. That's a lot to work with to keep a football program that is always at or near the top of the Big Ten moving forward. -- Jerry Palm
---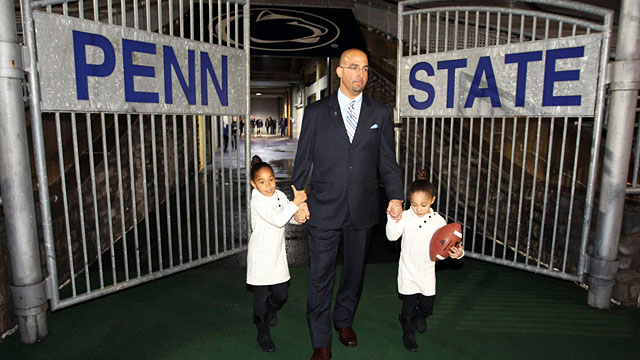 19. Penn State
Drafted by: Tom Fornelli
Coach: James Franklin
Record last three years: 24-13
Explanation: I had to scramble a bit here as Palm just stole my pick right out from under me, but I'll gladly take Penn State. Sure, things have been rough the last few years for all the reasons known to everybody, but this is still a football school first and foremost. A football school with a rabid fan base and a lot of tradition, as well as over $100 million in revenue annually. -- Tom Fornelli
---
20. Baylor
Drafted by: Jerry Hinnen
Coach: Art Briles
Record last three years: 29-10
Explanation: The Bears have enjoyed, oh, somewhere between a tenth and a hundredth of the traditional success of every other program on this list, but unless you believe Art Briles is going somewhere anytime soon -- and I don't -- the Bears aren't going anywhere either. Their recruiting is nearly on par with the Longhorns' and Sooners', their eye-popping new stadium should give them a major boost both on the trail and on the field, the Big 12 looks to be wide open for years to come. Maybe this is an overreaction to their 2013 Big 12 title, but I doubt it. -- Jerry Hinnen
---
21. UCLA
Drafted by: Chip Patterson
Coach: Jim Mora
Record last three years: 25-16
Explanation: The Bruins are only a Top 30 school in terms of public school revenue and expenses (via the USA Today finances database), but the upward trajectory under Jim Mora has UCLA going toe-to-toe with the Trojans on the recruiting trail and in the win column. USC has the upper hand in terms of history, but Mora is 2-0 so far in the rivalry and his staff has brought in three straight Top 20 recruiting classes (including the 2013 class that ranked No. 7 according to 247Sports) to keep building for the future. -- Chip Patterson
---
22. South Carolina
Drafted by: Jeremy Fowler
Coach: Steve Spurrier
Record last three years: 33-6
Explanation: You could argue South Carolina is a top-three SEC program right now, but this is a long-term pick, too. I don't expect the Gamecocks to revisit mediocrity even after Spurrier retires, which might take a while. The program has won with in-state players, is top 25 nationally in revenue and is still hungry for its first title. -- Jeremy Fowler
---
23. Miami (Fla.)
Drafted by: Dennis Dodd
Coach: Al Golden
Record last three years: 22-15
Explanation: Gee, Miami? Golden staying was one of biggest "gets" of the offseason. Plus, it says here the NCAA pulls off the PR move of the century and rescinds the last two years of bowl bans. -- Dennis Dodd
---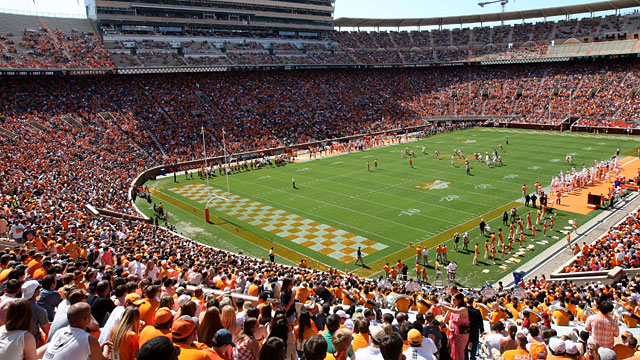 24. Tennessee
Drafted by: Jon Solomon
Coach: Butch Jones
Record last three years: 15-21
Explanation: This is my sleeper pick I've been waiting on. The Vols have been off the radar for a while. Guess what? So was Alabama for almost a decade. Tennessee is still currently No. 11 among FBS schools in all-time winning percentage and plays in a 100,000-seat stadium. Since I wasn't able to get an SEC West team (Texas A&M eluded me), this pick doubles down on the SEC East for me with Florida and Tennessee. The pendulum has to shift back to the East at some point, right? -- Jon Solomon
---
25. Michigan State
Drafted by: Jerry Palm
Coach: Mark Dantonio
Record last three years: 31-10
Explanation: The defending Big Ten champs have been on the rise for a while now and made a big statement last year by winning the league and winning the Rose Bowl to finish 13-1. People may always look at them as Michigan's little brother, but the Wolverines have only finished ahead of the Spartans in the conference once since 2007. As long as Mark Dantonio is there, MSU figures to be Ohio State's biggest challenger, if not its biggest rival. -- Jerry Palm
---
26. Nebraska
Drafted by: Tom Fornelli
Coach: Bo Pelini
Record last three years: 28-12
Explanation: The days of Tom Osborne and the unstoppable Husker machine seem a long time ago, but this is still a program with a lot of history and cachet on the national scale. Plus, Nebraska fans love the hell out of their football team, and this league could really use Bo Pelini's cat. -- Tom Fornelli
---
27. Washington
Drafted by: Jerry Hinnen
Coach: Chris Petersen
Record last three years: 23-16
Explanation: If Chris Petersen is what he's supposed to be, is there anything really separating the Huskies -- on a program level -- from the likes of Stanford or Oregon? The Huskies have no shortage of fans or resources in Seattle, a Pacific Northwest recruiting track record that can equal the Ducks' and a long tradition of Pac-12 success going back to, well, the Pac-8. -- Jerry Hinnen
---
28. Virginia Tech
Drafted by: Chip Patterson
Coach: Frank Beamer
Record last three years: 26-14
Explanation: Maybe this brings good karma for the next time I'm around and "Enter Sandman" makes the press box sway in Lane Stadium -- a terrifying experience (we even felt the earth move below us in Charlotte a few years back). The Hokies are still riding a 26-year streak of bowl appearances, and after seeing new AD Whit Babcock hire Buzz Williams I'm feeling like it's a program that will extend beyond Frank Beamer's career. -- Chip Patterson
---
Round 5 (flipped drafting order, cut selections from seven to four to land at a clean 32-team, NFL-style league)
29. Missouri
Drafted by: Chip Patterson
Coach: Gary Pinkel
Record last three years: 25-14
Explanation: You thought Missouri fans had beef with CBS before, just wait until they see the Tigers fall to the final round of this draft. (No, we don't hate your team) Missouri has recorded four 10+ win seasons since 2007, erasing any post-realignment doubt with a charge up the ranks of the SEC East in 2013. I'll gladly pick up this state school with a passionate fan base to round out my draft haul. -- Chip Patterson
---
30. Louisville
Drafted by: Jerry Hinnen
Coach: Bobby Petrino
Record last three years: 30-9
Explanation: Maybe Bobby Petrino isn't the best long-term building block, but any program in the hands of an AD like Tom Jurich -- now with the added bonus of ACC-caliber cash -- isn't likely to suffer much, even in the event of his departure. -- Jerry Hinnen
---
31. Arizona State
Drafted by: Tom Fornelli
Coach: Todd Graham
Record last three years: 24-16
Explanation: Think Jim Delany has markets? He doesn't have Phoenix, which grows faster than Oregon snaps the ball. Arizona State's recruiting gets better, the team is improving and Todd Graham bought a home -- no more 12-month leases. -- Tom Fornelli
---
32. Texas Tech
Drafted by: Jerry Palm
Coach: Kliff Klingsbury
Record last three years: 21-17
Explanation: The Red Raiders picked up one of the hot young names in coaching last year in alumnus Kliff Klingsbury, which means an offense that will be competitive in the Big 12 for years to come. While they will always have to compete with the Longhorns and Aggies for players, there's plenty of local talent to go around. -- Jerry Palm
---
Potential expansion teams for future: Kansas State, Iowa, BYU, North Carolina, Ole Miss, UCF
Teams by conference: SEC -- 9; Big Ten -- 6; Pac-12 -- 6; ACC -- 5; Big 12 -- 5; Independent -- 1
Fowler's final analysis: GMs were making long-term investments early in the draft. Five of the top 10 picks didn't have particularly stellar 2013 seasons, but their history carried the day. FSU falling to eight is surprising. So is Baylor at 20, a Hinnen special. A year ago, Baylor doesn't sniff the first three rounds. The top wasn't SEC-heavy until back-to-back-to-back-to-back picks from 11-14. Hard to knock the bloated SEC numbers if you consider programs as stand-alones. Perhaps the only mild surprise was maybe Mizzou, which makes a strong case for this list. Otherwise, the balance was impressively good. No power league had less than five teams. A ton of proud programs fell to the 20s because of recent struggles -- Tennessee, Miami, Virginia Tech, Nebraska. These could easily be top-10 picks five years from now. Best sleeper pick? Arizona State at 31. Had my eye on the Sun Devils in the late rounds.