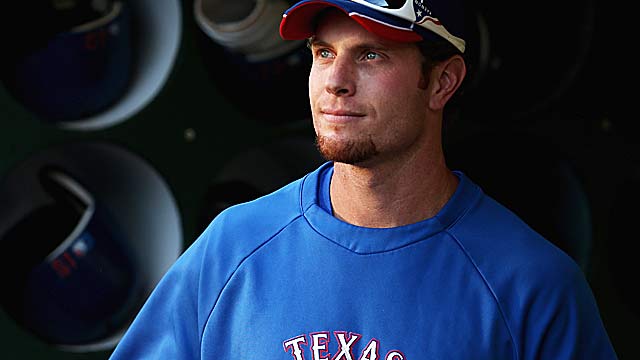 NASHVILLE, Tenn. –- They could get two million pounds of ice into the Opryland Hotel for the Shrek Christmas Spectacular, yet 30 baseball teams could get neither Josh Hamilton nor Zack Greinke to accept millions and millions (and millions) of dollars here.
These winter meetings started slowly enough that one executive early on complained that "this thing doesn't have any legs to it."
Then they limped to a conclusion with agent Scott Boras sizing things up as only he can.
"It's," Boras said, "how do I describe this? A laissez-faire market. The way it works is, it's like putting on your pants. It starts bottom up."
More on winter meetings
Column

Danny Knobler
Loose ends? This year's meetings end with a superstar logjam.
Read More >>
Related links
Even the Yankees put on their pants one leg at a time at these meetings. Infielder Jeff Keppinger ($12 million, three years with the White Sox) and Eric Chavez ($3 million, one year with the Diamondbacks) told them to get lost.
The biggest news all week involved a hip -- Alex Rodriguez's.
Music City? Welcome to Nashville. All we got was mediocre, overpriced Opryland Hotel food and a winter meetings that played out like a bad country song.
The highlights (or, in some cases, lowlights):
Greinke: Still appears to be between the Dodgers and the Rangers. But some Dodgers people think he'll wind up in Texas because if he really wanted to be in Los Angeles, he could have signed by now. Also, Greinke's wife is from Texas and a former Dallas Cowboys' cheerleader and the Los Angeles folks fear that her Texas ties will steer Greinke that way.
Of course, the Rangers have noticed that he hasn't signed with them yet, either.
Suggested Country Music title: My Phone Ain't Been Ringing, So I Guess it Wasn't You
Hamilton: He spent much of the week in Nashville, holding clandestine meetings with clubs romancing him. Most entertaining aspect of all was word that he not only coincidentally was on the same flight as Rangers general manager Jon Daniels into Nashville on Sunday, but that he and Daniels wound up sitting next to each other on the plane.
Rangers manager Ron Washington says Hamilton has promised he will check back with Texas once more after investigating the free-agent market. It has been surprisingly quiet for Hamilton. Red Sox GM Ben Cherington and manager John Farrell met with him Monday, and the Mariners are engaged in talks with him as well.
The Rangers met with Hamilton's agent, Mike Moye, on Tuesday night.
"[The plan] is similar to what it's been all along," Daniels told Texas beat writers Thursday before leaving town. "We'll maintain contact and probably circle back in the next couple of days."
Suggested Country Music title: You're the Hangnail in My Life, and I Can't Bite You Off
Top chefs: Much of the last 48 hours was dominated by indications of a monster three- or four-way deal that would have the Rangers acquiring outfielder Justin Upton, the Royals acquiring starter James Shields, the Diamondbacks (perhaps) acquiring shortstop Asdrubal Cabrera, the Indians (perhaps) acquiring one of two starting pitchers from Arizona, either Trevor Bauer or Tyler Skaggs, the Rays (perhaps) acquiring top Royals hitting prospect Wil Myers.
But by the time the GMs rolled their bags into the lobby to head home, Towers, Daniels and others said nothing was close.
"I would say we're marinating now," Towers said, speaking generally of his trade talks, but not "sautéing."
"That's hotter," Towers quipped. "Marinating is still cold."
Suggested Country Music title: When You Wrapped My Lunch in a Road Map, I Knew You Meant Goodbye
Justin Upton rumors: Don't expect them to run out of steam anytime soon. A couple of things here: Towers said he thinks Upton's value has only increased given the eye-popping contracts bestowed this week on other outfielders, and he said he will not set a deadline by which interested clubs need to deal or else the Snakes will keep Upton.
"That's not the way I do business," Towers said. "You never know. Things change. Landscapes change. Even in spring training, someone could go down with an injury.
"This is a business. It's tough. I certainly understand kids and wives affected by rumors that might be out there. But it's certainly no different than if you're an executive and you're on the hot seat. It happens and you deal with it. Some people deal with it better than others."
As for where things stand now, Towers said: "Maybe I do business differently than previous GM's that he's had. But I'm open every day of every year, and if the right deal presents itself, if you've got a no-trade provision or a trade provision, I'm always going to be open and I'm always going to listen.
"I'm sure he doesn't like it. I imagine it's uncomfortable. I don't blame him. I think with social media now, it happens. It's hard to keep any trade discussion quiet, your name is going to get bandied about, but he's a pro. He's been in the game long enough to understand not to say that he likes it. But he's still here, so I think he understands how much we value him and like him."
Suggested Country Music title: Billy Broke My Heart at Walgreens and I Cried All the Way to Sears
Valet service: While Towers' Diamondbacks were "marinating" in the trade market, the Dodgers, according to GM Ned Colletti, were "parked at the curb."
Suggested Country Music title: Am I Double-Parked by the Curbstone of Your Heart?
The World Series Champs: After re-signing reliever Jeremy Affeldt ($18 million, three years), the Giants dug way deep into their pockets in Tennessee (home state of Buster Posey, by the way) and forked over astounding sums to retain outfielder Angel Pagan ($40 million, four years) and infielder Marco Scutaro ($20 million, three years).
"That's 'winning tax,'" quipped on NL executive.
It also could be nuts. Colleague Danny Knobler uncovered this gem via baseball-reference.com: Scutaro, 37, earned $22 million in nine full seasons before turning 37. Now he will make $20 over the next three seasons.
Suggested Country Music title: I Wish I Were a Woman (So I Could Go Out With a Guy Like Me)
Boston's Cream Pie: Following up on their 93-loss season, the Red Sox gave outfielder Shane Victorino and catcher-first baseman Mike Napoli identical three-year, $39 million deals, causing executives and scouts to rattle the Christmas tree ornaments in the lobby debating whether Victorino's or Keppinger's was the worst contract of the week.
Suggested Country Music title: I Got In at 2 with a 10 and Woke Up at 10 with a 2
The Stabbing: The Padres learned starter Andrew Cashner will be out until at least May 1 when he sliced a tendon in his pitching thumb in a hunting accident. Thus continuing the club's rich history in hunting accidents:
Shortly after they acquired starter Carlton Loewer from the Phillies in 1999, he fell out of a hunting blind and suffered a broken leg and dislocated ankle. The injury basically ended his career.
In a related hunting story, Cubs manager Dale Sveum was shot in the ear (and had pellets removed) by Hall of Famer Robin Yount on one of their outings this winter.
Suggested Country Music title: Bubba Shot the Jukebox
The Beard: Free-agent closer Brian Wilson has yet to find a home, but don't expect him to land with the Brewers despite a certain, um, magnetism.
"He looks like a Milwaukee type of guy," Brewers GM Doug Melvin told Milwaukee reporters. "He'd have fun in Milwaukee."
Suggested Country Music title: You Can Lock Me Up in Jail & Throw Away the Key, But You Can't Keep My Face From Breaking Out
Bourn identify: Poor Michael Bourn -- the Twins appear to be singlehandedly crushing his market. After dealing center fielder Denard Span to the Nationals last week, they traded Ben Revere to the Phillies on Thursday, effectively eliminating two clubs that had been in need of a center fielder.
"We don't have any secondary agenda," Twins GM Terry Ryan said when I kidded him about this on Thursday.
The Twins are just trying to get better and they are desperate for pitching.
As for Bourn, it's hard to see beyond the Mariners are the moment as to where he might get his money.
Suggested Country Music title: At the Gas Station of Love, I Got the Self-Service Pump
Not so heavenly: One winter after rocking these meetings by signing Albert Pujols and C.J. Wilson, the Angels were busy, but went small-tier. Looking to fill a rotation minus Ervin Santana and Dan Haren, they signed veteran Joe Blanton ($15 million, two years) after trading with Atlanta for Tommy Hanson. And they signed reliever Sean Burnett ($8 million, two years) after signing closer Ryan Madson ($3.5 million, one year).
Suggested Country Music title: Her Teeth Was Stained, But Her Heart Was Pure
Loser: Astros. Bad enough when they stripped their team down to Double-A level talent. It was bad enough when new manager Bo Porter spent most of an entire managerial lunch here Wednesday rudely staring down at his cell phone like a zoned out teenager rather than engaging the media seated with him in any kind of conversation.
But what really frosts this rotten cake is news this week that beloved television broadcaster Jim Deshaies is blowing out of town and into the Cubs' booth. Good for him.
Suggested Country Music title: Don't Know Whether to Kill Myself or Go Bowling
Winners: Congratulations to Paul Hagen, the longtime Philadelphia Daily News writer (currently with MLB.com) for winning the J.G. Taylor Spink award for excellence in baseball writing and to the late Tom Cheek, the legendary Blue Jays broadcaster, for winning the Ford C. Frick Award. Both will be honored during Hall of Fame inductions next July.
Suggested Country Music title: When You Leave Walk Out Backwards, So I'll Think You're Walking In