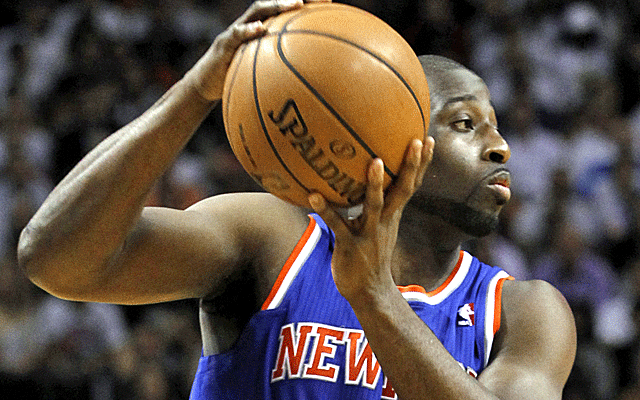 MIAMI -- The media, including myself, hovered around Carmelo Anthony for an hour or so before tipoff Thursday night, watching his every move.
He shot jumpers, worked up a sweat, grimaced a few times, but looked ready to go in a game that had the potential to galvanize the Heat and wake them from their post-championship slumber. In the locker room, about an hour before game time, Anthony announced to no one in particular that he was going to take a shower. This was news on Twitter, because everything is news on Twitter. He blew his nose (two honks), got cleaned up and headed to the trainer's room to decide if he would play with a lacerated finger on his non-shooting hand.
More on Knicks-Heat
Related links
One lineup sheet with Anthony's name on it was distributed to those working at the scorer's table around 7:30 p.m. Moments later, a Heat official arrived with a different sheet -- one with Anthony's name neither on the starting lineup nor among the inactives.
Intrigue.
But we were all following the wrong story, the story of whether Anthony would suit up and try to prove to LeBron James and the Heat that the Knicks are no fluke -- that they are going to be a problem for the defending champions. The real story, it turns out, was what would happen if Anthony didn't play. That was far more interesting and potentially meaningful as these old rivals took another step in what could be a long, complicated staredown that lasts well into springtime.
Anthony did not play Thursday night, and the Knicks beat the Heat anyway. They demolished and demoralized them, in fact, inflicting the worst home loss on Miami's Big Three since they came together in 2010. For the second time in this regular season barely a month old, the Knicks beat the Heat by 20 points. On Nov. 2 in New York, a game the Heat clearly didn't want to play amid the destruction of Hurricane Sandy, a blowout loss on the road was explainable. What would the Heat's excuse be after a 112-92 thrashing at the hands of a Knicks team without its best player, Anthony, without another former All-Star, Amar'e Stoudemire, and without its best perimeter defender, Iman Shumpert?
There were no excuses, only a realization: The Knicks, who at 14-4 own the best record in the East and second-best in the league, are going to be a problem.
They not only won a game, but scored an even more important psychological victory, as well.
"It's important to know how you can beat a team," Tyson Chandler was saying in the locker room afterward. "Granted, it's one game. But last year, things were very different. We got smacked around a little bit by them. It's important that you take a little from each game, because when it comes down to it, we're going to have to go through a team like this when it comes to the playoffs."
Not just a team like this. In all likelihood, this very team.
Miami is where the Knicks' season ended last year, in a five-game playoff defeat amid the disgrace of Stoudemire smashing his hand into a fire extinguisher on his way from the court to the locker room after a 104-94 loss in Game 2. In February, Miami had been where Linsanity came crashing back to reality in a loss that soon spiraled into coach Mike D'Antoni's resignation and then gave way to this stunning turnaround under Mike Woodson. The Knicks are 32-10 (.762) in the regular season since Woodson took over.
"I was telling people the Knicks were going to be good," Chris Bosh said. "Even New York Knicks fans didn't believe me. I felt that they were going to be a very good team and were going to challenge us. I was thinking about them all summer because I know they were thinking about us. ... The rivalry is back."
Whatever the Heat are going through -- consistent defensive breakdowns and a two-game losing streak that started ingloriously with a loss to the Wizards -- is probably fixable. They're a different team, and Erik Spoelstra is trying to figure out how to depress the motivational pedal and get the kind of defensive commitment that became a reflex during their championship run. Repeating is hard. Spoelstra emitted all the expected clichés about "staying connected" and "owning it." The Heat's problems are their own, and have nothing to do with the Knicks or anyone else.
But when a defending champion does the regular-season dance with the teams in pursuit, the teams trying to get past that obstacle, the challenge is psychological as much as strategic. Which is why the outcome Thursday night was not only stunning, but perfect for the Knicks. Albeit in November and December, the Knicks are building confidence, figuring out how to win consistently and how to beat particular teams that are in their way -- namely, how to beat Miami. And the Heat had to look at the scoreboard Thursday night, look at the Knicks' 18 3-pointers raining down on them and the nine steals and 14 forced turnovers, and realize that this was without New York's two best players and best on-ball defender.
"The Knicks are for real," one rival executive texted after Thursday night's evisceration.
His knees covered in compression wraps and feet soaking in an ice bucket, Chandler could not have agreed more. He's been down this road before, and to him, the Knicks' fast start has a familiar feel to it.
"Dallas all over again," he said. "Me and the light-skinned brother over there talk about it all the time."
The light-skinned brother, of course, was Jason Kidd, who wins wherever he goes. It was Kidd and Chandler who joined forces with Dirk Nowitzki and a cast of veterans, swaggering playmakers and fearless perimeter shooters to end Miami's championship quest in this very building two years ago. James (who was brilliant Thursday night with 31 points, 10 rebounds and nine assists) and Dwyane Wade (who was not, with a 3-of-13 shooting night and a career-low plus-minus rating of minus-33) couldn't be blamed if they were having flashbacks to the 2011 Finals.
"It really feels like that, with the depth, the chemistry, the veteran leadership, the shooters," Chandler said. "And we have to really believe. The moment I signed [in Dallas], I promise you, I told my family, 'We're going to win a championship, and at minimum, we're going to make it to the Western Conference finals.' And I felt the same way once this group came together. With that team in Dallas, we started to believe as the season went along. The moment I walked in, I told all of them: 'Prepare for a long season. We're going all the way, and we have to have a mindset to do it, no matter what obstacles get in our way.' And it's the same thing with this team."
If that sounds like a sprinter's hyperbole after the first mile of a marathon, well, it is and it isn't. It's still too early to draw a straight line from the Mavs in 2010-11 to the Knicks in '12-'13. And with all due respect to Chandler, his leadership and his knack for causing winning to happen, that is precisely why the light-skinned brother he pointed to was sitting in the same locker room with him.
In a word, perspective.
"The makeup of the team is very similar," Kidd admitted. "The star players, Dirk and Melo, tops in the world. The pieces are very similar. When we played defense to start the season off that year, we started to believe that we could win that way and it just snowballed. Hopefully, it's the same thing here."
But ... this is where Kidd's locker-room IQ equals or even surpasses his basketball IQ.
"It's an 82-game schedule," he said. "This is dress rehearsal, that's all this is. You guys will do all the hype and everything, but this is just dress rehearsal for the playoffs. ... You can't fall into the trap of feeling good about yourself because we haven't accomplished anything."
And there it was, the cold water on the Knicks' little feel-good moment in December -- colder than the ice water where Chandler's feet had been. And while it's hard to argue with Kidd's experience and instincts about such things, it's pretty clear that we learned some things Thursday night. The Heat will be better in May and June than they've been in November and December. And also, so will the Knicks.
"Last year, we didn't have enough," Chandler said. "We didn't have enough to compete. This year, I feel like we do -- with anybody in the league, not just them."
In other words, everybody better buckle up.