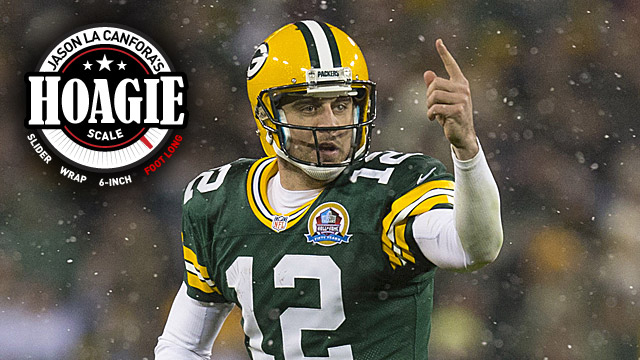 Rejoice, this is the week of the monster 1 p.m. kickoff!
In this era of Thursday night and Sunday night and Monday night football, and the ability to flex games and with so many broadcast partners to satisfy, as we know these weeks can tend to vary in terms of quality. And at times the early games seem to get the shaft. Well, not this week.
We've got major pre-playoff matchups that will dictate some teams' seasons, and as more spots are clinched we know that more players will be rested and some of these games won't maintain that same competitive intensity. Too many teams will have little or nothing to play for to pretend that the final two weeks can leave something to desired.
So let's bask in this week, because it doesn't get much better than this with the opening slate of games. Hoagies galore. Colts at Texans to settle the AFC South; Packers at Bears to settle the NFC North; Broncos at Ravens with playoff seeds on the line; Vikings at Rams could propel one of those teams to a wild-card spot; Giants at Falcons with seeding and more at stake. Of the eight early games, only the Jags at Dolphins lacks any playoff ramifications. (Now, the 4 p.m. games, aside from Steelers/Cowboys, are beyond rough, but we won't belabor that point here).
I'll gladly take that 1 p.m. slate any week. And I'll covet it in Week 15.

| | | |
| --- | --- | --- |
| |  at  | |
San Francisco at New England
Sunday, Dec. 16, 8:20 p.m. ET (NBC)
Why To Watch: A potential Super Bowl preview and yet another prime-time game where the Pats take on a big-time foe. (They had Houston on Monday night and Baltimore in prime time earlier this season.) If nothing else they will be battle tested come the playoffs. Tom Brady takes on the team he idolized as a kid (he will never forget they passed on him, repeatedly, in the draft), looking to improve his MVP standing against one of the best defenses on the planet. Both teams could use the victory to box out others for playoff positioning. Colin Kaepernick will get a real taste of what the big stage is all about on a Sunday night with the entire country watching the first-year starter.
What To Watch For: Brady's line is jittery, he has been getting thumped around and Aldon Smith, Justin Smith and Patrick Willis will have seen plenty of that on film. If you don't attack Brady he will slice you up -- not that he isn't great against the blitz, too -- but I anticipate an aggressive approach from the 49ers ... I would expect lots of three-step drops and quick stuff to Wes Welker in the slot ... Oh yeah, but despite all of that, did you see the Pats offense Monday night? How do you slow that down? ... Not having Julian Edelman could show up here for the Pats ... Pats had some issues back in the day with the Wildcat -- so Kaepernick could be a problem for them ... New England's secondary is much improved in recent weeks ... How does Logan Mankins, beaten up this season, come out of this street fight?
| | | |
| --- | --- | --- |
| |  at  | |
Pittsburgh at Dallas
Sunday, Dec. 16, 4:25 p.m. ET (CBS)
Why To Watch: This was once one of the game's true out-of-conference rivalries, with both teams Super Bowl threats through the 70s. And this game will have some of that flavor. The Steelers have lost three of four games and were shocked by the Chargers last week while the Cowboys saved their season in the wake of a crisis, with a teammate dead and another facing intoxicated manslaughter charges, rallying late to win at Cincy. It's something close to a must-win for both teams, who are trying to claw into the postseason, while the Cowboys do so while still grieving.
What To Watch For: Ben Roethlisberger had some rust in his first game back from his shoulder injury, but this is the kind of game he would usually dominate, putting his team on his back. And Tony Romo has appeared more like the true vocal leader of the Cowboys recently, and has his team believing as well. Does either flinch here? ... Even if Dez Bryant is out, Dallas can still capitalize on the absence of the Steelers top corner, Ike Taylor, with Miles Austin showing up more lately ... Both tight ends will feature prominently in the game plans ... Steelers need to get LaMarr Woodley back to restore the dual-threats off the edge with the pass rush … With Jay Ratliff ailing, I would not be surprised to see big back Jonathan Dwyer deployed between the tackles ... Bet we see another inspired performance from Cowboys corner Brandon Carr.
| | | |
| --- | --- | --- |
| |  at  | |
Green Bay at Chicago
Sunday, Dec. 16, 1 p.m. ET (FOX)
Why To Watch: Seems like quite a while ago that the Bears were 7-1 and one of the hottest teams in the game, while the Packers were scrambling to get back in the playoff picture. Well, the roles are reversed here and another divisional loss will leave Chicago in real danger of missing the postseason entirely. Green Bay could get another key defensive veteran or two back for this one -- Charles Woodson and Clay Matthews are making strides -- while Chicago's aging defense is suffering more injuries by the week. Timing, as they say, is everything. One of the game's oldest rivalries renews with so much at stake, and you just know the Packers would revel in adding to a swoon that could lead to offseason navel-gazing in Chicago.
What To Watch For: Jay Cutler is getting beat to a pulp, his ever-scrutinized body language has been particularly poor lately (at times he seems to be all too willing to just heave the ball up for grabs amid the relentless pass rush), and look for Packers coordinator Dom Capers to be tricky with the stunts and twists against this failing offensive line ... Watch how many times Brandon Marshall catches the ball surrounded by at least three opponents. It's staggering. Everyone knows where the ball is going and he still makes plays ... Green Bay is finding a touch of the power running game as the weather turns blustery, and the Bears are looking vulnerable against the run ... Chicago's cover-2 scheme usually keeps Aaron Rodgers in check, but with ailing corners that could change ... Any new signs of creativity from Chicago offensive coordinator Mike Tice? Any new wrinkles? Need something out of Devin Hester, who has had some key drops.
| | | |
| --- | --- | --- |
| |  at  | |
Indianapolis at Houston
Sunday, Dec. 16, 1 p.m. ET (CBS)
Why To Watch: Andrew Luck hasn't always been pretty, lately, and he's making his share of mistakes, but he already has the knack to make something magical happen while down in the second half. The upstart Colts could remain a threat for the division title (can't comprehend I am writing that sentence in mid-December) with a win, and their lone victory this season against a true quality opponent was Green Bay. So a chance for a statement here, while the Texans seek to capture the division, get the top seed and align for a Super Bowl run. It's the first meeting between these teams this season and it comes at the best time possible for football fans.
What To Watch For: Can Johnathan Joseph take away Reggie Wayne? It will be a crucial match-up ... Colts rushing defense is slipping the past four games, allowing 4.8 yards per carry. Houston is second in the AFC, averaging 142.5 yards rushing per game ... Luck makes a lot of errors on the road, throwing 13 of his 18 picks away from home with an awful 66 passer rating. J.J. Watt and that swarming defense will give him plenty to think about and Wade Phillips should be able to get the better of him a time or two. Luck was born in Houston and his father is a former Oilers quarterback, so this could be a special game for him beyond the playoff implications. Is he nervy early? ... Colts won't be able to keep falling behind games as the level of competition intensifies, one would imagine. Colts have a minus-32 first-half scoring differential.
| | | |
| --- | --- | --- |
| |  at  | |
N.Y. Giants at Atlanta
Sunday, Dec. 16, 1 p.m. ET (FOX)
Why To Watch: Are the Falcons for real? Are they built to get it done in January? Is this just another Atlanta ruse? And are the Giants all the way back, like let's-go-on-a-tear-to-the-Super-Bowl back, or will their helter-skelter nature come forth again? Both Eli Manning and Matt Ryan have been prone to wild extremes, getting interception heavy at times but also looking as good as any passer in the NFL at others. If the Falcons keep losing it may negate the urge to sit some key vets in the final few weeks, while the Giants know nothing is assured as far as their playoff lives, needing to hold off Washington and Dallas in the NFC East.
What To Watch For: Ryan has just a 77 passer rating the past four weeks, and those numbers have been padded by some big yardage in garbage time ... Can Hakeem Nicks get through a week without another injury scare? In the meantime, Victor Cruz is hot again ... Ahmad Bradshaw is healthy and playing excellent football again since coming out of the bye ... Will teams alter their special teams approach at all after David Wilson's explosion against the Saints last week? Will he continue to get more work on offense -- especially on passing downs -- given the concerns with his pass protection prowess this season? ... Michael Turner has a touchdown in four straight games, and five of the past six, but looks old and slow. All of the carries have taken a toll and it's hard to imagine him getting that turned around this late in the season.
| | | |
| --- | --- | --- |
| |  at  | |
Denver at Baltimore
Sunday, Dec. 16, 1 p.m. ET (CBS)
Why To Watch: Broncos keep cruising to the top of the AFC, while the Ravens are suddenly in crisis. They are no longer unbeatable at home, no longer unbeatable within their division, QB Joe Flacco has dropped consecutive starts for the first time and their playoff hopes are still very real, but reeling some with the Broncos, Giants and Bengals still ahead. You know the concern is intensifying when John Harbaugh fires a coach in-season, let alone close friend Cam Cameron, his longtime offensive coordinator. He made the move with three games to play and just before Christmas while still leading the AFC North. That's a lot of drama with Peyton Manning coming to town boasting another MVP-type campaign.
What To Watch For: How does Baltimore's reeling defense handle Manning? Even when they bring five and six defenders with pressure, the pass rush often suffers. Terrell Suggs' season is still in doubt and even if Ray Lewis returns does he look like the guy who was getting run over early in the season? The Ravens are very thin at linebacker ... Haloti Ngata must be outstanding for Baltimore. He seems as healthy and comfortable as he has been since September having battled numerous injuries ... Will the Ravens go with more up-tempo, no-huddle stuff with Jim Caldwell now calling the plays? That's what Flacco prefers ... Emotions are high in Baltimore and that loyal crowd might turn on this wilting bunch quickly if Manning starts churning up the field early.

| | | |
| --- | --- | --- |
| |  at  | |
Minnesota at St. Louis
Sunday, Dec. 16, 1 p.m. ET (FOX)
Why To Watch: We all probably wrote these clubs off three weeks ago or so, but they have managed to win games, in whatever fashion was necessary, and remain very relevant in the wild-card race. The loser of this one is likely doomed, but the victor, especially if the Bears keep losing, will be in good shape, especially as the NFC East teams beat up on each other heading into the final weeks. Both teams have promising rookie kickers who have stepped up in the clutch, should this be a close affair, and who isn't captivated by Adrian Peterson's quest for 2000 yards following major knee surgery? Great subplot to this game beyond the playoff overtones.
What To Watch For: Sam Bradford gets very limited pass protection, I know, but could use a signature moment or two. The rally against the Bills last week was a nice starting point, and he could find pockets to exploit here ... The Rams badly need Danny Amendola back if at all possible. His presence in the slot would be vital against the Vikings scheme ... How many pass attempts does Christian Ponder get on first down? Any? Expect another very conservative approach by the Vikings here, not trusting the slumping passer, especially on the road, in what has become a tough dome for opponents. It will be a heavy dose of Adrian Peterson and a ton of cover-2 on defense. The Vikings aren't going to trick you much, especially since Percy Harvin went down.
| | | |
| --- | --- | --- |
| |  at  | |
Washington at Cleveland
Sunday, Dec. 16, 1 p.m. ET (FOX)
Why To Watch: Even if Robert Griffin III is out for a while, the Skins are in solid hands with fellow rookie Kirk Cousins at the helm, and this is an intriguing enough game either way. The RG3 watch will dominate the news all week, and Mike Shanahan certainly isn't ruling him out. Washington, left for dead at 3-6, could end up controlling its destiny. Cousins was unflappable in a comeback last week under wacky conditions and that running game remains powerful. The Browns have quietly won three in a row and are the hottest team in the vaunted AFC North, with a tough, tough defense leading the way. A few more wins and Pat Shurmur will have improved his credentials as the Browns new ownership group positions for the future.
What To Watch For: Washington's offensive line could still end up being an issue for them, though the Browns' don't have an abundance of pass rushing options ... Last week aside, the Browns had been dominant against the run, but Alfred Morris is a one-cut guy in the mold of Jamaal Charles, who tore Cleveland up last week ... The Redskins kicking game has been superb since Kai Forbath took over. Can he stay perfect all season? ...I like Joe Haden's chances at snagging a few balls with a rookie passer under center ... Trent Richardson is not getting much done on an average per carry basis, but is averaging 24 rushes per game the last six weeks ... Brandon Weeden is still struggling for the Browns, and may need to show something in December to go into camp the definitive starter there ... The debate will continue as to whether the Redskins can, or are, doing enough to protect Griffin, who at his frame and given the way he plays the game, might be impossible to save from himself at times. How much abuse is he taking between the hash marks, if he does play?

| | | |
| --- | --- | --- |
| |  at  | |
Seattle at Buffalo
Sunday, Dec. 16, 4:05 p.m. ET (FOX)
Why To Watch: Beware the wrath of the Seahawk, especially after a 58-0 beatdown of the Cards last week. But this team has been prone to letdowns on the road and this portends to be a staid atmosphere with the Bills again pretenders and the game being played in Toronto. But this does give Marshawn Lynch -- who runs irate (angry is just too tepid a term in his case) -- a chance to plow through his former team, the one that once drafted him in the first round but later traded him. If not for all of AP's science-defying brilliance, we'd be talking a lot more about Lynch's big season.
What To Watch For: Seattle can't get too cocky after an eight-turnover outing last week. The Seahawks' defense has not been as good on the road, and especially against the run. Look for Bills RB C.J. Spiller to finally get fed the ball with Fred Jackson now done for the season ... Richard Sherman could technically end up missing this game pending the start and outcome of his appeal of a four-game suspension for testing positive for amphetamines. The hearing is scheduled for Friday but could change. Fellow starting corner Brandon Browner is serving his second of four games. But can Ryan Fitzpatrick exploit any absences? He's thrown an interception in three straight games.
| | | |
| --- | --- | --- |
| |  at  | |
Cincinnati at Philadelphia
Thursday, Dec. 13, 8:20 p.m. ET (NFL Network)
Why To Watch: This is the last Thursday night game you'll have to kick around for quite some time, and, as much as we may bash the quality of games that is often produced on the short weeks, we all know we'll be jonesing for some midweek football soon enough (heck, football of any kind on any day of the week). The Bengals are trying to show they're not the Bungles and won't blow this chance to get back into the playoffs for a second straight year. They let one slip away to the Cowboys last week and have meetings with their division rivals in Pittsburgh and Baltimore still looming. The Eagles finally ended an eight-game skid. They have no pressure whatsoever and rookie quarterback Nick Foles is looking the part more each week.
What To Watch For: Foles is continuing to develop and you can sense his confidence rising. Coming off a last-ditch, game-winning drive in Tampa, that should only continue ... Given all of their injuries to the offensive line, how are the Eagles going to keep the kid upright against this defensive line? Carlos Dunlap and Geno Atkins could dictate the game ... Eagles rookie RB sensation Bryce Brown was finally slowed down last week, and the Bengals can be pretty tough against the run ... Bengals allowed 20 points last week -- the first time they allowed more than 13 since Nov. 4, due largely to Dallas converting 11 of 19 third downs. They must make corrections there and improve tackling.
| | | |
| --- | --- | --- |
| |  at  | |
Tampa Bay at New Orleans
Sunday, Dec. 16, 1 p.m. ET (FOX)
Why To Watch: Neither team made the playoff charge that seemed possible last month and, frankly, both will be playing to set a tone for 2013. Greg Schiano's bunch has suddenly lost three in a row and its defensive shortcomings have taken hold. Both quarterbacks have not been great lately, with Josh Freeman completing less than 45 percent of his passes the past two weeks and Drew Brees back to throwing pick-6s. Which of the wounded teams rally?
What To Watch For: Bucs rookie RB Doug Martin broke free from his mini-slump last week with a 128-yard outing and has a chance to go well over 1,500 yards this season. The Saints defense is primed to be gashed here ... Brees has thrown nine interceptions, to just four touchdowns, during New Orleans' three-game losing streak ... Bucs DE Michael Bennett is in the top 10 in the NFL with 25½ combined QB knockdowns and hurries ... Saints have attempted 134 passes and just 68 rushes during their three-game slide. Can they get more balanced? Brees could use it ... Interested to see how, or if, the Saints defend Vincent Jackson. He had seven catches for 216 yards and a touchdown in the first meeting, and was targeted 14 times.
| | | |
| --- | --- | --- |
| |  at  | |
Carolina at San Diego
Sunday, Dec. 16, 4:05 p.m. ET (FOX)
Why To Watch: It's likely too late to change the fates of Ron Rivera and Norv Turner, the head coaches in this game, but I guess you never know. Both are coming in off their best wins of the season -- the Panthers whacked the Falcons and the Chargers went to Pittsburgh and stomped the Steelers -- and both of their quarterbacks, much maligned, are coming off their best games of the season. Cam Newton is looking an awful lot like he did as a rookie, and that's a very good thing. Only Robert Griffin III has a better passer rating over the past four weeks, and Newton has not thrown a pick in that span while tossing eight touchdown passes. He alone is worth tuning in for.
What To Watch For: Homecoming game for Rivera and his offensive coordinator, Rob Chudzinski, both formerly of Turner's staff. Do the Panthers try to get too cute with Cam? ... Newton comes in off his first 100-yard rushing game of the season ... Ryan Mathews has still yet to look like a first-round pick. It's been five games since he's averaged a mundane 4.0 yards per carry ... Former Charger Mike Tolbert, whom Mathews used to split carries with, will be fired up to get a shot at his former team. There could be a trick play or two for him.

| | | |
| --- | --- | --- |
| |  at  | |
Jacksonville at Miami
Sunday, Dec. 16, 1 p.m. ET (CBS)
Why To Watch: Jags coach Mike Mularkey will try to show something late to keep from being one-and-done in Jacksonville, while Dolphins general manager Jeff Ireland is back under fire in Miami and could need a nice finish himself to avoid a job security debate. Otherwise, I'm not going to try to fool you here. Hardly anyone in Florida will be paying much attention to this one, much less the rest of the country.
What To Watch For: Chad Henne, the former Dolphins quarterback, makes his triumphant return to Miami. Well, OK, he's going back to face his former team and with an upset here could make life difficult for some of his former employers ... Ryan Tannehill needs to make strides in the red zone since he's completing just 42 percent of his passes in that part of the field. As the confines grow tighter his decision-making lags ... Any chance Maurice Jones-Drew makes a cameo before the season ends?
| | | |
| --- | --- | --- |
| |  at  | |
Detroit at Arizona
Sunday, Dec. 16, 4:05 p.m. ET (FOX)
Why To Watch: One of these bumbling teams will actually have to win a game, well, unless they tie. Neither seem capable of it right now. Give the Lions credit; they at least generally take a lead -- often a decent-sized one -- before caving in. The Cards are virtually incapable of any offensive thrust, but, if you enjoy seeing Larry Fitzgerald run precise routes and get completely open, only to have the ball sail several feet from his reach, well, have at it. Actually, I can't help but think Fitzgerald will look at Matthew Stafford feeding Megatron and perhaps break into tears.
What To Watch For: The Cardinals haven't thrown a touchdown pass in four games (but have tossed nine interceptions in that span). Any chance that changes? They claimed QB Brian Hoyer off waivers on Monday, and would anyone be shocked if Ken Whisenhunt gave him the start? What is there to lose? ... Arizona has not scored a TD in the past two games. So a first-down pretty much amounts to progress at this point.
| | | |
| --- | --- | --- |
| |  at  | |
Kansas City at Oakland
Sunday, Dec. 16, 4:25 p.m. ET (CBS)
Why To Watch: It's a rivalry, I suppose. Yeah, I guess that still is technically correct. Hmm, okay, what do I have beyond that to sell this football contest? Do you like running backs? Maybe Darren McFadden does something. Jamaal Charles is in peak form. And neither defense is equipped to stop much of anything. So points will be scored, you'd figure.
What To Watch For: How do the Chiefs keep it together in what was another emotional week, with Javon Belcher laid to rest? Their tragedy has continued each week, with memorials and funerals and, if nothing else, the ongoing class displayed by the entire organization as it handles this horrible situation must be applauded.
| | | |
| --- | --- | --- |
| |  at  | |
N.Y. Jets at Tennessee
Monday, Dec. 17, 8:30 p.m. ET (ESPN)
Why To Watch: This is actually a Monday night game in Week 15. I promise you. No joke. So, your outside viewing options are already limited. Oh, and this could serve as a perfect prime-time cautionary tale of what happens when you over-reach for a college quarterback with some obvious flaws. Mark Sanchez, for whom clawing for 17 points against the Jags constitutes hitting a stride, against Jake Locker, who authored maybe the most unfathomable interception of the season last week and has thrown seven picks in his past three games.
What To Watch For: There may be a comedic element at play here, and we all remember the pratfalls and Three Stooges routines which highlighted the Jets last prime-time appearance, on Thanksgiving night ... Would expect the Jets to run about as conservative a game plan as possible, again feeding multiple backs and relying on the defense to make plays ... Antonio Cromartie seems a safe bet to snag a few errant balls ... Braylon Edwards is back with Gang Green, people! How long until he says something stupid?