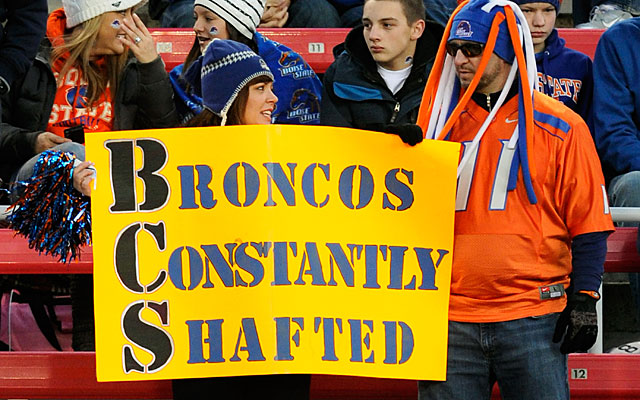 This is not the Big East that Bob Kustra bought into a year ago. Forget that, it's not the same Big East it was yesterday.
It's strange, then, that the Boise State University that Kustra oversees wields more power than ever in its 80-year history. If it bolts the Big East -- and it could, easily, today if it wanted to -- the reconfigured league falls apart.
Unless Cincinnati or the seven Catholic, non-FBS basketball schools -- Georgetown, Villanova, Marquette, Seton Hall, Providence, St. John's and DePaul -- beat Boise State to it. According to an ESPN report, a decision could happen in the next 24 to 48 hours when the presidents of the seven Catholic schools conduct a teleconference with Big East commissioner Mike Aresco. But as long as the Big East's continued existence is based on football, that existence is based on Boise staying firm.
Kustra is the 69-year-old Boise president who was once a staunch anti-BCS crusader. Now he is one of the more powerful CEOs in college athletics. Here's why ...
• He oversees the best football program currently below the BCS level. When Boise announced it was going to the Big East (last Dec. 7) that gave the fractured, rebuilding league credibility. The Big East had to go cross-country to do it, but it got the best football fruit left on the tree.
More on college football
Column

Related links
More college football coverage
Kustra's reasons for leaving his school's natural region: 1) Fair access to the new playoff system. That was decided last month; 2) East Coast exposure for his program; 3) TV revenue.
Actually, 3) is still to be determined. That's what is holding up the continued existence of the Big East. Boise State holds a lot of the cards to realignment below college athletics' Mendoza Line. Beginning in 2014, the Big East will go from BCS conference to a Group of Five (with Conference USA, the Sun Belt, MAC and Mountain West) participant competing for a guaranteed spot among the playoff bowls.
Long before we get there, though, the Big East has to transition from BCS league to that cross-country conference just trying to hang on. That's where Boise State comes in. A school that has played FBS football for all of 17 years is the key to the whole deal.
A quaint state school on the banks of the Boise River is the Big East's football flagship.
"There isn't another, other anchor team [in the Big East]," one college administrator said.
• Big East credibility has been damaged but no matter what happens, Boise is going to be OK. At the BCS level, conference brands sell. At the mid-tier level, individual schools give value to a conference.
CBSSports.com has learned that there was interest from a rights-holder in televising Boise State's home games only, similar to Notre Dame. That's not to say Boise would go independent, but it is a sign that the football program alone has television value no matter where it ends up.
• Kustra is a political animal. He is a former two-term lieutenant governor of Illinois. It was 2½ years ago that his school left the WAC for the Mountain West. The Big East would mark its third conference in four years. Kustra doesn't want to be seen as 1) Conference-hopping; 2) Backing out on a pledge to the Big East.
He might have no choice. His school didn't fully commit to the Big East until the absolute midnight deadline on June 30, 2012. Now some Big East schools are openly looking around. Emails obtained by the Cincinnati Enquirer show that Cincinnati was soliciting help from alum Urban Meyer to get into the ACC. The invitation of Tulane has been criticized because of the basketball program's impact on the conference's RPI.
• It is thought that Boise State (and BYU) would be welcomed back to the Mountain West if it came to that. Boise would likely land back in its former home if the Big East crumbled. BYU continues to monitor the landscape. There was rancor when those schools left but they add value to an MWC that would be up to 13 members if it added BYU and San Diego State and regained Boise State.
If nothing else, Boise and San Diego State would save on gas -- literally -- by staying in their region. Coach Chris Petersen hasn't been vocal on the subject but knowing the Broncos' head man, he would probably prefer to stay local. That's where his program made its bones. Petersen has coached 91 games at Boise. Seven of them have been played east of Oklahoma, only two on the East Coast -- against Virginia Tech in Landover, Md., to start the 2010 season and against Georgia in Atlanta last season.
CBSSports.com reported last week that a Big East contract could be worth as little as $60 million per year. Industry sources are saying now that number could be as low as $40 million per year. If that's the case, that's an average of $1.85 million per year per school. Seventy percent of that number would be football revenue, or $1.29 million. The Mountain West currently pays between $2 million-$3 million per year to its schools, according to sources.
Where Boise, the Big East and a portion of college football goes from here is up to a program that played in its first FBS bowl game 13 years ago. The school kind of breaks every rule of conference realignment: It's not a market (Boise is the No. 113 designated market area in the country. It's not even a huge revenue producer. Football was projected to break even this academic year.
Boise, though, plays great football. It is a brand that, in its own way, turns on televisions. That's what the Big East is banking on. That might be enough in a far-flung conference. It is a non-BCS curiosity trying to scratch out its place in a world of big boys.
Boise is here at this moment in time because of its Cinderella moments -- beating Oklahoma, coming within a couple of missed kicks of playing for a national championship, playing "up." After only 17 years of football, that will be enough.
As for the rest of the Big East ...?