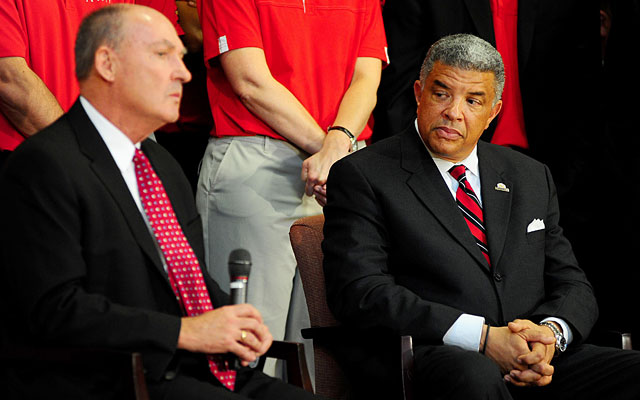 By the night of Sunday, Nov. 18, John Swofford was out of options. The ACC commissioner had tried to contact every key player at Maryland. President Wallace Loh. Athletic director Kevin Anderson. Chancellor William Kirwan.
Nothing but voicemails.
Turns out, Maryland had signed a nondisclosure agreement with its new partner, the Big Ten, as a way to protect the news of its imminent departure from the ACC. They weren't talking.
So Swofford organized a teleconference with all his presidents, athletic directors and faculty reps.
"He said, 'Look, I've been calling, texting, emailing [Maryland] for two days,'" said an ACC official who was on the call. "I think he was getting a lot of individual calls and texts from members wondering what was going on, and no one knew."
The next day, Nov. 19, Loh and Big Ten commissioner Jim Delany were glad-handing at a news conference on the College Park campus. Loh had finally called Swofford two hours before that photo-op, as the news had circulated online for days, and the conversation was classified by an ACC source as "brief."
More on college football
Column

Related links
More college football coverage
And you think breakups between boyfriends and girlfriends are messy. Try conference realignment.
Conferences have had plenty of practice as schools have more commitment issues than Steve Spurrier with quarterbacks. The ACC is learning this after conference officials felt blindsided by cash-strapped Maryland's move to the Big Ten, choosing a bigger payday over tradition.
More flirtation among conferences is considered a formality at this point. Heck, it has been happening for decades. The moves just garner more publicity now.
Commissioners hope they see it coming, and maybe they should, but that's not always the case.
When the news comes, commissioners must stay calm. They must breathe. And they must realize their conference isn't dissipating because of one defection.
At least that's one way of coping.
"You get over it, eventually," said Wright Waters, the former Sun Belt commissioner and now president of the Football Bowl Association. "You realize you have to be a leader regardless of the circumstance."
The SEC, Big Ten and Pac-12 are the only conferences not to lose at least one member. They've never experienced the hardest part -- being on the receiving end of the poaching call.
One former conference commissioner remembers a random weekday more than a decade ago when all his presidents professed on a conference call they were in this together.
It was a "lovefest," the commissioner said.
Two days later, a commissioner from a rival conference called. He was taking one of his schools, and the press conference was in an hour.
"That one pissed me off," said the commissioner, who spoke on condition of anonymity because of the people involved. "Normal procedure is to be notified by the commissioner of the other league when an invitation is extended."
Karl Benson has gotten the dreaded call too many times. The Sun Belt commissioner has lost four schools to Conference USA since May. He oversaw the WAC when it expanded to 16, then downsized to eight once the Mountain West launched. Boise State, Fresno State, Nevada and Hawaii plotted moves to other conferences under his watch.
Benson uses transparency to keep his sanity. That way, no one is surprised.
"It's definitely manageable," Benson said. "And most of the time it's not a surprise. Once Tulane and East Carolina made their announcements (in November to join the Big East), you know more than likely Conference USA will be looking at Sun Belt schools.
"It can be awkward, but on the other hand it's important to create an environment that allows for there to be a healthy lame-duck year."
Commissioners have to do their own research and reporting to understand all the possibilities, Mountain West commissioner Craig Thompson says.
"You generally have a strong sense, if not verification from outside sources, when an institution is leaving," Thompson said through email. "However, it's not always via direct communication. There is no form or policy to particularly address the situation."
It doesn't always have to be ugly. Without going into detail, Big East commissioner Mike Aresco said Louisville was classy in its move from the Big East to the ACC last month.
Perhaps the shock factor was gone since Louisville had made it known for more than a year it wanted out.
But Louisville AD Tom Jurich remembers 15 months ago calling then-commissioner John Marinatto and tracking down South Florida president Judy Genshaft, a Big East chair, while she was in London to give notice. The news couldn't wait.
Jurich once thought Louisville would be a Big East lifer, which complicated the breakup.
"The important thing for me was that they didn't hear about us on a talk show," Jurich said. "It's a very hard conversation. The last thing I wanted was for them to feel ambushed and blindsided. But we were going to find another home."
If college football expands to 16-team super conferences -- and many college football officials are torn on this issue -- breakups will be so rampant that Instagram might need to get involved.
The way Waters sees it, there's only one way to leave a conference.
"If you've got to sneak around to do it, people probably don't need to be making the move," Waters said. "If you can't do it on the up-and-up, you're probably not making the right move."