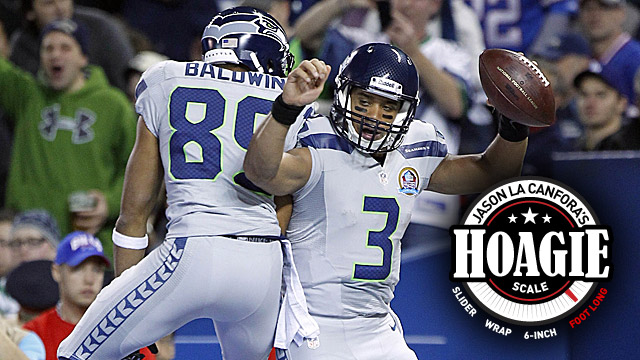 Did you guys know there isn't a Monday Night game this week? How did I miss that memo? What's my malfunction?
I had no clue until I started preparing this here column. Wow. I figured I'd be up until 1 a.m. or so wrapping presents with the wife, sipping (slugging back?) some vino with the game as my accompaniment. Damn. Now it's going to be four hours of Christmas tunes -- not that I don't love Christmas tunes. It's just that it's been nothing but Christmas tunes in my car since the day after Thanksgiving. Literally.
Oh, shoot, this is a football column, right? My bad.
OK, so I am over the momentary blow of no Christmas Eve game, but still intrigued by a lot that we have going on in the penultimate weekend of the regular season. We still have a few divisional races undecided and a little bit of seed jockeying still going on. We have some surging teams, like the Redskins and Cowboys, that would seem to be looking at favorable matchups, and at least two divisional heavyweight battles -- one of which we're lucky enough to have for you guys on CBS.
So, without further ado ...

| | | |
| --- | --- | --- |
| |  at  | |
San Francisco at Seattle
Sunday, Dec. 23, 8:20 p.m. ET (NBC)
Why To Watch: This is what flex scheduling is all about. We get a battle of two of the hottest teams in the NFL, who just happen to be in the same division. It would have been more of an NFC West battle royal had the 49ers not held off the Pats last week, but as it stands, this still looks like the game of the week. San Francisco is trying to secure the division and the Seahawks trying to clinch a playoff spot, at home, where they have the best home-field advantage in football. Factor in that Seattle has posted more than 100 points over the last two games, and the 49ers have a dominant defense, and all of the ingredients are there for a classic showdown. It's also a battle of two of the most exciting young quarterbacks in the league in Colin Kaepernick and Russell Wilson.
What To Watch For: Watch the legs of both of these kid passers -- they accelerate as quickly as anyone in the league and anticipate lanes opening ... Outstanding prime-time opportunity for Wilson to make his case for Rookie of the Year, and he is incredibly deserving of such recognition ... Justin Smith looks like he will be back for this, but how hobbled will he be? The 49ers defense utterly fell apart without him Sunday night, and Tom Brady suddenly had all kinds of time to pass ... Marshawn Lynch and Frank Gore are not afraid to run people over. One of the best running back matchups of the season ... No love lost between Pete Carroll and Jim Harbaugh, and Carroll is in rare form, calling fake punts when up 30 points and rolling up huge scoring totals. Handshake, anyone?
| | | |
| --- | --- | --- |
| |  at  | |
Cincinnati at Pittsburgh
Sunday, Dec. 23, 1 p.m. ET (CBS)
Why To Watch: The Ravens are beyond wounded and vulnerable and the winner of this game will still have a chance to snatch the AFC North from Baltimore. What more motivation could you want at this stage of the season? Pittsburgh has pretty much fallen apart the last five weeks -- with the lone bright spot a Charlie Batch-driving victory against the Ravens, if you can believe that -- and successive losses to Dallas and San Diego since then have them reeling. They continue to turn the ball over in odd ways at bad times, while the Bengals haven't looked like world beaters the past month or so, but compared to the rest of their languishing division they probably qualify as the best thing going. The Bengals get to host those slumping Ravens in Week 17, so a victory here could alter their season.
What To Watch For: The inevitable Bengals letdown. Could be some bizarre decision to challenge a play with no real hope of winning, or burning a timeout, or a personal foul at the worst time possible. But this is the kind of game they generally lose, and the inability to beat Baltimore or Pittsburgh the past two years has defined their seasons despite all the progress ... Troy Polamalu looks like he can be picked on these days. Not the same guy ... With so many Steelers corners ailing, there is no reason for Andy Dalton to avoid feeding A.J. Green all afternoon ... How many touches for Rashard Mendenhall after being a healthy scratch in two games and suspended for a third? I suspect it's plenty ... What strange way will Emmanuel Sanders find to cough the ball up this week?
| | | |
| --- | --- | --- |
| |  at  | |
Minnesota at Houston
Sunday, Dec. 23, 1 p.m. ET (FOX)
Why To Watch: OK, this might not really be a footlong by definition (and don't ask me to define it), but given this slate of games it qualifies. Minnesota would be in the playoffs if they started today despite its significant offensive limitations, and the Texans are trying to nail down the first overall seed in the AFC, which they might well need if they are in fact going to make it to New Orleans for the Super Bowl. Any time you have Arian Foster and Adrian Peterson on the same field, you'd best tune in, and especially with AP having a legitimate shot to best the all-time single-season rushing record while coming off major knee surgery.
What To Watch For: Can the Vikings compete if the Texans get off to a fast start? Christian Ponder is among the most limited passers in the NFL. The Vikings have no intermediate passing game, much less a true vertical option ... No one is ripping off more 50-yard runs than Peterson ... J.J. Watt is trying to keep pace with Aldon Smith for the NFL's sack lead, with the single-season record within reach ... Jared Allen, who nearly broke Michael Strahan's mark last year, goes up against what might be the best offensive line in the NFL, and stud left tackle Duane Brown ... Any chance of a letdown here by the Texans with this game sandwiched between big divisional games with the Colts? ... Peterson seems even more driven and unstoppable since Percy Harvin, Minnesota's only other real offensive weapon, has been out.

| | | |
| --- | --- | --- |
| |  at  | |
N.Y. Giants at Baltimore
Sunday, Dec. 23, 4:25 p.m. ET (FOX)
Why To Watch: It's hard to discern which of these teams was knocked around more last week. The Giants were embarrassed and shut out in Atlanta, and the Ravens were humbled at home by the Broncos in a game that wasn't as close as the lopsided score would indicate. Joe Flacco, playing his worst football in years, and with little support from a slumping offensive line, provided a salient image by falling flat on his face after trying to chase down a crushing pick-6 last week. He needs to rally to avoid a torrent of boo birds. The Giants, meanwhile, need to keep pace with the Cowboys and Redskins to earn the right to get a chance to defend their Super Bowl title in the postseason.
What To Watch For: Eli Manning has to be liking what he saw from his brother against the Ravens last week, and, I'm sure, what he will hear from his big brother as they compare notes ahead of this contest. The Ravens better hope ailing corner Jimmy Smith looks closer to 100 percent this week, given all of Manning's weapons ... Is either team getting healthy? Injuries are mounting on both sides, but Ahmad Bradshaw is pretty adamant about returning for New York, for one. Ray Lewis is pushing to come back for the Ravens. Whichever inactive list looks the least star-studded could carry the day ... Watching Terrell Suggs and Ed Reed try to play with essentially one arm each isn't pretty. I can't think they start feeling better now ... The Ravens' new offensive coordinator, Jim Caldwell, was not sharp in his debut as a play caller last week. I wonder if he uses Ray Rice more in screens to try to slow down another talented pass rush this week?
| | | |
| --- | --- | --- |
| |  at  | |
New Orleans at Dallas
Sunday, Dec. 23, 1 p.m. ET (FOX)
Why To Watch: It's the Sean Payton Bowl! He's going to end up in Dallas, remember? Um, except that the former Dallas assistant and current Saints' suspended head coach isn't. The Saints, who would go bonkers if Payton is ruled a free agent and given the opportunity to even flirt with the Cowboys, can, however, deliver a crushing blow to Jerry Jones here with the NFC East totally up for grabs. Dallas needs to keep pace with New York and Washington. Who can remember the last time that, come Christmas, Dallas is being talked about as among the gutsiest, most-cohesive teams in the NFL? But they are overcoming grief and emotional turmoil and finding ways to win games they frankly gave away in the past.
What To Watch For: Dez Bryant is playing through considerable pain and he made plays despite his busted finger last week, but he had difficulty grasping the ball when Tony Romo really unleashed his fastball ... Anthony Spencer has probably been the Cowboys' best performer in their front seven, which is saying something when DeMarcus Ware is on your team. He's going to end up with a fat contract ... Cam Jordan will make things happen against Dallas' battered offensive line ... Teams are taking their chances challenging Dallas corner Brandon Carr lately despite his strong season … DeMarco Murray will see a ton of the ball despite his untimely red zone fumble last week ... Have a feeling Drew Brees has another 400-plus yard game in him before the year is over.

| | | |
| --- | --- | --- |
| |  at  | |
Cleveland at Denver
Sunday, Dec. 23, 4:05 p.m. ET (CBS)
Why To Watch: Have the Broncos lost for the final time in 2012? Are they the team of destiny that just keeps winning until they hoist the Lombardi? It's hard to find too many clubs playing better football right now. They systematically took apart the Ravens on both sides of the ball last week in Baltimore, and barring them losing that mental edge, I don't see them slowing down. And does anyone really think Peyton Manning will let them slip up? Looks like a mismatch on paper, for sure, but man, just watching the Broncos these days is pretty entertaining regardless of the opponent.
What To Watch For: Manning's making a run at MVP and Comeback Player of the Year and probably a few other things I can't think of right now. He and Eric Decker particularly seem to be in sync. I will be interested to see where the Browns deploy corner Joe Haden ... Brandon Weeden continues to struggle and looks less likely each week that he will have a tight hold on that starting job in 2013 … Knowshon Moreno is finally starting to blossom in the Broncos' backfield, gaining trust by the week and primed to be a big part of their postseason push.
| | | |
| --- | --- | --- |
| |  at  | |
Atlanta at Detroit
Saturday, Dec. 22, 8:30 p.m. ET (ESPN)
Why To Watch: Two of the young guns of recent quarterback classes meet going in entirely different directions, as do these franchises. With the way Matt Stafford is throwing the ball up for grabs, Asante Samuel -- king of jumping routes -- could have himself a field day. Matt Ryan, though no longer in the MVP race, has a chance to continue to make himself big-time bucks in his next contract. Calvin Johnson continues to take aim at Jerry Rice's single-season receiving yardage record, but otherwise the Lions are a train wreck these days. Still, what would you rather be doing on a Saturday night than watching the NFL?
What To Watch For: Might the Lions be good for a sideline meltdown or two? Seems frustration is getting pretty high there ... Expect to hear a pretty vocal Lions crowd come down pretty hard on their team after falling from grace. And Detroit fans know how to vent. They've had plenty of practice over the years ... Do you have a strong desire to see what Atlanta's second team offense and defense would look like in a regular season game? Enjoy!
| | | |
| --- | --- | --- |
| |  at  | |
Oakland at Carolina
Sunday, Dec. 23, 1 p.m. ET (CBS)
Why To Watch: Cam Newton is the truth again, people, and has been for about six weeks now. There aren't too many players more exciting than him right now, this side of Aaron Rodgers and Adrian Peterson. He hasn't turned the ball over in forever and he's reconnecting with Steve Smith on vertical stuff, and, don't look now, but Carolina might actually climb out of the cellar of the NFC South and is coming off its best game of the season by far. And, hell, the Raiders actually won last week, too, ugly as it may have been, and how often can we say that?
What To Watch For: Darren McFadden had some explosiveness back in his legs last week ... Expect to see more Terrelle Pryor here, as the Raiders don't travel well and this one could get out of hand ... Luke Kuechly's legs never seem to stop. The Panthers rookie linebacker is a tackling machine and is making a case as the NFL's best defensive rookie ... Could be another big day for Carolina sack-master Charles Johnson.
| | | |
| --- | --- | --- |
| |  at  | |
Indianapolis at Kansas City
Sunday, Dec. 23, 1 p.m. ET (CBS)
Why To Watch: The Colts need a win to ensure they are postseason bound, to cap their improbable turnaround. There's no better opponent to face in order to wrap that up. Those really paying attention know Andrew Luck is not the Rookie of the Year, but as the first overall pick, he still gets plenty of hype and the Colts' turnaround helps as well. But if he wants to pad his stats and enhance his case, this is a great week to do so.
What To Watch For: So the Chiefs haven't ruled out the possibility that Ricky Stanzi plays this week, eh? Really? Wow. I can only imagine how the Arrowhead faithful would respond to that with this franchise reaching another nadir ... The Colts have been adopting more of a power running approach as the season has gone on, and this is a team they could overpower ... Indy needs to show something on the road, even if it's against an opponent as weak as this.
| | | |
| --- | --- | --- |
| |  at  | |
Washington at Philadelphia
Sunday, Dec. 23, 1 p.m. ET (FOX)
Why To Watch: Doesn't matter who is under center for the Redskins, things will be exciting. The Redskins, perennial NFC East bottom-feeders, can clinch the division with consecutive wins (which could also ensure seven straight wins to close the regular season). Robert Griffin III is still nursing a knee sprain, and Washington's staff has no trepidation about fellow rookie Kirk Cousins, who was simply brilliant last week after a 1-for-6 start. And Eagles rookie starter Nick Foles has done nothing but get better by the week himself, overcoming a decimated offensive line to do so.
What To Watch For: At what point does Bryce Brown's chronic fumbling keep him on the bench? And how much will fellow Eagles running back LeSean McCoy play even though he is essentially cleared from his concussion? ... I'm not sure the Eagles will have an answer for Skins rookie RB Alfred Morris ... Washington's lack of options at right tackle could make this a game. Philly has some edge rushing options, especially with Brandon Graham finally looking the part ... Pierre Garcon should have his way with anyone in this secondary ... I would like to think the Eagles fans would show their respect to Andy Reid with his time there about to end, especially with his family situation this season, but you never know. He deserves a standing ovation for his 14-year run in Philadelphia.
| | | |
| --- | --- | --- |
| |  at  | |
St. Louis at Tampa Bay
Sunday, Dec. 23, 1 p.m. ET (FOX)
Why To Watch: Who is the real Josh Freeman? Why is he so prone to extremes? And are the young Bucs already tuning out the message of disciplinarian rookie head coach Greg Schiano, who has suddenly lost four straight games and comes into this one off a 41-0 pasting at New Orleans? We may find some answers the last two weeks here. Flirting with a .500 season, meantime, is a tremendous accomplishment for Jeff Fisher in his first year with the Rams, and they may smell some blood here.
What To Watch For: Sam Bradford, hampered by a brutal line and precious few receiving options, is starting to look like a battered quarterback. He needs to bounce back from a bad outing last week ... Freeman is in a freefall, throwing four picks last week and Vincent Jackson has been much more quiet the past few weeks ... Doug Martin should like what he saw from the long runs Adrian Peterson ripped off against the Rams, usually stout against the run ... Expect a flurry of receptions down the stretch from Rams WR Danny Amendola, Bradford's security blanket who is a potential unrestricted free agent at season's end.

| | | |
| --- | --- | --- |
| |  at  | |
Chicago at Arizona
Sunday, Dec. 23, 4:25 p.m. ET (FOX)
Why To Watch: Both of the coaches in this game are feeling the crunch, and one if not both could be out at the end of the season. It's getting particularly uncomfortable in Chicago, where linebacker Brian Urlacher is ripping the fans and the media and rushing to the aid of Lovie Smith. Yet the star can't manage to implore his teammates to actually win a game. The Bears could be looking at an organizational crossroads this offseason if they can't rally, with Jay Cutler's contract an issue, and the age and contracts of guys like Urlacher and other stalwarts on defense a concern as well. Suddenly the Cardinals have won a game and a Bears loss here could serve as an indictment on the coaching staff.
What To Watch For: Do the Bears come out and start fast and play with fire, following Urlacher's statements? With the defense no longer producing turnovers in droves, Chicago's offense is even less equipped to play from behind ... Cutler needs to watch the way the Cards secondary exploited Matt Stafford last week and be very wary of forcing balls in his own red zone ... Can either of these offensive lines keep a quarterback from getting bulldozed? ... How does Darnell Dockett finish the season after getting slapped with a $200,000 fine from the Cardinals? ... Chicago came out running the heck out of the football last week at Green Bay. We could see a conservative approach here, too ... Brandon Marshall vs. Patrick Peterson won't disappoint.
| | | |
| --- | --- | --- |
| |  at  | |
Buffalo at Miami
Sunday, Dec. 23, 1 p.m. ET (CBS)
Why To Watch: Both of these front offices have to be engaging in some collective fingernail biting. The Bills in particular better not go out with a whimper after owner Ralph Wilson went all Jerry Jones in the offseason and out-spent pretty much everyone in the league. A 5-11 record gets people fired -- as most coaches and execs who have worked for the Bills in the past 15 years or so could attest to. So if you are in some kind of general manager dead pool, then by all means, tune in and stay for all four quarters.
What To Watch For: Ryan Tannehill looked as comfortable in the second half last week as he has all year. Of course, playing the Jags, with their middle-school pass rush, probably had a lot to do with that ... Will Chan Gailey ever just succumb to logic and feed C.J. Spiller? It's almost as if the ol' play-caller has no self-preservation gene, which many Bills fans might view as a good thing at this point in his regime ... How will the Bills fare without a live performance of Gangnam Style at halftime this week? It didn't seem to rally them nearly as much as one might have expected in Week 15.
| | | |
| --- | --- | --- |
| |  at  | |
New England at Jacksonville
Sunday, Dec. 23, 1 p.m. ET (CBS)
Why To Watch: Has an NFL team ever gone all Wilt Chamberlain on someone? No one has ever gone for triple digits, right? Because if Bill Belichick gets real ornery here and leaves the starters in all game and tries to set some kind of quirky point-differential record no one had ever paid attention to before, we just might see it here. Tom Brady able to count to nine Mississippi before he has to pick out one of the three targets he is likely to have open on any given offensive play? Smells like dinner.
What To Watch For: Could Deion Branch win your fantasy title for you? I figure if Belichick does call off the dogs, Brady could just keep pumping the ball his way ... Assuming Maurice Jones-Drew is in sweatpants on the sidelines again, do the Jags fans serenade him now for all he has done for the franchise? Better safe than sorry, because this could be the end of his career in Jacksonville, injuries or not.
| | | |
| --- | --- | --- |
| |  at  | |
San Diego at N.Y. Jets
Sunday, Dec. 23, 1 p.m. ET (CBS)
Why To Watch: Is there any team in the NFL with a more misguided offensive approach than the Jets? Sticking with Tim Tebow now for a series or two on end, when he's capable of nothing and he is fooling no one, then pushing Mark Sanchez back into the game to promptly throw a pick? How's that working out for them? Tune in for the opportunity to see a Jets offensive lineman clothesline a quarterback with his backside, if nothing else. Oh, and Philip Rivers is distinctly qualified to match Sanchez turnover for turnover this season.
What To Watch For: There should be all kinds of creative signs and sounds in the stands with both GM Mike Tannenbaum and coach Rex Ryan under fire ... Jets corner Antonio Cromartie gets a crack at his former team in what has been his best season ... Even when Antonio Gates makes a pretty touchdown catch he looks like a shell of his former self ... Ryan Mathews will be shuffled back to the locker room at least twice, er, oh, yeah, he's out for the season.
| | | |
| --- | --- | --- |
| |  at  | |
Tennessee at Green Bay
Sunday, Dec. 23, 1 p.m. ET (CBS)
Why To Watch: Cheeseheads are everywhere. You have to admire their spunk. They won't take an opponent too lightly, even one as suspect as the Titans as they push for another Super Bowl. Green Bay still can play for a higher seed and Aaron Rodgers can enhance his MVP credentials and there's still time for the Pack to get Ryan Grant going or find some back they can depend on. And Charles Woodson might be the latest top-notch injured Green Bay veteran to return to action.
What To Watch For: Rodgers could throw for 300 yards in the first half without breaking a sweat ... Conversely, how many balls does Jake Locker air mail to the sidelines or right down the middle of the field? ... The Titans' lack of a pass rush should doom them early and often ... If Donald Driver is active, look for the classy Pack to showcase him with his days in Green Bay fleeting ... I'm surprised we don't see more screen passes to Chris Johnson, especially with the Titans offensive line so beat up ... There aren't too many players wasting more talent than Kenny Britt these days. Does he even make a case for the Titans to keep him around, even with their need at receiver?