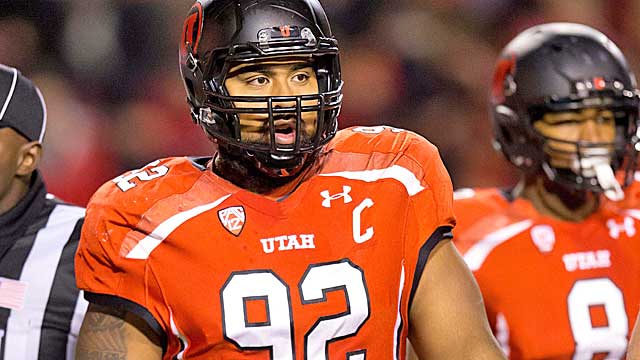 While December might mean holiday cheer to some, for NFL scouts it signifies the end of the first "season" of talent evaluation, and the beginning of another.
With college football's regular season over, scouts have the opportunity to catch up on tape, making the necessary adjustments to reflect the changing landscape that features a bounty of talented linemen on both sides of the ball but a relative lack of top-end talent at the skill positions.
The Big Board isn't a mock draft. There is no attention given to team needs or what order NFL teams might be selecting in April. It is a ranking of the 50 best potentially NFL Draft-eligible prospects in the country. The list includes potentially draft-eligible underclassmen considered likely to consider making the jump to the NFL early.
More on NFL draft
Stories
Underclassmen are denoted with an asterisk (*).
1. *Luke Joeckel, OT, Texas A&M: A three-time all-conference selection, Joeckel cemented his stock as the top offensive tackle in college football in 2012, answering the unique challenges presented by SEC defenders this season. He earned the Outland Trophy as the nation's best lineman and vaulted himself to the top of my draft board. Redshirt freshman quarterback Johnny Manziel may have won the Heisman Trophy but should Joeckel elect to leave the Aggies early for the NFL, he could be the one holding the bigger prize -- the thrill of being the first offensive lineman since Jake Long (2008) selected No. 1 overall.
2. *Bjoern Werner, DE, Florida State: Blessed with a quick first step, heavy hands and surprising instincts given the fact that the German-born Werner has played just five years of American football, he established himself as one of the country's elite prospects. An immediate standout in Tallahassee, Werner has improved each of his three seasons at Florida State and he earned ACC Defensive Player of the Year in 2012 with 18 tackles for loss, including 13 sacks.
3. *Jarvis Jones, OLB, Georgia: A first-team All-SEC honoree in each of his two seasons at Georgia, Jones has proven himself to be a playmaker against the pass and run. The 6-foot-3, 241-pound Jones led the country with 22.5 tackles for loss and forced seven fumbles in just 11 games in 2012. The redshirt junior is dynamic, but it's his medical grade that will ultimately determine his draft status. He was diagnosed with a mild case of spinal stenosis in 2009 and some NFL doctors may be unwilling to clear him.
4. Star Lotulelei, DT, Utah: With the Utes struggling through a disappointing 5-7 campaign, their senior defensive tackle hasn't generated as much national attention as his play has warranted. Despite fighting constant double and triple teams, Lotulelei registered 42 tackles, 11 tackles for loss, five sacks and four recovered fumbles this season, earning first-team All-Pac-12 accolades for the second consecutive season. Remarkably athletic at 6-3, 320 pounds, he's capable of shutting down running lanes and terrorizing quarterbacks.
5. Chance Warmack, OG, Alabama: Offensive linemen rarely get the limelight but it might be even worse for Warmack than most. Not only do the "skill-position" and defensive stars for 'Bama generate virtually all of the attention, Warmack is overshadowed even among the Tide's All-American offensive line -- but not by talent evaluators, who see the 6-3, 320-pound mauler as one of the safest prospects in his class.
6. *Jake Matthews, OT, Texas A&M: Considering that he is the son of Hall of Famer Bruce Matthews of Houston Oilers and Tennessee Titans fame, greatness has been expected of Jake Matthews. He has lived up to the lofty expectations, starting since his freshman season at right tackle for the Aggies. While not as athletic as his teammate, LT Joeckel, the 6-5, 305-pound Matthews is the better and more physical run blocker of the two and could also warrant top-10 consideration should he elect to leave with a season of eligibility remaining.
7. Manti Te'o, ILB, Notre Dame: More decorated than a wedding cake, Te'o has earned an astounding seven national awards in leading the No. 1 Irish to an undefeated season and a berth in the BCS title game. While the NFL couldn't care less about a collegiate prospect's stocked trophy case, it is tough not to acknowledge the relative safety that the 6-2, 255-pound Te'o provides as an instinctive, physical defender capable of making big plays against the run and pass.
8. *Sheldon Richardson, DT, Missouri: Where some of the top defensive tackles in the country lack eye-popping statistics, Richardson enjoyed a breakout campaign for the Tigers, finishing just four tackles behind linebacker Andrew Wilson as Missouri's leading tackler this season with 75 tackles, 10.5 tackles for loss and four sacks. Richardson announced on Nov. 30 his intention to enter the 2013 draft.
9. *Damontre Moore, DE, Texas A&M: San Francisco 49ers pass rusher Aldon Smith's rapid ascension as an elite defender has forced talent evaluators to acknowledge how much versatile defenders can impact today's game. Moore, like Smith viewed by some as a 'tweener at 6-4, 255 pounds, has starred at defensive end and outside linebacker over the past two seasons for the Aggies. Having registered 20 tackles for loss this season, including 12.5 sacks, Moore certainly has the production to go with his size, burst and motor.
10. *Taylor Lewan, OT, Michigan: Arguably the most physically imposing player in the country, the 6-7, 302-pound Lewan looks like the second coming of Jake Long wearing No. 77 in the Michigan maize and blue. Lewan, who only made the switch to offensive line as a senior in high school, is certainly behind the No. 1 overall pick of the 2008 draft in terms of development but the size, athleticism and mentality are in place to join him as a potential top-10 pick should the junior elect to leave Michigan a year early.
11. *Keenan Allen, WR, California: An exceptionally highly regarded prep prospect who originally was going to sign with Nick Saban and Alabama as a safety before joining his brother (quarterback Zach Maynard) at Cal, Allen has virtually all of the physical characteristics to be a No. 1 receiver in the NFL. To earn a top-10 pick, however, he'll have to prove his health (he suffered a knee injury Oct. 27) and straight-line speed. Allen announced on Dec. 5 his intention to enter the 2013 draft.
12. Geno Smith, QB, West Virginia: While Smith did not play at the level of top-ranked QBs in recent years, the 6-3, 220-pound senior nonetheless remains a legitimate candidate to wind up as the top pick in the 2013 draft. Smith improved his completion percentage and touchdown/interception ratio in each of his three starting seasons, culminating with a sparkling 71.4 percentage and 40 touchdowns against just seven interceptions. More importantly, he has all of the traits scouts are looking for in a franchise quarterback.
13. *Dee Milliner, CB, Alabama: The 6-1, 198-pound Milliner is a perfect example of how Alabama reloads rather than rebuilds. A highly regarded prep prospect who started 11 games as a true freshman, Milliner was pushed a bit to the background in 2011 as 'Dre Kirkpatrick and De'Quan Menzie took over. With each now in the NFL, Milliner re-asserted himself in 2012, finishing second in the country with 20 passes broken up and providing stellar run defense on the boundary. While just a junior, the 2012 Thorpe Award finalist is NFL-ready and would only have to prove his straight-line speed to earn a top-20 pick in April.
14. Matt Barkley, QB, Southern California: There is plenty of evidence that Barkley is going to lose on the significant gamble he took in electing to return to USC for his senior season. After only one multi-interception game during his junior campaign, Barkley has had six in 2012, including what may prove to be the final four games of his career as the quarterback suffered a shoulder injury in USC's loss to cross-town rival UCLA on Nov. 17. Scouts value Barkley's leadership, poise and accuracy on the move but there are plenty who scoff at giving him a first-round grade based on the 6-2, 230-pound quarterback's less than ideal measureables. Nonetheless, Barkley remains squarely in the first-round conversation for me.
15. Jesse Williams, DT, Alabama: Many of the top prospects boast eye-popping stats. Williams is not one of them. The Australia native finished the regular season ninth (and tied, at that) on the Alabama roster with "just" 36 tackles, including 2.5 tackles for loss and one sack. The 6-3, 320 pounder's wide frame and awesome strength (600-pound bench press) make him a potentially elite nose guard. With most NFL teams either using the 3-4 as their base defense or at least incorporating many of its principles, Williams' value may not truly be proven until draft day.
16. *Alexander Ogletree, ILB, Georgia: Jarvis Jones gets much of the hype for the Bulldogs, for good reason, but it was the ultra-athletic Ogletree who led Georgia with 98 tackles despite the fact that he missed the first four games due to a suspension. The junior's lanky frame (6-3, 234) and staggering closing speed make him a potentially more dynamic player at the next level than Notre Dame's Te'o.
17. Johnathan Jenkins, DT, Georgia: Like his fellow SEC run-stuffer, Williams, Jenkins does not have elite stats (50 tackles, two tackles for loss, one sack) normally associated with first-round picks. At 6-3, 358, Jenkins has the beef to clog running lanes and despite having played only two seasons at the FBS level, he has proven himself against top competition.
18. Jonathan Cooper, OG, North Carolina: Teams are generally loathe to spend first-round picks on guards but with the steady Cooper, an exception may have to be made. He has excellent agility, with the ability to quickly get to the second level and block on the move. His terrific blocking has helped Tar Heels running back Giovani Bernard -- a legitimate high-round prospect himself -- rush for an average of nearly 123 yards per game this season.
19. Ezekiel Ansah, DE, BYU: A native of Ghana who tried out for basketball and lettered in track before giving football a try in 2010, Ansah had 10 total tackles to his credit entering the 2012 season and was barely a blip on most scouts' radar. A few months later, comparisons to Jason Pierre-Paul are almost cliché in the scouting community as the 6-5, 270 pounder has emerged as a consistent big-play threat, recording 57 tackles, 13 tackles for loss and 4.5 sacks. Ansah is raw as sushi right now but the team that gambles on him could be rewarded handsomely if he continues to develop.
20. *Johnathan Hankins, DT, Ohio State: In terms of pure talent, Hankins deserves to be ranked among the top five prospects in the country. With light feet and shocking overall athleticism for a man listed at 6-3 and 320 pounds, Hankins can be a superstar. Unfortunately, his motor too often appears to in neutral rather than overdrive. After registering an impressive 11 tackles for loss in a breakout sophomore campaign, the Buckeye defender had just five this season, and just one sack. Despite his drop in production, Hankins announced on Dec. 10 his intention to enter the 2013 draft. Hankins clearly has talent, but so too did other notable Ohio State busts like Vernon Gholston and Dan Wilkinson.
21. Dion Jordan, DE/OLB, Oregon: At a rangy 6-6, 243 pounds, Jordan's length and explosiveness off the edge make him a matchup nightmare for opponents. The senior led the Ducks a year ago with 13 tackles for loss and 7.5 sacks but wasn't as productive as a senior (10.5 tackles for loss, five sacks). He is earning high marks from scouts who believe he could be one of this year's most exciting "hybrid" prospects as he's so athletic Oregon has asked him to line up as a quasi-cornerback at times.
22. Eric Fisher, OT, Central Michigan: While he lacks the name recognition of some of his peers, the 6-8, 305-pound Fisher ranks among the top senior offensive tackles in the country, performing well in showdowns against Iowa, Michigan State and against a surprisingly dangerous pass-rushing Toledo defense. Physical and athletic, Fisher will compete to be the first senior offensive tackle drafted come April.
23. Alex Okafor, DE, Texas: In today's NFL, defensive ends are largely graded on their ability to get after the quarterback. Okafor does not have the elite explosiveness off the snap that generally warrants top-20 consideration but his physicality and hand usage are top notch. Despite being the obvious focus of every opponent's blocking scheme since talented teammate Jackson Jeffcoat was lost for the season with a torn pectoral muscle, Okafor earned first-team All-Big 12 accolades for the second consecutive season with 60 tackles, including 11.5 tackles for loss and eight sacks.
24. *Cordarrelle Patterson, WR, Tennessee: A junior-college transfer who has only played 12 games at the FBS level, it would be easy to simply look past the stellar play Patterson has put forth as a receiver, runner and kick returner for the Vols -- especially given that defenses have often focused on stopping teammate Justin Hunter first. While Patterson is a bit rough around the edges, the 6-3, 205 pounder is undeniably a playmaker. He averaged 154.83 all-purpose yards per game, easily the most of any player in the SEC.
25. *Sam Montgomery, DE, LSU: With an ideal combination of size (6-5, 260) and athleticism it should come as no surprise that Montgomery earned first-team All-SEC honors in 2012 with 32 tackles, 12 tackles for loss and seven sacks despite only starting nine games for the Tigers. Only a junior, Montgomery may elect to return for his senior year, as he did not enjoy the monster season many expected.
26. Tyler Eifert, TE, Notre Dame: While perhaps lacking the breakaway speed that has helped Jimmy Graham and Rob Gronkowski emerge as instant NFL stars, Eifert's 6-5, 252-pound frame and excellent ball skills make him a legitimate mismatch. In today's pass-happy NFL, that could be enough to earn a late first-round selection.
27. Barrett Jones, OL, Alabama: Whether at tackle, guard or center, Jones has demonstrated he's dependable against elite competition. Saban has said on many occasions that Jones is one of the top players he has ever been around and has compared the 2011 Outland Trophy (nation's top interior lineman) winner to Bruce Matthews. Considering his versatility and dependability (not to mention his coach's impressive recommendation), Jones quietly ranks among the safest prospects in the draft.
28. *Sharrif Floyd, DT, Florida: With so many talented defensive linemen in the SEC, Floyd hasn't generated the buzz that his talents warrant. Used predominately at defensive end a season ago, the 6-3, 303-pound junior was moved back inside to his more natural defensive tackle position this year and stepped up his play, earning first-team all-SEC honors with 41 tackles, including a team-high 11 tackles for loss.
29. Tavon Austin, WR, West Virginia: Used in much the same fashion as a receiver, runner and returner as the Minnesota Vikings feature Percy Harvin, Austin has emerged as the top senior playmaker in the country. At just 5-9, 172 pounds, Austin may not have been viewed as worthy of first-round consideration a few years ago but in today's wide-open NFL that rewards mismatches, Austin could prove among the more valued commodities on draft day.
30. *Anthony Barr, OLB, UCLA: Other than BYU's Ansah, there may not be a player in the country whose NFL Draft stock has ascended as sharply this season as Barr's, a former running back who exploded this season in his first year at outside linebacker. Demonstrating his unique combination of size (6-4, 238) and explosiveness against Stanford in the Pac-12 Championship Game, Barr recorded 1.5 sacks, giving him the nation's lead with 13.5 quarterback takedowns to end the regular season.
31. *C.J. Mosley, OLB, Alabama: The knock on many of the Alabama linebackers under Saban in past years has been that while strong and tough, they've lacked agility and instincts in coverage. These, however, are precisely the traits that make Mosley unique. He may prove a better fit, in fact, outside in a predominately 4-3 alignment in the NFL rather than the 3-4 scheme in which he has played for the Tide. It was Mosley's quick hands, in fact, that led to the deflected pass and catch short of the end zone that ended Georgia's chance at beating Alabama in the SEC Championship Game.
32. *Barkevious Mingo, DE/OLB, LSU: Mingo has the frame (6-5, 240 pounds) and athleticism to warrant top-10 consideration but at this point he remains a largely unpolished product who relies on his natural tools rather than technique to make plays. Given Mingo's upside, it is easy to imagine him terrorizing NFL quarterbacks off the edge as a multidimensional defender. Considering Mingo's relatively pedestrian numbers (33 tackles, 5.5 tackles for loss, four sacks) this season, however, the junior might be better served returning to Baton Rouge for his senior season.
Just missed the cut
33. Oday Aboushi, OT, Virginia: Physical, aggressive blocker best suited to the right side in NFL.
34. *Xavier Rhodes, CB, Florida State: Lanky, physical cornerback best suited to a press scheme.
35. *Eric Reid, FS, LSU: Terrific in run support but questionable instincts, fluidity could make him a liability in coverage in the NFL.
36. Lane Johnson, OT, Oklahoma: Possessing the athleticism that once saw him line up at QB, TE and DE, Johnson has emerged as arguably the fastest-rising left tackle prospect in the country for the Sooners.
37. Kawann Short, DT, Purdue: Penetrating defensive tackle with a knack for making the big play.
38. *Kyle Van Noy, OLB, BYU: Athletic, explosive and natural playmaker (18.5 tackles for loss, 11.5 sacks), Van Noy is quite possibly the nation's most underrated prospect... until now.
39. Johnthan Banks, CB, Mississippi State: Lanky ball-hawk who must prove his speed to warrant first round consideration.
40. *D.J. Fluker, OT, Alabama: Road-grader who could remain at RT or be moved inside in NFL.
41. Montee Ball, RB, Wisconsin: Reminds me of Hall of Famer Curtis Martin for his balance, burst and reliability.
42. *Zach Ertz, TE, Stanford: More athletic than Notre Dame's Eifert but isn't as reliable a blocker.
43. Tyler Wilson, QB, Arkansas: Tough, strong-armed passer but history of head injuries could scare off teams.
44. Phillip Thomas, FS, Fresno State: A Thorpe Award candidate with an FBS-leading leading eight interceptions (including three he's returned for touchdowns), Thomas is the best safety most haven't heard of.
45. *DeAndre Hopkins, WR, Clemson: Athletic and possessing excellent ball skills, Hopkins ranks as one of the better all-around wideouts in the country.
46. *Giovani Bernard, RB, North Carolina: Dazzling runner but size (5-10, 205) and durability are legitimate concerns.
47. Ryan Nassib, QB, Syracuse: True field general who could prove to be this year's Andy Dalton.
48. Terrance Williams, WR, Baylor: Ultra-productive but route-running needs polishing.
49. *Da'Rick Rodgers, WR, Tennessee Tech: Character red-flags galore but undeniably an elite talent.
50. Kenny Vaccaro, SS, Texas: Perhaps not the ball-hawk of former Texas DBs but is a steady, physical defender.