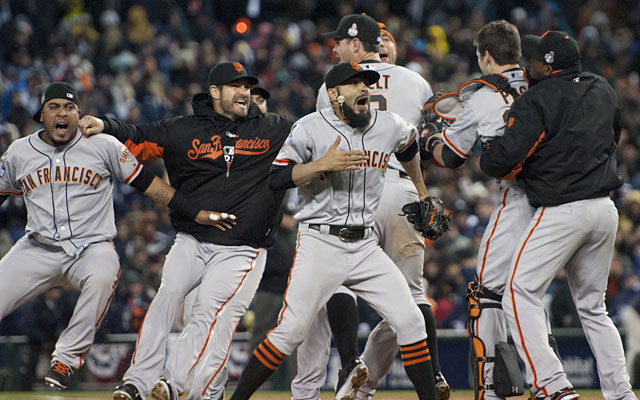 The Los Angeles Dodgers sold for $2 billion in 2012. Two billion!
That's, like, two thousand million! It's, like, so much more dough than any club has ever before sold for that even Krispy Kreme would cry uncle.
Yet baseball went an Alex Rodriguez-in-the-postseason-like 0 for 10 in the Associated Press' Top 10 stories of 2012.
Goose-egged.
Amazing that in a year in which Dodger Stadium was buried under an avalanche of cash, Miguel Cabrera became the first Triple Crown winner in more than four decades, a modern-record-tying seven no-hitters were thrown and Mike Trout and Bryce Harper introduced themselves as two of the most exciting rookies in generations ... it mostly remains a silent night for baseball in the dead of winter. List-wise.
Listen, I've seen the lists. Checked 'em twice.
As end-of-the-year lists go, here's what I've learned.
Jerry Sandusky, Penn State ... NFL this, NFL that ... and baseball = drugs!!!
NFL concussions, NFL bounties ... and baseball = steroids!!!
The Olympics, Usain Bolt, Michael Phelps, the Flying Squirrel Gabby Douglas and her Fierce Five, Lance Armstrong stripped of everything up to and including his yellow LiveStrong bracelet and ... baseball = PEDs!!!
Forget it, unless you want to talk about how Ryan Braun beat the drug rap last year and kept his MVP award ... or about how Roger Clemens won acquittal on all charges of lying to Congress about drugs ... or about this year's drug suspensions.
Then everyone wants to chat. And add it to their lists.
I get it. Baseball continues to wage these wars of its own creation on two fronts: historically and perceptually.
Regarding the former, all you have to do is crack open your front door this month. You can hear the howling over Barry Bonds, Clemens and the Hall of Fame ballots for miles.
It is a consequence of its sins of the past that baseball continues to battle a perception problem. The All-Star Game MVP is busted for failing a PED test, but instead of taking this as proof that baseball is serious about cleaning up the game, people take it as evidence that the next generation of cheaters is right here in front of us.
The drug stuff was practically as prevalent on AP's ballot for top stories of the year as anything else baseball did in 2012 (editors across the country had a choice of 20 topics on which to vote).
And yet, the Dodgers.
This is a staggering story. No professional franchise in any sport has ever sold for anything close to this. The Dodgers' sale price is a world record, surpassing even the $1.47 billion sale price of England soccer franchise Manchester United.
Add what the Angels are spending, then subtract what the Yankees aren't, and baseball's current trickle-down economics reveal a westward migration of finances. It is great for the game, not to mention great for all of those still comatose from having Yankees-Red Sox shoved down their throats for a decade.
There's another story that could find its way onto a list, by the way.
Baseball's attendance in 2012 was its fifth-highest ever. Revenue zoomed past $7 billion. The past nine seasons rank as the nine best-attended seasons in the history of Major League Baseball.
Yet, as I read the flurry of e-mails produced by our own inter-office nominations for top year-end stories (and make no mistake, every single person who works in our office is brilliant), it was as if baseball was somewhere in a back room having lunch with cricket and curling.
I know the idea of a college football playoff is monumental and I am filled with awe at the career of Pat Summitt.
I know that because of almighty television ratings, it's taken as a given that the NFL long ago blew past baseball as America's Pastime (full disclosure: The only NFL game I watch from start to finish each year is the Super Bowl, and that's only because I'm usually hunkered over the snack table at a neighborhood party).
I know that things have changed in our short attention span, digital age and even winning a Triple Crown, as Cabrera did, is yawn-inducing for some.
But the Giants' winning a second World Series in three seasons after going their first 52 years in San Francisco without one can't even nudge out Peyton Manning's comeback for 10th on the AP list?
As conversation starters go, rarely do these year-end lists disappoint. We love lists. I love lists.
Rolling Stone compiles its top 50 albums of the year? Into my phone goes a list of my own, all the discs I still need to purchase. (Dr. John's Locked Down and Leonard Cohen's Old Ideas are among them).
Film critics list their top 10 movies of the year? I'm there, ready to agree (Silver Linings Playbook is underrated and terrific) or not (sorry, Quentin Tarantino and Django Unchained, following Aurora and Newtown, I've lost my taste for gun battles and violence, even as escapism entertainment).
But these sports year-end lists?
People! The Dodgers sold for $2 billion!
Do you understand how many $1 bills that is?