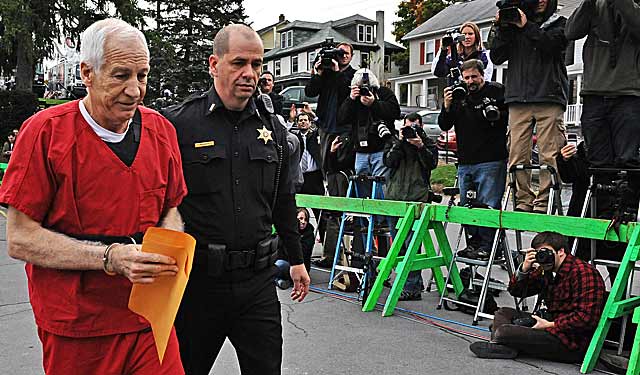 The horror of the Jerry Sandusky revelations in 2011 gave way to punishment and retribution in 2012, with courts convicting Sandusky of being a child-molester and sending him to prison for decades -- and the NCAA lashing out against Penn State's "conspiracy of silence" by fining the football team $60 million, banning it from the postseason for four years, cutting 40 scholarships and vacating enough victories to knock Joe Paterno from his perch as the winningest coach in Division I-A history.
More on Top 10 stories
Related content
More from Eye on
The sanctions drew dismay from Paterno's family, alums like Franco Harris and even Sandusky himself. Fitting, really.
Less than a month after revelations that in 2001 Paterno had helped sway school leaders from reporting Sandusky to police, the iconic JoePa statue was removed from outside Beaver Stadium.
Even though the NCAA allowed Penn State players to transfer without penalty -- and several top players left, including 1,000-yard rusher Silas Redd and kicker/punter Anthony Fera -- the Nittany Lions went 8-4 overall and 6-2 in the Big Ten, and Bill O'Brien earned Maxwell's Coach of the Year.
Paterno didn't see most of the year's developments. He died Jan. 22, at age 85, from complications of lung cancer. To this day, his most diehard supporters find him blameless.