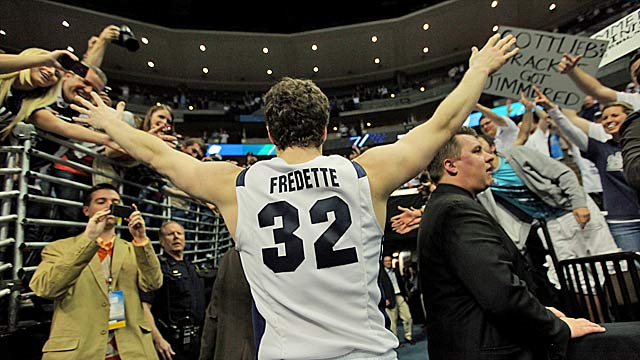 I'm still waiting for someone to emerge as the face of college basketball, and we're running out of time. Rick Pitino vs. John Calipari this weekend and the tables have turned. Larry Shyatt's Wyoming Cowboys remain undefeated and we also take a look at the Disappointing Dozen in this week's edition of Good 'N Plenty.
College basketball needs someone to step up -- quickly.
A couple of years ago, Jimmer-Mania captured the nation just after the holidays, when BYU's Jimmer Fredette erupted for 47 against Utah and then had back-to-back games of 40-plus in late-January. Last season was the Anthony Davis Show. Instead of a guy drilling 30-footers, the long and lanky Kentucky freshman was swatting shots at a record pace while leading the nation's most prominent program into the ultimate spotlight. In 2009, we had Blake Griffin and his high-flying act and two years prior, it was Kevin Durant, who wasted little time in becoming the face of college basketball.
Parity is the word of choice this season within college hoops. Just look at the top of the polls -- and you'll see a Duke team that isn't exactly overwhelming in terms of pure talent. These days, if you're that good, you don't last four years in the college ranks. Coach K's Blue Devils have a trio of seniors in the starting lineup, including National Player of the Year co-favorite Mason Plumlee.
I love watching Plumlee. Maybe it's because we're finally seeing the player we anticipated from the moment he arrived in Durham. He's playing with a relentless passion these days, with a swagger that has taken this Duke team from a Final Four afterthought to a legitimate national title contender.
Then there's Creighton's Doug McDermott. There are few guys I would actually pay to watch, but the skilled 6-foot-7 junior forward is one of them. His game is unorthodox, and that's one of the reasons he's so much fun to watch. But McDermott isn't a guy who drills long-distance 3-pointers, not a high-flyer. I'm guessing our verticals are comparable -- and while McDermott is a prolific scorer, he's certainly not a SportsCenter highlight type-of-guy. He toes the line when shooting 3's and does much of his damage using both hands to score in the post.
What about UK's talented freshmen trio of Nerlens Noel, Alex Poythress and Archie Goodwin? All are potential lottery picks, and each has an excitement to his game, but this Kentucky team hasn't taken the nation by storm as was the case a year ago. The same can be said for UCLA frosh Shabazz Muhammad, who is an above-average athlete with a decent perimeter shot, playing for a Bruins team that would likely earn a spot to the NIT if the season ended today.
Cody Zeller is a nice player for one of the elite teams in the nation, but Indiana's sophomore big man won't be able to capture the nation with a game that doesn't feature power or athleticism. Trey Burke is a terrific college point guard, but Michigan's floor leader isn't an explosive athlete, and Wolverines coach John Beilein has plenty of weapons around Burke to make certain he doesn't have to do too much.
Maybe someone will emerge. Kansas redshirt freshman Ben McLemore has the physical tools, Missouri's Phil Pressey is one of the most exciting point guards to come around in a while and UNLV freshman Anthony Bennett has brought back visions of Larry Johnson and could take the Runnin' Rebels back to the glory days.
Pitino finally with upper hand Saturday vs. Calipari
This is Rick Pitino's chance.
For the past few years, since John Calipari took over that program down the road in Lexington, Pitino has been overwhelmed in each matchup. The talent level hasn't even been close.
Calipari 4, Pitino 0.
Three regular-season matchups, a pair at Rupp, one at the Yum! Center and one down in New Orleans in the national semifinals last April.
Pitino can finally stand toe-to-toe with Calipari this Saturday afternoon. In fact, the Cardinals are a prohibitive favorite heading into the contest. Pitino still doesn't possess the high-end talent of Calipari, who has a trio of likely lottery picks in Noel, Poythress and Goodwin, but what he does have is enough quality players, experience and the return of big man Gorgui Dieng.
Dieng's health (he has missed the past month with a broken wrist) and timing is as critical in this matchup as the recent progress of Kentucky point guard Ryan Harrow. Dieng is a game-changer on the defensive end, and that'll be of critical importance against Noel and a bunch of athletic, young Wildcats. But the key player to watch in this game is Harrow, who is coming off his best performance in Lexington -- 23 points, four assists and two turnovers in a rout over Marshall. Harrow's instability, both on and off the court, has clearly been a key reason for Kentucky's early season struggles. It's forced Archie Goodwin, a natural wing, to play out of position.
But Harrow appears to have some confidence now, and a quality performance from the N.C. State transfer Saturday could give him and his team momentum heading into SEC play.
Disappointing dozen
1) League Presidents and Commissioners: I'm not calling all of them out, but you know who you are. You tout student-athletes' welfare and concerns, but all you care about is the almighty dollar -- and that's clear with the Game of Realignment.
2) USC: Kevin O'Neill's team is healthy this year, but it hasn't mattered much. Sure, the non-league slate was tough, but you can't be 4-8 and on the losing end of seven of your last eight.
3) West Virginia: The Mountaineers are 6-5 and have major work to do in league play just to get in the NCAA tournament equation.
4) Mike Rice: Rutgers' coach is in the midst of serving a three-game suspension, one imposed by the school, for his treatment of players. Rice is intense and will need to reel it in or else he won't be around for much longer.
5) Drexel: I'm glad we didn't toss Bruiser Flint's team in the Preseason Top 25 (and one). The Dragons lost Chris Fouch for the year, but still … 4-7 with losses to Rider and Fairfield.
6) C-USA: We documented how brutal the league is last week. Here's the link if you missed it.
7) North Texas: Tony Benford inherited a team with a potential lottery pick in Tony Mitchell. The Mean Green are 5-7 and lost to Lehigh at home without C.J. McCollum on the floor.
8) Georgia: Mark Fox thought his team could contend for an NCAA tournament bid this year, but a 4-7 mark and losses to Youngstown State, Southern Miss and Iona have the Bulldogs hoping for the NIT.
9) Adonis Thomas: From all accounts, he's a terrific kid. But he needs to be more assertive. He is averaging 10.9 points and is shooting 19 percent from deep. He also had just four points in the loss to Louisville.
10) Christian Watford: ESPN's Dan Dakich kept telling me how Watford was primed for a breakout year, but he's the same Watford. Talented, but consistently leaving me wanting more.
11) Florida State: The Noles lost a bunch, especially up front, but Leonard Hamilton's team is 7-4 with losses to South Alabama and Mercer -- and a no-show at home against rival Florida.
12) St. Joe's: Phil Martelli's team was picked to win the A-10, but the Hawks are just 5-4 with three lackluster setbacks against Florida State, Villanova and Fairfield.
Cowboys in elite company
Duke, Michigan, Arizona, Cincinnati and ... Wyoming. Yes, Wyoming.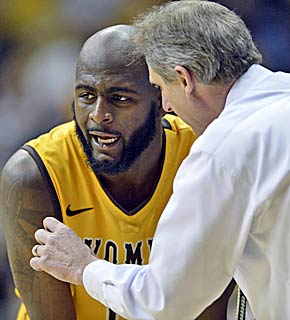 Those are the five teams left standing without a blemish in the D-1 ranks. Larry Shyatt's Wyoming Cowboys have gotten off to another hot start (last year they were 11-1), but this one came out of nowhere.
Shyatt lost three starters from last season's 21-win team and has seven new faces. However, the Cowboys' two returning starters have been terrific thus far -- including leading scorer Leonard Washington. The former USC Trojan was suspended in the offseason, but Shyatt told CBSSports.com that the 6-foot-7 senior has matured and has even started to become a leader. Washington is averaging 14.8 points, 8.7 rebounds and two blocks per contest -- and his sidekick is Luke Martinez (14.5 ppg). But Shyatt also singled out Larry Nance Jr., the son of the former NBA star, who has moved into the starting lineup and is putting up 11.2 points and 6.9 boards per game.
Wyoming entered the season as an afterthought in a loaded Mountain West, but now with 12 wins to open the season -- including victories over Colorado and Illinois State -- the Cowboys could help make the MWC a legitimate four-bid league. San Diego State, UNLV and New Mexico are all in position to go to the NCAA tournament and Colorado State, Boise State and Wyoming have each put themselves in the equation. Wyoming is ranked in the Top 40 in just about every computer ranking.
"Had we even thought for a moment thought we'd be in this position, they would have expected us to be quite drunk," Shyatt told me on SiriusXM's Inside College Basketball.
Double dribbles
I said before the season that Kenny Boynton isn't one of the Top 50 shooters in the nation, but he's also not nearly as poor of a long-range shooter as he's displayed this season. Florida's senior is 4-of-32 in the last five games from deep, and the Gators need him to start making shots. If Boynton doesn't go 2-of-12 from long distance in the losses to Arizona and Kansas State, Florida wins at least one of those.
Through 11 games a year ago, Anthony Davis blocked 49 shots. Nerlens Noel has 41 through the first 11 games of his career.
Pittsburgh freshman big man Steven Adams hasn't gone up against high-level competition lately, but he's still rebounding at a far more effective rate. Adams is averaging 9.2 boards over the past handful of contests, as opposed to 4.4 over the first eight games of his career.
Lehigh's C.J. McCollum quietly is having a terrific season. He's averaging 24.9 points, 5.4 rebounds, 3.1 assists while shooting 52 percent from deep and maintaining his status as one of the nation's top defenders. He's second in the nation in scoring behind Virginia Tech's Erick Green (25.4).