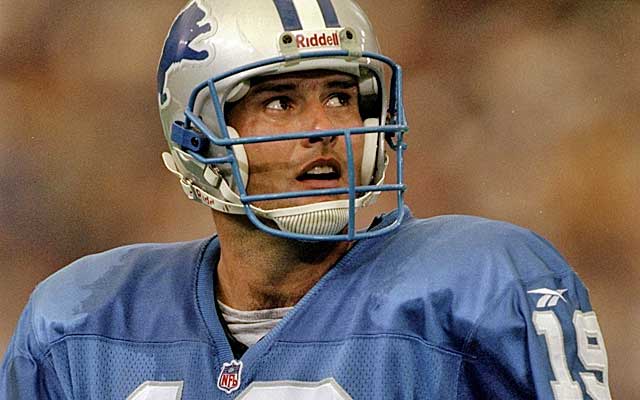 One time, Lomas Brown, then playing for the Detroit Lions, purposely missed a block. The specific intention was to get his own quarterback, Scott Mitchell, hurt so badly that Mitchell would be forced to leave the game. Eighteen years after that disgraceful moment this story continues to percolate and have pertinence.
"When I heard Lomas say that, it really killed me," Mitchell said to CBSSports.com. "I'm serious about that. I don't think a player could say or do something to a teammate that's worse than that. It's really despicable. Quite frankly, I haven't stopped thinking about it. I'm not sure when I'll stop thinking about it.
"It's a massive betrayal. It's total bull----. I don't know how Lomas can ever look himself in the mirror again. I had Lomas Brown in my house. I would have parties for the players. I'd have the best food, I'd treat everyone well. I'd get gifts for the linemen, including Lomas. He was one way to my face and another way behind my back."
A teammate of both Brown and Mitchell's, wide receiver Herman Moore (who remains friends with both men), said that Brown contacted him for Mitchell's phone number and that Brown intends to apologize.
"If he calls me, fine," said Mitchell, "if he doesn't, I don't care. I'm not sure I would accept his apology. I'm telling you what I'd tell him. What he did was gutless."
You have to understand why this entire situation, started by Brown, resonates with Mitchell today (as well as both current and former players) and continues to do so. Thousands of former NFL players -- including Brown -- have sued the league claiming the NFL hid information regarding concussions, and those alleged policies contributed to the decline of their health.
One player admitting he purposefully committed an act that led to the injury of a teammate undermines player credibility in this area.
"I tend to agree with that," Mitchell said, "but I have to say it's the dumbest thing in the world for Lomas to admit something like this now. So maybe he had too many concussions." This was the only time during the interview Mitchell truly laughed.
This story mushroomed for another reason: Players care about their legacies. I've known Brown for decades and his reputation was unmatched for class and dignity. This admission, that one ugly act of purposely whiffing, changes all of that. The ole is out of the bottle.
Mitchell wasn't the greatest quarterback of his generation but he was one of the toughest. I saw him take some of the harshest shots I've ever seen a player take, at any position, and never quit. Mitchell was a fighter and Brown's actions make it seem like Mitchell wasn't worth fighting for. Mitchell is talking because he won't allow Brown to tarnish that part of his 12-year career.
Mitchell once took a painkilling injection -- the needle was four inches long -- directly into his ribs. He did this just to participate in practice. The numbing of the pain lasted only 12 minutes. "These are the things you do to play, so you don't let your teammates down," he said.
Mitchell speculates he received many concussions, possibly a dozen or more. "One game, I was knocked unconscious," he said.
Brown had also said that on occasion after throwing an interception, Mitchell would go into a "fetal position." Brown was basically calling Mitchell a coward. Mitchell, however, got one of his concussions chasing down a defender after an interception.
No, Mitchell was tough.
(Mitchell said he was always suspicious the radios put into helmets then were a prime cause of concussions. "They took the padding out, put in this hard device about the size of a cell phone," he said, "and then replaced the missed padding with half of the original amount. So you had this hard object right next to your brain with little padding. Right around then you started seeing all of these guys get concussions, including me. I'm guessing someone will sue over that. I've been approached by lawyers to sue. I'm not sure what I'll do.")
Mitchell had achieved peace in his life, and Brown's words brought him violently back to relive the good and the bad. The good of playing with men he liked and fought with. The bad of being booed by Lions fans during introductions at home games and the various times he'd get ripped in the media.
He is, as he was then, a bright man. Now, he's part of a successful software company, but he did have the same post-career struggles thousands of players faced for decades.
"Let me tell you something, it killed me when I left football," Mitchell said. "It was really hard. When I knew it was over, it was hard to admit. I played 12 years. I was with a team one year and then the next I was out. That's how it ended. It would have been better had I blown out a knee.
"I trained for two years after I was released thinking some quarterback would get hurt and I'd get a call. But that call never came. I eventually lived in the same complex as Tiger Woods. I'd get up and go swimming and fishing but that got really old. I coached high school football and along the way made some investments in some really stupid things and lost a lot of money. Now I'm happy and really where I want to be."
And then came Brown.
Brown has since deleted his Twitter account after a barrage of criticism. Brown no longer matters in this situation. The only person who does now is Mitchell.
"When I was in the NFL, I was a standup guy," Mitchell said. "If I had a problem with someone, I went to their face and said it. Bottom line is, I wasn't a coward."