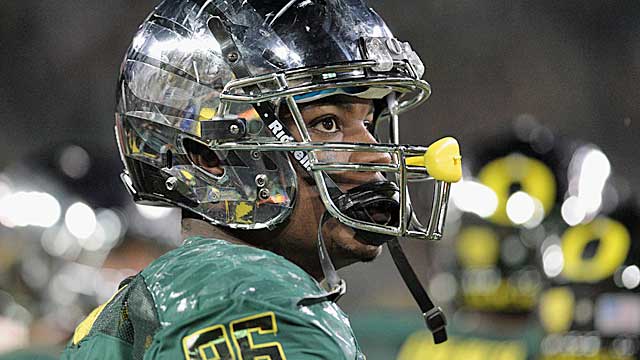 SCOTTSDALE, Ariz. -- Dion Jordan epitomizes the "freak athlete" label in more ways than one. The 6-foot-7 Oregon defensive end/linebacker hybrid once covered a receiver in the slot for the Ducks.
After a severe garage explosion in 2007 left his entire body covered in second- and third-degree burns, he wanted to start running after two weeks in the burn unit and only needed one skin graft, defying the doctors' suggestion that he might never play again.
Such athleticism and toughness pales in comparison to Jordan's proudest accomplishment.
He helped bring his mom back. Through the fire, they both healed.
Dion and Sherrita Jordan were always close, but for most of Dion's life he didn't get all of his mother. Sherrita's battle with a crack cocaine addiction for nearly 20 years drove a wedge through the family and prompted Dion's aunt to gain legal custody of Dion and his two siblings in 2003.
More on Oregon-Kansas State
Columns

Related links
More college football coverage
A few months before the fire, Sherrita decided her family was too important to keep using. After spending months by Dion's side through his recovery, seeing the strength of her son and the hundreds of visitors who cared for him, she decided to enter a 12-step program. She's now six years sober.
Dion never judged her.
"I'm her baby," said Dion, whose Ducks play Kansas State on Thursday night in the Fiesta Bowl. "We all grew together. We're going to continue to grow."
Setting a tone
He did what?
That's what Sherrita and Dion's aunt, Yative Tiger, remembered asking the fire fighters outside of a garage on a frightful October 2007 night in Chandler, Ariz.
Dion was a nationally ranked wide receiver for Chandler High School who surpassed the 100-yard mark the night before. On this night, however, Dion and his buddies tried to siphon gasoline from a car with a vacuum cleaner. Their goal was to transfer the gas to another, empty car.
When Dion tried to turn off the gasoline-filled vacuum by pulling the plug from the wall socket, the vacuum exploded and Dion caught fire.
Tiger got the call from one of Dion's friends in the garage and thought it was a joke. Then she heard Dion's straining voice: "Auntie, just come."
When a panicked family arrived to a smoke-filled house with fire trucks and police cars surrounding it, they soon got word: Dion might have trouble walking for a while.
A helicopter transported Dion to a trauma center. He spent six weeks in a burn unit. Sherrita never missed a day. Her and Yative traded nights sleeping by his side because he didn't want to be alone. On nights Sherrita didn't stay over, she spent the entire day there.
She learned a lot about her son that first week.
Teammates, coaches, teachers, church friends -- it seemed the entire town of Chandler came to see Dion. His room became a glorified gift shop.
Sherrita learned that some friends called Dion the "Gentle Giant" because of his sweet disposition and his behemoth frame.
Hearing such stories was rewarding for Sherrita, who always tried to implement the right values in Dion: Treat everybody equally, always speak your mind, never be afraid to ask a question if you don't understand something.
But the fact she heard some of those stories for the first time also affected her a bit.
"It made me feel like I missed some things," Sherrita said.
A love separated
Sherrita called herself a "functional addict." She could hold down a job as an in-house nurse while providing for her kids Dion, Sherrelle and Michael.
They had televisions in their rooms. They had clothes. She made sure her kids never saw the drugs around the house.
But the double life became too hard to maintain. Tiger started to sense there was a problem, that Sherrita was growing irritable and irresponsible when they crossed paths. Once she learned that the electricity went out in the house because Sherrita didn't pay the bills, she had to intervene.
Dion's dad, Rory, had long been out of the picture, so the kids needed stability. When the kids stayed with Tiger for a summer, she decided to make the visit permanent. One of the hardest things Dion's ever done was talk to his mother about separating, he says. But he refused to be angry. He knew this was best for now.
"My aunt, she was my angel," Dion said. "When her sister couldn't be there, she made sure she was. We have a family that truly loves and cares about each other."
Tiger saw the anger grow in her sister. Things got worse before they got better. Sherrita still had the chance to win back her kids with good behavior but continued to use. In fact, it got worse. She lost the house and was bouncing from hotels to shelters.
Sherrita says she was "mad at the world."
"She pretty much hated me," Tiger said. "She wanted to get her kids back but didn't know how. I had to cut her off out of love."
Dion was a seventh-grader with this reality: My mother uses drugs and has to go away.
Dion's family says he has always been the laid-back type, relaxed, never showing his anger, always armed with encouragement. He told his mom: "It's OK." He told her that when she broke the news she was a user, and he told her that while in the hospital, with a cloudy football future.
"I had to accept what was happening," Dion said. "As a young guy, you have to be able to take the situation and make the most of it. I found a getaway playing sports."
'Just try not to mess with him'
Jordan had scholarships from several Pac-12 schools, but Oregon was the most diligent after the fire. The family says some schools were scared away by the incident.
Dion wasn't about to disappoint the Ducks. His immense athleticism and healing power would be his catalyst.
By November, Dion attended a Chandler home game and took to midfield without a walker at halftime. There wasn't a dry eye in the place, Tiger said.
By the spring, he was running track again, just to show he could.
"He was always a good kid, but I think the fire made him realize how great he could be," Tiger said.
Oregon saw the upside but needed time to find out where that upside belonged. He came to Eugene as an offensive player, then redshirted, then moved to defense in the spring of 2010 with the approval of Chip Kelly, who took over as head coach the year before.
Realizing the gift placed at his doorstep, defensive line coach Jerry Azzinaro knew to teach Dion a few things and get out of the way.
"Guys like him, you just try not to mess with him," Azzinaro said. "In your career, you're hoping there are two or three of those type of players ... Guys like him, guys like (Colts All-Pro) Dwight Freeney, you just try not to screw those guys up."
Azzinaro, who coached Freeney at Syracuse, didn't mess this one up, either. Dion could be a first-round pick in April's draft in part because of his versatility at 6-foot-7, 243-pound frame. He can pressure the quarterback, make an open-field tackle and flourish in pass coverage -- sometimes on the same play.
To Azzinaro, Dion's 44 tackles and five sacks in 2012 don't fully illustrate his ability. He also runs a 40-yard dash time in the 4.6s.
"More than rare," said Azzinaro of his skill set.
But years before he tore up the Autzen Stadium field, Dion was putting in heavier, more emotional work in a Phoenix rehab center.
When he wasn't pulling out chairs for old ladies in the facility, he was eating lunch with his mom. They would just talk about school, life, whatever. Remember, Dion never judged. He wasn't about to tell his mom what she needed.
He doesn't draw attention to himself, Sherrita said.
"But you always know he's there," she said. "It's his presence. He has your back. I always knew that."
New life
Sherrita was already on the recovery trail before the fire. The family had "God on our side," she says; she just needed to realize it. She got tired of the anger.
At first, she was trying to beat the addiction on her own. But spending those months with Dion in the burn unit and rehab center pushed her to join a 90-day program in the Phoenix area.
She thought about the strength of Dion that first day in the hospital, just hours after the burn and still in severe pain, as he said to his family, "Look, I can move my toes and fingers."
Peace overcomes the family now. Sobriety helped Sherrita suppress the anger she directed toward her sister all those years. Turns out, they raised Dion together.
"She put in her ingredients, I put in mine, and we got Dion," she said.
Dion wasn't always so unflappable. When he was young, seeing the stability of other families wore on him at times, he said. He'd sit in his room and wonder when things would change.
He hated to see his mom that way. But he had to be strong for others. He had a family to take care of, he says.
Now he can be strong for himself. Football's about to be good to Dion. Once he culminates a successful Oregon career in front of his home fans in the Fiesta Bowl, he could have millions coming his way in a few months. He's getting his degree in sociology. And his mom has been doing great for years.
The fire smoke that once engulfed him has been pushed aside, though Dion can still see it from a distance. That's what he wants, as a sobering reminder of what helped him get this far.
The burn accident wasn't a laughing matter, but Dion admits the family jokes about it from time to time. After all, it's a strange story.
His rewards are anything but.
"This is the most excited I've been in a long time," Dion said.