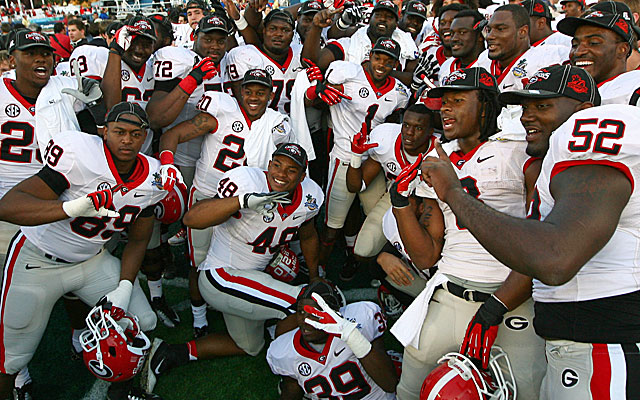 As the NCAA prepares for an April unveiling of a need-based stipend plan, the issue could become yet another dividing line between the haves and have-nots.
The Football Bowl Subdivision comes in all forms, from mega powers with a $163 million revenue stream (Texas) to the ballers on a budget winning on $13 million in revenue (Arkansas State).
The scholarship, at least in theory, is an equalizer. Everyone can offer a full ride.
With a stipend, however, if smaller schools want to keep up with the biggest football schools, they'll have to pay players the full cost of attendance -- which, under NCAA president Mark Emmert's original plan, would cost at least $400,000 a year after Title IX considerations. A need-based plan should decrease that number, but to how much is uncertain.
By the Numbers
No.
What it means
10
Number of schools that made more than $10 million after expenses, excluding total subsidies*
23
Number of schools that turned a profit before subsidies in fiscal 2011#
45
Number of schools from the five smaller conferences that made less than $35 million in revenue in 2011-12@
63
Number of FBS schools that corralled more than $50 million in annual revenue%
252.2
Average number of FBS scholarships based on groupings of popular men's and women's sports
$504,400
The cost per FBS school if it paid those 206.9 scholarship athletes a $2,000 stipend
$1.23 billion
SEC's revenue in 2011-12
$1.22 billion
Combined revenue for MAC, Conference USA, Mountain West and Sun Belt
*According to USA Today's "Details of revenues and expenses at NCAA-D-I public schools, 2006-11"
# - According to a recent Street and Smith's report
@ - Based on the Department of Education
% - According to recently-released figures from the U.S. Department of Educationís Office of Postsecondary Education
For the heavily subsidized school from a smaller conference with no promise of a mega television deal, the extra payment is a massive budgetary hit -- and a potential recruiting handicap.
"It looks like a line is being drawn in the sand -- if you want to be Division I, this is what you have to do," said Texas-San Antonio athletics director Lynn Hickey, whose Roadrunners enter FBS next year as a Conference USA member. "If it's something we need to do to stay at the FBS level, we're going to find a way to do it."
The looming college football playoff money only complicates matters. The new revenue after 2014 is expected to increase the postseason pot by about 270 percent over the current BCS model. The five power conferences are expected to get more than $90 million annually.
Emmert said the goal is not to strain the smaller schools, believing all of Division I football still belongs under a "big tent." But he recognizes the financial gulf creates challenges.
"The gap between revenues of Division I schools now is enormous," Emmert said. "For some schools it makes great sense to [pay the stipends]. [For] others, it would be a significant struggle.
"How do we keep everybody under that tent while recognizing these significant financial variations? There will be discussions about it."
This will be another cost of doing business for schools trying to uphold the student-athlete model. The alternative is potentially leaving good college football revenue on the table.
Sun Belt schools are all in when it comes to paying stipends, says commissioner Karl Benson, who doesn't expect the issue to muscle out the smaller conferences.
"Schools will find that they can't afford not to," Benson said.
Surveying the landscape
More than 60 schools corral over $50 million in annual revenue, according to recently released figures from the U.S. Department of Education's Office of Postsecondary Education.
Those numbers will soar after 2014. The latest college football playoff revenue projection is $470 million annually, a steep climb from the $174.07 million the BCS distributed last season.
The power five conferences -- SEC, Big 12, Big Ten, Pac-12 and ACC -- also have contract bowls worth more than $200 million combined. The smaller conferences -- Big East, Mountain West, Conference USA, Sun Belt and MAC -- will reportedly split close to $90 million.
Numbers like these, along with the stipend issue, beg for a split in governance for power schools, Ohio State athletics director Gene Smith says.
"It's one of those issues that continues to drive the wedge," Smith said. "There's no method to say, 'You know what, there are 60 schools that are different than [the rest of FBS].' "
As Benson points out, the new playoff money is also a "significant increase" to the smaller conferences. This can help with stipends.
But will it be enough across the board to stave off the expansive revenue disparity?
The SEC's combined revenue of $1.22 billion in 2011-12 (including new members Texas A&M and Missouri) outdistances the MAC, Conference USA, Mountain West and Sun Belt combined.
Twenty-three Football Bowl Subdivision schools turned a profit before subsidies in fiscal 2011, according to a recent Sports Business Journal report. Combing through USA Today's Details of revenues and expenses at NCAA D-I public schools, 2006-11 shows 10 FBS schools with total revenue at least $10 million above the total expense line -- Florida, Alabama, Arkansas, Georgia, Michigan, Texas, Ohio State, Penn State, Kansas State and Oklahoma State.
Meanwhile, the 40-plus FBS schools making less than $35 million in revenue could be asked to pay $2,000 to athletes who can prove they need the increase.
"It absolutely will [widen the gulf]. I don't know if it's a good thing," former Texas A&M AD Bill Byrne said. "Nobody said it was fair. I don't want the smaller schools to go away. You have to have somebody to play. I like a broad base of people, but some are definitely intrigued by a Super 60."
Costly decisions
Based on a grouping of most popular men and women's sports, the average number of scholarships is 252.2 for Football Bowl Subdivision and 218.2 for Football Championship Subdivision, according to former Division-I compliance director John Infante of Athleticscholarships.net.
Simple math says FBS schools would pay $504,400 per year on stipends if all 252.2 of those scholarships were covered. But equivalency rules would reduce the percentage, and whichever need-based formula the NCAA selects will likely reduce it even more.
Here are a few options:
• Athletes applying for money through the Free Application for Federal Student Aid (FAFSA).
• Giving universities or conferences discretion over how funds are allocated.
• Calculating stipend payments based on family contributions.
The projected $2,000 could increase in the coming years, considering the rising costs with tuition, room/board, books and fees, though Emmert believes $2,000 is a compromise for schools on both sides of the issue.
If stipend costs are substantial, Hickey knows schools will face difficult budgetary decisions.
Hickey said UTSA operates on a $23 million annual budget, which will grow once access to conference TV money kicks in.
"To have an extra half-million a year to build new facilities would be huge," said Hickey of the money that would go to stipend payments. "For some schools, it may be a staffing issue."
Recruiting could be a challenge. If a player has the option between an extra $2,000 a year at a big school or the promise of more playing time at a smaller school offering a traditional scholarship, "it will be an interesting dynamic" how that athletes makes a selection, Hickey said.
Emmert said he understands the inherent challenges, but still considers the traditional scholarship model antiquated.
Schools, he said, "have to do what everybody does -- you have to set priorities and make budgetary decisions. The decision to support or not support miscellaneous expense allowance doesn't create new money or reduce any of the other expenditures."
A needs-based model is the best way to garner more support, Smith says, because it's less daunting. Schools won't have to pay everyone.
But determining which athletes will qualify could be tricky, especially with FAFSA already a channel to apply for a Pell Grant, which is used by nearly 20 percent of all student-athletes.
"Everyone in our conference is supportive of a need-based model," Smith said.
Larger schools are equipped to do this now, but they must wait.
"Their hands have been tied because they can't get the membership as a whole to go forward," Hickey said.
Even within the BCS structure, however, there are detractors armed with arguments on why the traditional model is best -- why playing the sport you love, representing university colors and getting the college experience paid for is quite the deal.
Wake Forest AD Ron Wellman says based on a Wake scholarship that cost close to $60,000 annually, student-athletes get paid about $120 for every hour directly tied to athletics.
"That's not a bad wage," Wellman said. "They are probably not making that when they get out of school."
Players still waiting
As buzz around the stipend issue grew in 2011, National College Players Association president Ramogi Huma got hundreds of calls to his office from excited players.
"There was so much hope. Our phones were ringing off the hook," Huma said. "Players were trying to find out if it was real."
By December, the plan crashed. And apparently the players haven't forgotten.
The new playoff revenue format is another reminder that players' market value far exceeds the reward of a scholarship, Huma said.
The NCPA is eager for change, but Huma says he's skeptical because schools know players don't have other options in football -- college football is where good talent goes to get noticed.
Huma has had dialogue with Emmert on this issue in the past, but no fruitful talks of late. The NCPA represents approximately 17,000 athletes, Huma says, mostly in football and basketball.
"There's some kind of committee looking at it, but there's no guarantee it will ever come back," Huma said. "They've known this issue, that scholarships don't take care of the full cost of attendance. And quite frankly, players don't understand why it doesn't get done."
Licensing is a separate issue but deepens the intrigue of assessing playes as revenue generators. Clemson AD Dan Radakovich said he understands the argument that players should receive a portion of jersey sales.
It's fairly obvious someone's buying a No. 2 Texas A&M jersey because of Heisman winner Johnny Manziel, he says.
But Radakovich adds, "A lot of people would have to swallow hard to allow that to happen."
The NCAA doesn't plan to jettison the student-athlete model any time soon.
At least Byrne sees a need-based stipend plan as progress because it would satisfy players who have legitimate financial concerns. Byrne said he's seen too many athletes house their parents in their dorms on game weekends because they can't afford a hotel.
"There's a lot of poverty out there," Byrne said. "Any amount helps."
The NCPA has been fighting the pay-for-play issue since 2001, and Huma said the group is still holding out hope college presidents will "do the right thing voluntarily" and allocate a common pool of money for athletes.
But as Huma sees the salaries of athletic directors and coaches rise around him, he's not encouraged.
"You'd be hard pressed to find a group of Americans treated this way," Huma said.
Maybe the dividing wall can help.