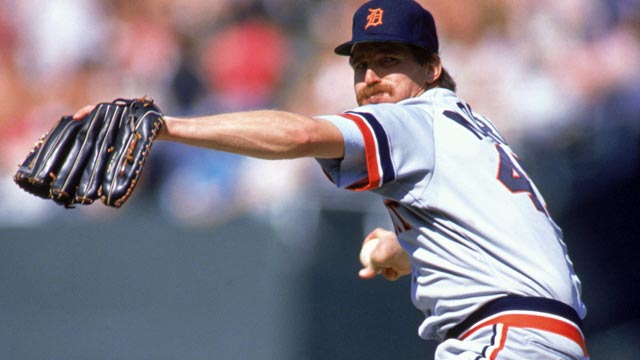 Never in my 14 years of Hall of Fame voting has the ballot been this contentious, this divisive, this downright bitter.
And that's just Jack Morris' candidacy.
The steroid guys? Yeah, well. We knew that was coming, and we know that's here to stay. Most likely, Barry Bonds, Roger Clemens and Co. will get the Great Freeze-Out, and to cut straight to that chase, no, I did not vote for any of them. In a companion column to this one that will post Tuesday, I will explain, thoroughly, my thoughts on that.
As for the rest of my 2013 Hall ballot, it includes six names, including two on whom I've changed my vote:
My ballot
Craig Biggio: One of the greatest, most enduring and most versatile players of his era. Notice, I didn't leave it at "second basemen." Because he came up as a catcher. Played two seasons in the outfield. But he made his mark as a second baseman, a quarterback of some exceptional Astros teams. He had 3,060 hits and is the only player in baseball history with at least 3,000 hits, 600 doubles, 400 steals and 250 homers. He knocked more doubles than any right-handed hitter in baseball history (he ranks fifth all-time, behind lefties Tris Speaker, Stan Musial and Ty Cobb and switch-hitter Pete Rose). Critics say he was a "compiler," that these numbers just sort of stacked up over a 20-year career. I say he was underrated. No matter how long you stick around, numbers don't just randomly accumulate.
Fred McGriff: Wrestling with the Steroid Era throughout the month of December while researching my ballot, I did something I rarely do: I voted for two players I had not supported in previous ballots. McGriff is one. He was a near-miss for me in the past, but the more I try to put the juicers into context, the more I see that maybe we're overlooking the careers of some players who were wrongly diminished. With 493 career homers brushing up against the monster power seasons that came immediately after him, McGriff, I believe is one of these guys. As Bonds, McGwire and Sosa were crushing 50 and 60 homers a season, McGriff's seven consecutive summers of 30 or more homers began to look fairly pedestrian (even though he ranks 26th all time). Knowing what we know now, McGriff's career is worth a second (and third and fourth) look. He had a career .377 on-base percentage along with all of those homers, and his 4,458 total bases rank 49th on baseball's all-time list.
Jack Morris: The more numbers the anti-Morris crowd spin to denigrate his case, the more I think it is an absolute outrage that his greatness is being retroactively diminished. Whether or not you believe wins are overrated for a starting pitcher (silly me, I always thought the point of the game was to win), the fact that Morris earned more of them than any pitcher in the 1980s speaks to his dominance. So does the fact that he was an ace pitcher on three different World Series winners ('84 Tigers, '91 Twins, '92 Blue Jays) and the fact that he made 14 opening day starts (tied for second all-time with Steve Carlton, Randy Johnson, Walter Johnson and Cy Young, behind Tom Seaver's 16). Voters have not yet adjusted to starting pitchers in the DH-era of the American League (it was introduced in 1972), which helps explain Morris' 3.90 ERA. But Sports Illustrated's Tom Verducci researched a piece this winter and noted several things about Morris, including that in 50 seasons of the 162-game schedule (going back even before the DH), only two pitchers exceeded Morris working eight or more innings in 248 starts: Jim Palmer and Bert Blyleven. As Verducci notes, Morris worked eight or more innings in 52 percent of his starts over 14 seasons. That is dominant, Hall of Fame stuff.
Dale Murphy: The second player on this ballot that I voted for after bypassing him in the past. For me, Murphy always has been a near-miss. I just didn't think his greatness extended long enough. But as I skipped Bonds, Clemens and others because of the "character, integrity and sportsmanship" portion of the ballot, I began to think the corollary to that is that certain others should benefit from that. Murphy, known as one of the classiest players ever to play the game, clearly is deserving of a couple of extra bonus points in that regard. His back-to-back MVP awards in 1982 and 1983 and his five consecutive Gold Glove awards ('82-'86) speak to his greatness. My guess: He has a chance to get in one day through the Veterans' Committee. In his final year on the ballot and stuck at 14.5 percent of the vote last year, no way he leaps as high as the required 75 percent this year.
Tim Raines: The second-greatest leadoff hitter of the past several decades, behind Hall of Famer Rickey Henderson, Raines received a stunningly low total of 48.7 percent of the vote last year. He reached base more times than Hall of Famer Tony Gwynn during his career and he ranks 50th all-time in runs scored. While I completely disagree with some of my Sabermetric friends on the Jack Morris issue, they are absolutely right in trumpeting Raines' case. He should be in.
Alan Trammell: As is the case with Morris, apparently, if you starred in Detroit in the 1980s, you were invisible. I hate to use the tired, old "If they played in New York ..." as a fallback, but sheesh. Along with Cal Ripken and Robin Yount -- both Hall of Famers -- Trammell was at the forefront of changing shortstop from a good-glove, light-stick position to one that could be productive offensively. His offensive numbers were far better in every facet than those of Ozzie Smith, and his defense was on par (though he wasn't as flashy) ... yet Ozzie sailed into Cooperstown on his first ballot and Trammell is on his 12th ballot with just 36 percent of the vote last year? I'm not alone in thinking this is a crime -- read what Tony La Russa and Pat Gillick told me last year.
Other names, other thoughts:
Jeff Bagwell and Mike Piazza: Did they do steroids? Loads of speculation, no proof. I want to vote for both, but I'm just not going to rush into it. Bagwell is only in his third year on the ballot, Piazza is in his first. As long as each gets at least five percent of the vote, he will remain on the ballot for 15 years. For me, each is in sort of a holding pattern. I want to give it a few more years, and see if any more of the Steroid Era vagaries clear.
Curt Schilling: Incredible strikeout numbers, incredible postseason resume ... some awfully pedestrian regular season lines mixed in with the great ones. Jack Morris, for example, threw 175 complete games, more than twice Schilling's 83. I wrestled with Schilling's name all the way, literally, until the moment I returned my ballot. And I will again next year, too. But he's in line behind Morris.
Kenny Lofton: Very underrated player. Look no further than his .372 lifetime on-base percentage. But an all-time great? He's not in Tim Raines' class, and he wasn't one of the most fearsome on those great 1990s Indians' teams (Albert Belle, Jim Thome and Omar Vizquel ranked ahead of him, in my book).
Edgar Martinez: One of the all-time great DH's. But when you're one-dimensional -- and nobody was moreso than Edgar -- the offensive numbers have to be higher than 309 homers and 2,247 hits for the Hall.
Don Mattingly: Much like Dale Murphy, his greatness didn't last as long as you'd like. But while Mattingly won one MVP award (1985), Murphy won back-to-back MVPs ('82 and '83) and was far more powerful (398 homers, to Mattingly's 222).
Lee Smith: Like colleague Jon Heyman, I'm a tough grader on specialty guys (see Edgar Martinez comments above). Though Smith retired as the all-time saves leader in 1998, so many of those saves came in the modern era of protecting a sizable lead over just one inning. In the strike-shortened season of 1994, Smith scooped up 33 saves in only 38 ⅓ innings. I'm not sure if that qualifies as closing or baby-sitting.
Larry Walker: Very, very good player. I'd take him on my team. But his home/road splits during all of those Rockies seasons in Coors Field were so uneven.