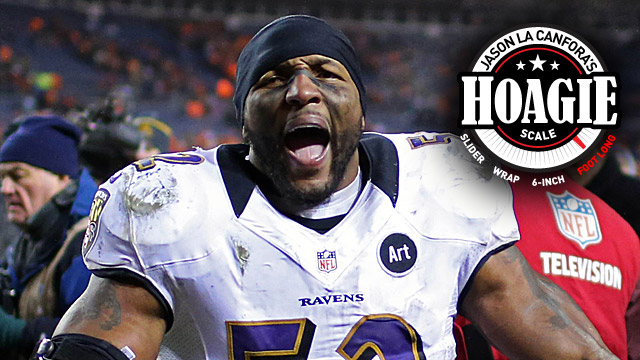 Parity. Parity. Parity.
That's what the NFL is all about. That's all we ever hear about. It's the official buzzword of the NFL (trademark and patent pending).
Yet here we are, at conference championship weekend, and three of the four teams from last year are right back here. The Ravens and Patriots, from Gillette Stadium, is a rematch from the AFC Championship Game. And the 49ers are back as well, a year after a couple of special-teams miscues cost them a trip to the Super Bowl and helped propel the Giants to victory.
Our only new team, the Falcons, carries a fair amount of intrigue, given that everyone keeps waiting for them to collapse and given that they came so damn close to doing just that in epic fashion a week ago to the Seahawks. And, unlike in so many years past, we have an opportunity for some fresh quarterbacking blood in the Super Bowl as well, given that Tom Brady is the only one of the final four who has been to the big dance before.
Overall, I'm liking the possibilities for New Orleans regardless of how this weekend's games pan out. The rise of the young quarterbacks continues to sweep the country. The Ray Lewis retirement tour refuses to end. We can only hope that this Sunday's games live up to the drama-filled contests from last week, with Ravens-Broncos and Seahawks-Falcons both classics. With that in mind, I present these footlongs, and get a little misty eyed while doing so, with just one more game left in this season.

| | | |
| --- | --- | --- |
| |  at  | |
Baltimore at New England
Sunday, Jan. 20, 6:30 p.m. ET (CBS)
Why to watch: Anyone who saw the guts and heart the Ravens displayed last week, in refusing to succumb to Peyton Manning and the Broncos despite giving up two return touchdowns, had to be impressed (even Steelers fans). If you believe in that whole "team of destiny" thing, than this is your group, as the Ravens have been galvanized and reborn since Lewis announced this would be his final season. They are riding an emotional crest that seems to be carrying them despite the fact this aging defense has played about 180 snaps the past two weeks, while New England is relatively fresh and rested. Baltimore doesn't fear Foxborough, that's for sure, having won there in the playoffs a few years back and coming within a dropped Lee Evans pass in the end zone from winning the AFC Championship Game there a year ago. The Patriots lost at Baltimore early this season but have improved significantly on defense since then, although losing Rob Gronkowski and Dannny Woodhead last week should further level the playing field. All of a sudden the Patriots have a slew of running back options to choose from. But all of a sudden they also have a lot more to worry about in Ravens quarterback Joe Flacco, who is playing at a very elite level himself and who outplayed Brady in this game a year ago.
What to watch for: Few throw a better deep ball than Flacco, and even if the Patriots play a fair amount of cover-2, look for Flacco to take some chances. Under new offensive coordinator Jim Caldwell, the Ravens have been moving the pocket more and getting Flacco on designed rollouts, which makes sense here given how much trouble Patriots nose tackle Vince Wilfork has given the interior of Baltimore's offensive line in recent meetings. ... Ravens tackle Michael Oher seems infinitely more comfortable on the right side, and the insertion of Bryant McKinnie at left tackle has resulted in Flacco having much more time to operate. ... Ravens receivers have a knack for crushing drops in huge games in recent years -- with Evans (since cut), Anquan Boldin, Dennis Pitta and others guilty of it. They can't fall prey to it Sunday and expect to match Brady drive for drive. ... Look for the Pats to display some effort to run on first down early in this game and try to flex enough muscle in that regard to force Baltimore out of its deep shell. Ed Reed played very deep against Manning last week and was never challenged; I'm not sure Brady acquiesces half the field that easily this weekend. ... Aaron Hernandez will be moved all over the place and will see if he can shed linebacker Dannell Ellerbe as a matchup. ... Ravens safety Bernard Pollard will be squatting on all the short over-the-middle routes the Patriots lean on, and no doubt will try to set a physical tone. Wes Welker in particular will be a target. ... If this game comes down to a field goal again, you would have to give the Ravens the edge this time around.
| | | |
| --- | --- | --- |
| |  at  | |
San Francisco at Atlanta
Sunday, Jan. 20, 3 p.m. ET (FOX)
Why to watch: If you were of the mind that perhaps there was still some controversy to Jim Harbaugh's decision to bench Alex Smith in favor of Colin Kaepernick, well, that has been resolved, right? Who in America doesn't want to see this kid play after he ran and threw all over the Packers last week and led a once-pedestrian San Francisco offense to nearly 600 yards? That was one of the most impressive performances we've seen in quite some time, and for it to happen with a kid playing his first career playoff game is all the more unique. Now we get Kaepernick on a fast playing surface in a climate-controlled dome against a wounded Falcons defense, and he gets to face Atlanta a week after another outstanding mobile quarterback, Russell Wilson, shredded them. On the other sideline stands Matt Ryan, who even in victory last week opened the door to his postseason detractors by throwing two picks, including a late interception that would have stood as the defining moment in the game had Matt Bryant not gotten a second chance to kick that game-winning field goal. There is no reason to believe this won't be a highly compelling ballgame and regardless of the winner, we will have a fresh-faced QB in the Super Bowl representing the NFC.
What to watch for: Can the Falcons duplicate their ground game from last week? If so and Michael Turner is able to grab yards in chunks and set up Ryan in winning down-and-distance situations, then that will go a long way to keeping the 49ers from churning up the yardage as they did last week. ... John Abraham intends to play, but the Falcons' best pass rusher was hobbled and knocked from the game with his injured ankle a week ago and I'm not sure he will be able to handle more than third-down duty in this game. If he does play in running situations, expect that powerful 49ers offensive line to target him. ... Falcons coordinator Mike Nolan went fairly conservative once he got the lead last week, but I wonder if he decides to attack Kaepernick more. Playing him too passive could be a big mistake. ... 49ers tight end Vernon Davis will have a big game, I suspect. I like him against the Falcons' linebackers. ... Ryan needs to have the same kind of first half as he did a week ago. A slow start here could be damning. ... The 49ers still have to wonder if David Akers has more shanks left in that leg of his. Could impact decision making and how Harbaugh approaches fourth-down situations around midfield. ... Justin Smith was an absolute bull in his first game back from his triceps injury and I don't anticipate anything less than that kind of production Sunday, which also means Aldon Smith should be getting off on the edge.