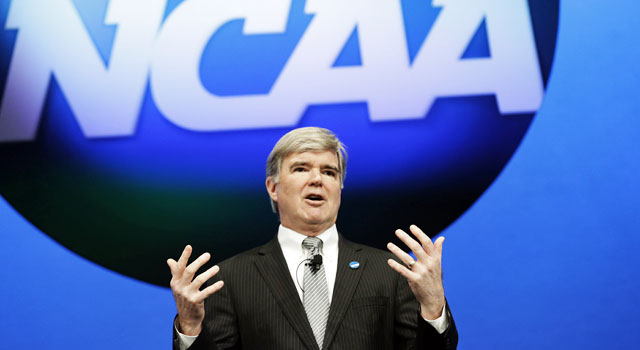 GRAPEVINE, Texas -- Thirty-two minutes of nothing. Not just nothing for NCAA president Mark Emmert in his annual state of the association address, less than nothing.
Thirty-two minutes speaking to an audience of about 3,200 at the NCAA Convention opening business session and not one mention of Penn State. Not one. That, frankly, is jaw-dropping. And completely understandable.
"I cannot comment on a pending lawsuit," Emmert said afterward.
Actually, there are two suits -- one from a state senator and one from Pennsylvania governor. There may be more stemming from the July decision to hand Penn State the near-death penalty. Emmert and his organization have to know that. The most momentous decision in NCAA history is only six months old. It has stirred the emotions not only of NCAA members but of pundits and politicians. Innocent players and coaches in State College are digging out from its consequences.
Doesn't that deserve at least a mention to the membership in the CEO's annual address? Maybe not a detailed explanation -- we would have been here all night -- but some sort of acknowledgement? An update?
"There's certainly been plenty of press coverage and it's been pretty well described in detail," Emmert said later.
Yes, but not to the membership, in person. Not to the folks who wonder what the NCAA was doing reaching into a criminal matter with its constitution to penalize Penn State. Not to those who wonder why the next legal scandal on campus shouldn't invite the NCAA.
The omission was an indicator of how lightly the organization has to tread. This was the equivalent of leaving out the final score in a game story. Emmert not only didn't bury the lead, he didn't tell the story. This was his chance to merely say, "It was a tough decision, but we believe we made the right one." Or is that small statement at risk to end up in a court document?
This, recent events have reminded us, is quickly developing into an age of transparency. Lance Armstrong. Manti Te'o. Soon head coaches in every NCAA sport will be held accountable for the ethical conduct of everyone and everything that is involved in their program -- or else.
It's part of a new penalty matrix that is so broad that even Emmert couldn't define its reach in a post-address press conference.
"We're going to have to work harder on definitions of what that really means," Emmert said.
There's a lot the NCAA can't describe in detail at the moment. It's been a tough year. Joe Paterno was among those remembered on giant video screens before Emmert's speech -- "memorial resolutions" for NCAA members who had died in the past year. The same Paterno who had any reference of him removed from the NCAA Hall of Champions six months ago.
At a time when the enforcement process has come under withering criticism, two investigators were fired in 2012. A former Indianapolis homicide cop (Bill Benjamin) hired to head a football enforcement task force resigned after less eight months on the job.
Will Benjamin, whose hiring was trumpeted as a soaring triumph at this time a year ago, be replaced?
"We'll have to see," Emmert said.
It's been a tough year that could get tougher in 2013 if any of those lawsuits reach a courtroom. The NCAA already has gone to a place it never has before. Among those 3,200 in attendance it would have been hard to find a handful who agreed with Emmert's decision to chop Penn State off at the ankles. That can't be proven. That is one man's straw poll assembled over these last six months from talking to various administrators.
Maybe we'll have to chalk it up to one of the most head-spinning times in NCAA history. An August 2011 presidential summit organized by Emmert set in motion a reform agenda that is about to be adopted with blinding speed. For that Emmert should be congratulated. That he had an agenda at all when he took office less than three years ago is to be praised. Aside from the all-powerful Walter Byers, most of Emmert's predecessors got caught up in the trappings of the office.
They were empty suits. The current guy is fighting off lawsuits.
"Never let a crisis go to waste, right?" Emmert said of his reform movement.
The only significant reform snag has been the passage of a stipend for players. NCAA administrators prefer not to use the p-word – paying players. But that's what it is. It is guilt money being distributed from the insane cash reserve produced by Division I football and basketball.
On this subject, Emmert has been reminded that the majority of the NCAA is not Division I. Even within that highest (and richest) level of athletics, there is push back from schools who either can't afford to pay that stipend or are philosophically opposed to it.
"It's the only one we've had a failure to launch on," Emmert said.
The proposal has gone back for remodeling and may turn out to be nothing more than financial aid -- help for those who can't afford it. And that's OK too, except that it started out as money for everybody.
Hey, what do you want out of 32 minutes? These annual addresses aren't meant to break new ground. Emmert gave a high-minded speech about two sides of a figurative coin -- one regulatory and one competitive. He harkened back to the early days of Rutgers and Princeton in 1869. He recalled the days of Teddy Roosevelt, sort of a founding father of the NCAA.
Except even that may be treading into dangerous territory. Six years ago in a well-researched story, the Indianapolis Star disputed Roosevelt's role in "saving" college football.
Welcome to the age of transparency.