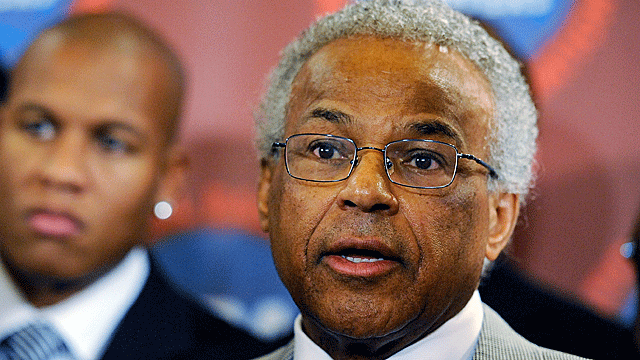 Your first reaction upon hearing that a 469-page report detailing the blatant corruption of Billy Hunter's tenure as executive director of the players' union was sent to every NBA player Thursday might have been: So what? No NBA player is going to bother to read 469 pages about anything.
And you'd be right. For years and years, NBA players have relied on grown men they trusted, hangers-on posing as friends, advisors with advice that benefits only them and leaders who have repeatedly let them down. I hate to be the bearer of bad news –- because the bad news came from the law firm that thoroughly eviscerated Hunter's leadership of the National Basketball Players Association on Thursday –- but it's time for all this to stop.
More on NBA
Related links
It's time for NBA players, and athletes in general, to wake the hell up.
You have finite careers, yet also have an infinite number of people who seek to ride your coattails and manipulate you into serving their agendas. This is partly your fault. All these years of not paying attention, not caring who was making decisions with your money, resulted in a magnum opus of malfeasance that Paul, Weiss, Rifkind, Wharton & Garrison dumped on G. William Hunter after a nine-month investigation. In a report that could not have been more scathing, more detailed, more forthright, more astonishing, it is apparent beyond a shadow of a doubt that Hunter's 16-year reign as executive director of the NBPA should be over.
The investigators who wrote the report said as much, suggesting that Hunter's actions in a litany of areas with a direct bearing on the players, their union, their finances and their well being, should cause them to "consider whether Mr. Hunter should remain as the Union's Executive Director."
The law firm investigating the union since April 2012, of course, tackled the well-known practice of Hunter, 70, employing multiple family members at the union and doing business on the union's behalf with entities controlled by other family members and friends. This was not the news; the NBPA's nepotism had long since been acknowledged and isn't necessarily illegal, and according to a statement released by Hunter on Thursday, it is already in the process of being addressed.
But while the union's numerous business entanglements with Hunter's family members was not even the headline in this exhaustive report, the probe found that the practice extended beyond family members to what it called "cronyism" involving numerous Hunter friends. Honestly, you have to read the report to enjoy the tales of "Uncle Rudy," "Cousin Nate," and various contractors who did union work after allegedly performing personal services to Hunter. At times, the report reads like it has to be fiction, like the script of an Oliver Stone movie. But it's real.
"His choices created the appearance that he operated the Union in part for the benefit of his family and friends," the report said. "… The appearance of favoritism has damaged the union."
Beyond that, the report called Hunter to task for questionable decisions that cost NBA players money, even while their average salaries more than doubled under his 16 years of leadership. But one does not equate with, or absolve Hunter of wrongdoing in, the other.
Such decisions probed by the law firm's investigators amounted to in some cases tens of thousands of dollars in union funds, hundreds of thousands in others and more than $1 million when it came to unused vacation time that Hunter billed the union for in 2009. The report raised serious concerns about Hunter's at times inaccurate accounting of that time (producing his own handwritten vacation logs as proof), and impugned the process by which it was approved and paid (by an executive committee lacking an independent advisor).
Using Hunter's own words, the report highlighted how he relied on language he thought the players would relate to in carrying out his pursuit of the vacation payments.
"[I have] a guaranteed contract," Hunter told the investigators, recounting his explanation to players who questioned him on the payments. "It's the same thing … I'm fighting on behalf of you guys. … I stick the contract right in their face. It's how I treat you, I fight for your contracts. You have a responsibility to me. I expect to be compensated. This is guaranteed."
This was only the tip of the iceberg, the surface story of Hunter's own personal fraternity in which he routinely "suppressed criticism" and "threats to his authority," the report said. Among the most distressing examples, the report says, was the way Hunter and general counsel Gary Hall prevented former NBPA treasurer Pat Garrity from raising questions in an executive committee meeting during 2009 All-Star weekend about the union's dealings with Hunter's family members and also the vacation pay Hunter was requesting.
"Had Mr. Hunter allowed Mr. Garrity to explain his concerns to the Executive Committee without interference," the report states, "the Union might have begun to address years earlier many of the issues this report now covers."
The report also found that Hunter had spent at least $300,000 in union funds "exploring potential investments;" more than $100,000 on gifts for outgoing union presidents and other members of the executive committee, including a $22,000 watch given to union president Derek Fisher in June 2010; $28,000 for former retired players association director Charles Smith for his personal legal fees; additional cost to the union of $69,000 for flights Hunter routinely took to and from his longtime place of residence, Oakland, Calif.; and many, many other examples. The evidence went on and on. It went on for years and miles, backed up by thousands of documents, emails, travel logs -– everything the investigators could get their hands on without subpoenas.
Above all, the report called into question the validity of Hunter's employment contract, stating that "no serious question exists" that Hunter's 2011 contract extension –- worth as much as $18 million -- was not approved by the union's player representatives (one per team), in violation of the NBPA's constitution and bylaws. The report recommended that the executive committee and player reps should decide at All-Star meetings next month whether to ratify Hunter's contract retroactively or permit him to continue as executive director and properly approve a new contract.
In a lengthy statement hours after this meticulous indictment of his leadership of the union was released to the public, Hunter stated that he believes his contract is valid since it was approved by the executive committee and signed by Fisher.
"I look forward to continuing my work with the NBPA," Hunter said.
In light of Thursday's report, such an outcome is unfathomable –- provided enough players suddenly decide to care about things hardly any of them questioned for years. There were signs Thursday of an awakening among the union membership, as one player who had reviewed the report told CBSSports.com, "It speaks for itself."
Before the report was even released, Hunter's adversaries in the agent community already were preparing for his ouster, which now seems inevitable. As CBSSports.com reported earlier Thursday, among those contracted by powerful agents seeking a replacement for Hunter was Steve Mills, the former president of Madison Square Garden Sports and a 16-year employee of the NBA. Mills has told associates that he'd be interested in being considered for the position in the event Hunter stepped down, league sources told CBSSports.com.
Asked if this report would be the end for Hunter as union chief, one prominent agent responded in a text message, "About time."
Hunter said in his statement he was "pleased" that the report found no evidence of criminal wrongdoing. But in addition to citing several areas in which Hunter failed to adhere to federal law governing labor unions and the laws of the state of Delaware, where the NBPA is incorporated, the report states that investigators have been "in direct communication with the U.S. Attorney's Office throughout this investigation." The firm has turned over more than 29,000 pages of documents to the government, and will continue to do so.
Investigators most recently met with federal prosecutors on Jan. 9 to summarize their findings, and the report states that federal prosecutors intend to review the Paul, Weiss report as their criminal investigation continues.
Among the most curious findings in the report involved the production of an apparent contract for services between the union and Prim Capital, the investment firm chaired by Hunter's son, Todd. The 2011 letter called for a five-year agreement between the parties that "cannot be canceled or revoked for any reason by the NBPA," at a cost of $602,000 per year. The report characterized such an agreement as "highly unusual and inconsistent with normal business practices" and questioned its validity. Neither Hunter nor the union's director of finance had divulged in their interviews that such an agreement existed. The letter has been referred to the U.S. Attorney's Office, the report said.
There are several areas in which the report alludes to potential criminal wrongdoing by Hunter, but concedes that, due to the passage of time, poor record keeping and lack of subpoena power, its investigation on these points was inconclusive. Among these were two installments paid by the union to Hunter totaling $1.3 million in early 2009 for 146 unused vacation days. The Paul, Weiss investigators filleted Hunter on this issue.
The report states that Hunter's inappropriately approved employment contract –- for which Hunter was the sole bargaining agent, with his longtime friend, Hall (who died in May 2011), as the only legal representative in the negotiation –- called for Hunter to receive seven weeks of vacation per year. It did not limit the number of unused days he could carry forward from one year to the next.
"For us the question is whether in negotiating the employment contracts the parties reasonably contemplated that scores of vacation days would be accrued as contingent liabilities on the Union's balance sheet, without any cap, based solely on Mr. Hunter's self-reporting of his vacation time," the report stated. "Such an outcome is, to be kind, unusual and inconsistent with best practices."
Hunter's hand-written vacation log was at times "demonstrably wrong," the report stated, and the method by which Hunter received payment was "rife with the stigma of self-dealing for which Mr. Hunter showed no appreciation."
As it did throughout the report, Paul, Weiss investigators used Hunter's own words to ensnare him. In December 2006 and January 2007, Hunter spent two weeks at his Oakland, Calif., home and emailed a friend that he was indoors most of the time due to bad weather. "Did get to see a lot of movies over the holidays and view a lottttt of television," Hunter wrote. Hunter did not report using a single vacation day for the time in question, and did not concede that his records were inaccurate when questioned by investigators.
"If Mr. Hunter knowingly chose not to report taking vacation on days that he spent enjoying leisure time at home and not working on any Union business, and thereafter sought reimbursement with the intent that the Union would rely on his reporting to reimburse him, then he could be found to have defrauded the Union in the amount of tens of thousands of dollars," the report said. "Our analysis of whether Mr. Hunter did so was ultimately inconclusive."
Among the other fiduciary failures, lapses in judgment and questionable conduct highlighted in the report were:
* Hunter has spent at least $300,000 in union money "exploring potential investments for the Union and its members," including but not limited to real estate projects, an energy drink company and a mixed martial arts fighting league in Japan. Regarding one such exploration, Hunter wrote in a 2008 email, "I have spent a lot of money on consultants and have nothing to show for it."
* In addition to $3,600 in union-billed travel expenses Hunter admitted to investigators should be billed back to him as personal expenses, Paul, Weiss identified other suspect expense reporting on Hunter's part. The total cost of personal travel expense that the report suggests the union should seek repayment from Hunter for was $8,170.
* Incredibly, the report found that nearly one-third of the 208 flights Hunter took from February 2007 through July 2012 either departed from or arrived in Oakland or San Francisco, where he lived for more than 25 years and still maintains a residence. The added cost to the union for those legs of Hunter's flights was $69,000, the report said. The law firm's investigators were not persuaded by Hunter's explanations regarding so many trips routed through his hometown. "Because Hunter has nearly unlimited discretion to attend games or schedule business meetings on the West Coast, it is not difficult for him to plan trips that are, in his words, 'a combination of vacation and work,' yet paid for entirely by the NBPA," they said. All of Hunter's employment contracts have permitted him to fly first-class when traveling for union business, the report says.
This was on page 186 of the report, and there was more –- so much more. The question now will be whether players will care enough to do anything about it, or will simply do what they've done forever -– look the other way.