He can beat you with his arm. He can beat you with his legs. He is the new breed of quarterback, a gazelle when he runs, a rocket for a right arm and the swagger you love from guys who play the position.
So how do you stop -- or at least contain -- San Francisco 49ers quarterback Colin Kaepernick?
San Francisco offensive coordinator Greg Roman has done a fantastic job of designing an offense and plays that are perfect for Kaepernick's skill set. But as the 49ers ready to play the Baltimore Ravens in Super Bowl XLVII on Sunday at the Superdome, you know Ravens coaches will have something up their sleeve to try and slow Kaepernick and the 49ers' Pistol offense.
To get an idea what the Ravens might do, I dissected all of Kaepernick's starts to come up with the things that seemed to work against him, as well as other ideas he ate alive. Here's a look.
1. Don't play mostly man coverage
The Packers were dumb enough to do it across the field and Kaepernick ran wild, rushing for 181 yards in the 49ers' divisional-round victory.
Playing man, the defensive backs turn their back to the quarterback on pass plays. That's suicide against Kaepernick when he gets outside the pocket. In several games I watched, teams did a nice job in coverage but Kaepernick turned their coverage into big plays with his legs.
Here's a look at one of those against the Packers. The 49ers went to a five-receiver look. The Packers matched up in man coverage across the board as you can see by the yellow circles. That left Kaepernick an easy run for a 20-yard touchdown as you can see by the third picture. The two defensive backs you can see are unaware he is even running.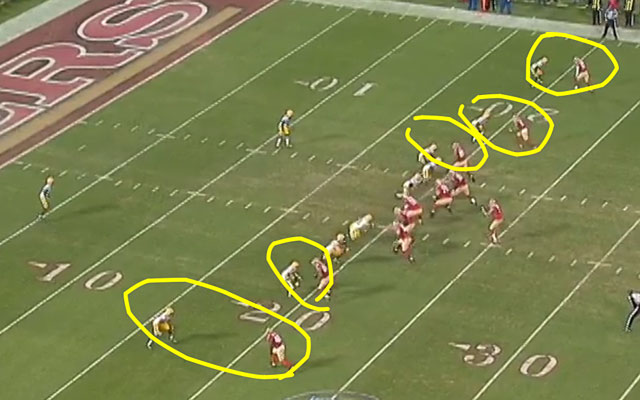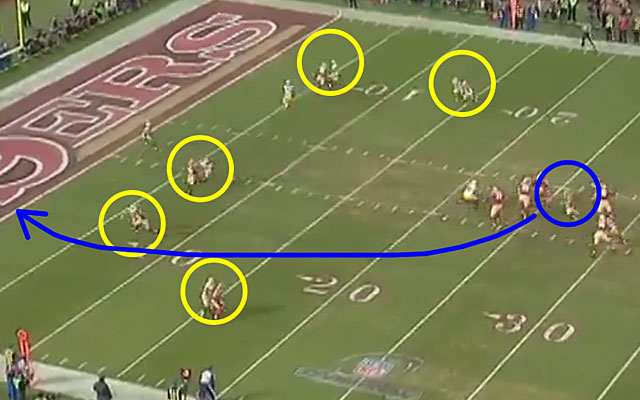 The Seahawks did a nice job on him when they faced him Dec. 23 in Seattle. They played some man coverage, but not as much as normal. They also brought their active safeties -- Kam Chancellor and Earl Thomas -- down in the box to help spy Kaepernick.
The Rams also did a nice job on him in their 16-13 overtime victory in Week 13 by playing a lot of three-deep zone. They also brought safety Quintin Mikell down into the box for eight-man fronts. That helped contain Kaepernick for most of the game, although he did run for a 50-yard gain when the Rams got too far inside on their zone coverage. Here's a look at some of the Rams' zone against Kaepernick. This is a third-and-long play that the Rams dropped seven and rushed four. That led to Kaepernick being sacked.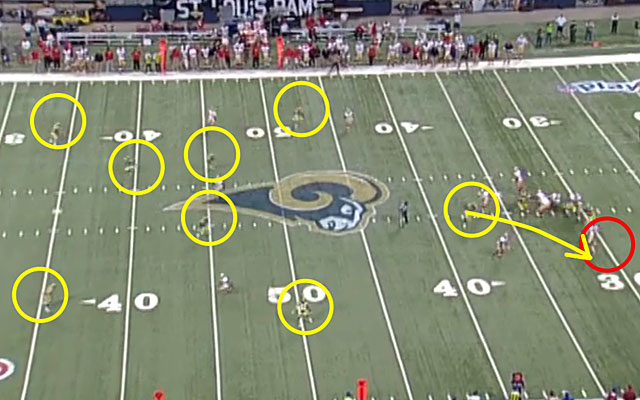 I think Kaepernick is still developing as a passer, too. His initial read is where he throws it much of the time. He has improved at reading the field as the season has moved along, but I still think he prefers the easy throws inside, like slants to the receivers and quick throws to the tight ends. He doesn't seem to be good at throwing deep outside. So I would force him to throw there. Dare him to beat me deep and outside.
Here's a look at what a good scheme can do to Kaepernick when he's throwing it. The Patriots got him to throw a pick when they made it look as if Randy Moss (blue circle) was in man coverage. But safety Devin McCourty (black circle) was playing deep and baited Kaepernick to make the throw. McCourty had an easy pick. You can see the Patriots' outside rushers (yellow circles) kept their width to keep him from getting outside.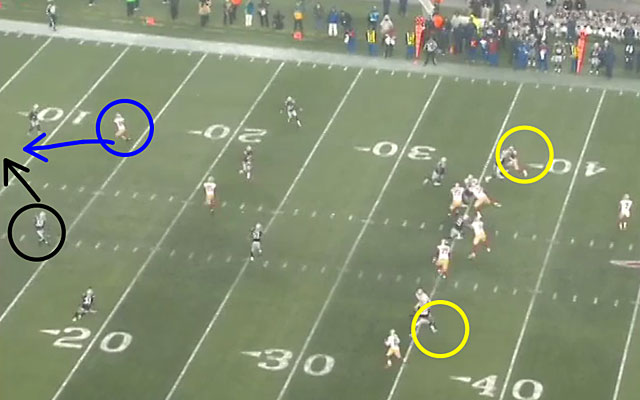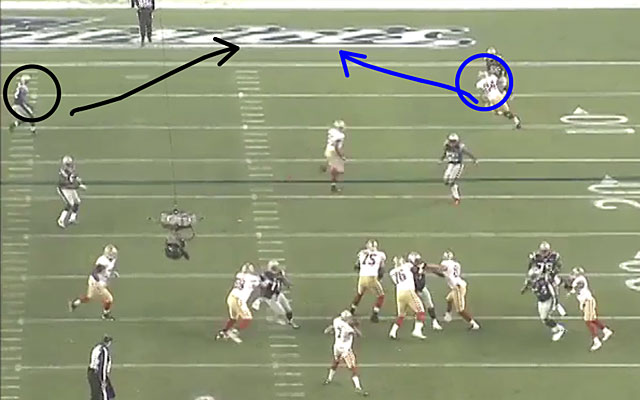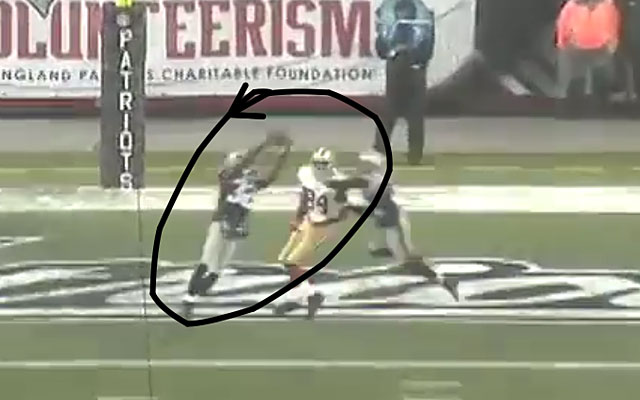 So the advice is play some man, but zone would seem to be the way to go against Kaepernick.
2. Get creative with the safeties
As for slowing his runs in the run game or read option, I would make sure to have five guys on the line, maybe eight in the box. I mentioned Mikell earlier, and he did a nice job against the 49ers for the Rams. He played up near the line of scrimmage and was active for much of the Rams' upset.  As I mentioned, Seattle did some of that with its safeties.
Here's a look at the Rams' eight-man box with Mikell. On some plays, he blitzed and forced fullback Bruce Miller to attack him, which freed up the linebackers to make plays. Here's a look at one play where Mikell (blue X) forced Frank Gore's run inside and the Rams were able to limit him to a short gain.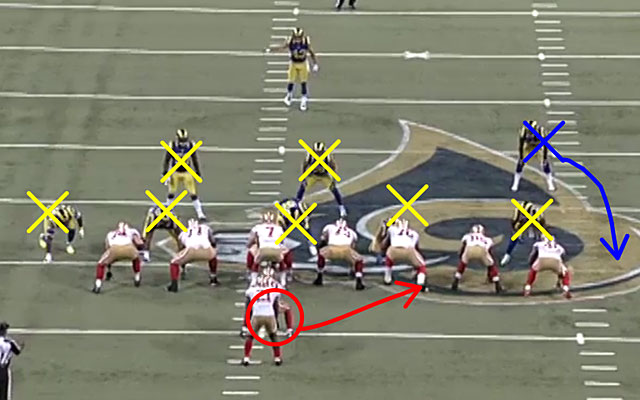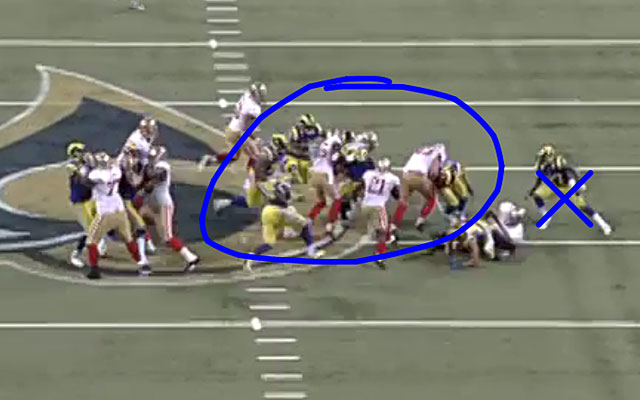 Another thing for the defense to do is to make sure the ends or outside linebackers hold the edge until they are sure the ball is handed off. The Falcons did a great job of doing that last week in the NFC Championship Game. The ends and linebackers held up on the outside before crashing on the running backs.
That helped open up Gore and LaMichael James to get three touchdowns on the read-option plays inside, but it worked to slow Kaepernick. He never could get outside; the Falcons made him the focal point.
One other thing I noticed that's key to hampering Kaepernick's ability to run is no different than slowing any other running game. It's penetration. The San Francisco run game has a lot of movement. They pull the fullback. They pull the tight ends. They pull the guards. So if you can get penetration inside against their line, it prevents those movers from getting where they need to be. It blows the play up. The Rams and Seahawks both did a good job getting penetration to slow the run game at times. Atlanta did some, too, although Gore did get going a bit.
As the players like to say, penetration rules the nation.
Here's a look at a play from the Atlanta game where the 49ers pull left guard Mike Iupati to lead the run play. But Atlanta's two down inside players both got penetration and Iupati could not get to where he needed to be. That meant linebacker Akeem Dent was free to make the tackle. If you can stop Gore's runs inside, it will help stop the outside runs for Kaepernick. If the 49ers get the inside run going, it will help open up Kaepernick outside.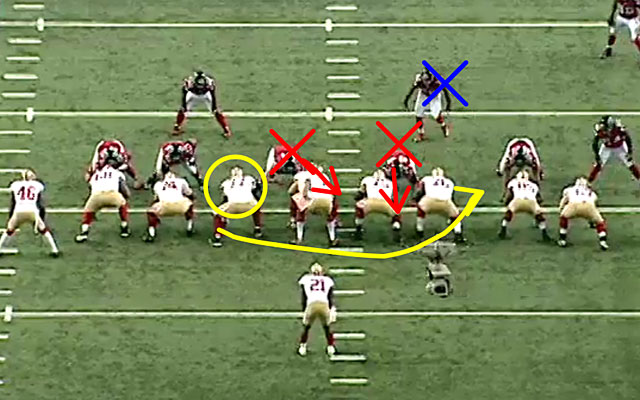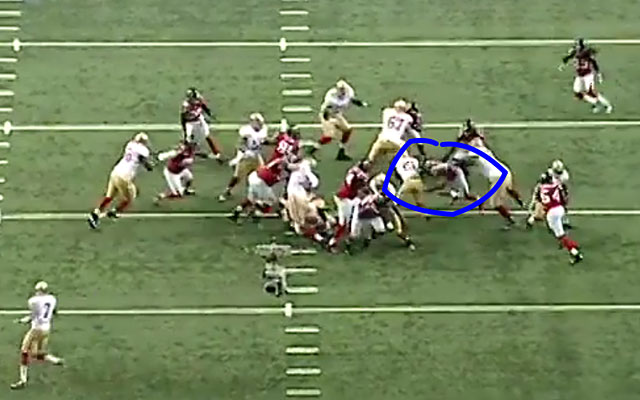 Keys to containing Kaepernick
1. Don't play a lot of man coverage with your back to the quarterback.
2. Make sure you have at least five guys on the line of scrimmage and maybe eight in the box. Your ends also have to stay outside to keep him from pulling the football on the read option runs.
3. Use a safety up near the line of scrimmage like a linebacker, and do it a lot. You can drop him out of that spot to disguise things.
4. Get penetration inside to help slow the inside runs.
5. Mix it up. Kaepernick has only nine NFL starts, so make him think. Disguise and deceive. He's smart. And he does a good job of making checks, but nine starts isn't a lot.
6. Last, but maybe most important, hit him when he runs. And hit him hard. He will think twice about pulling the football after a few good shots.