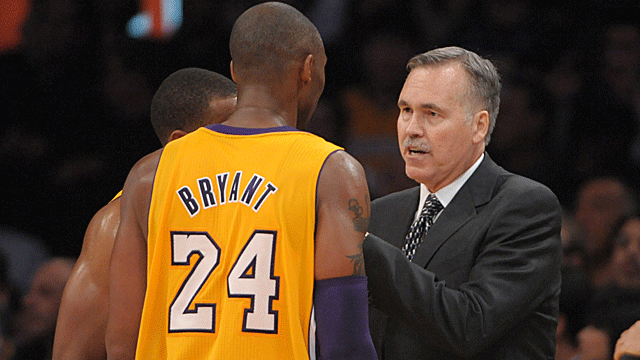 LOS ANGELES -- The Lakers' season hit rock bottom earlier this week in Memphis, another troubling loss that was preceded by that now infamous team meeting in which grievances were aired and selfishness was supposed to have been checked at the locker room door.
After returning for a brief homestand that leads into the annual Grammys road trip -- seven games in 12 days -- the Lakers finally made a stand Sunday, finally made the effort to play together and go somewhere. It was a 105-96 victory over the defending Western Conference champion Thunder, the cohesive, drama-free team that has passed the star-studded Lakers and become the class of the conference with their simple, effective, blissfully bland way of doing things right all the time.
"Feels good to finally beat a team that's worth a [expletive]," Kobe Bryant said at his locker afterward, on his way to a little league basketball game where the kids probably play better team basketball than the Lakers had for the past two months.
The Lakers actually forged an identity for themselves with consecutive wins over the Jazz and Thunder. The ball moved. The shots went down. The defense was energized by this newfound success at the other end of the floor. And right in the middle of it was not the point guard who was brought here to make it all go -- Steve Nash -- but rather Bryant, who logged his second straight 14-assist game Sunday, prompting Nash to actually say, "He reminds me a little bit of Magic Johnson the way he's playing right now."
Bryant, whose clash with Dwight Howard in that team meeting made more headlines than a multitude of other clashes that occurred, emerged as a leader from this point of no return in the Lakers' season. Against Utah, Nash had two assists to Bryant's 14. Against the Thunder on Sunday, Nash had five assists to Bryant's 14.
Here is what Bryant realized, and what Nash and Mike D'Antoni realized, too, as they were watching their Phoenix legacy go up in flames in LA: The ball doesn't have to be in Nash's hands all the time for D'Antoni's offense to work. But whoever has the ball in this system -- this blasphemous way of playing that requires player movement, ball movement and contested shots to be passed up for open ones -- has the control.
We've been watching Bryant play this game for 17 years, and if we know anything, we know that he needs to be in control. Now, he is -- improbably, given the force field of past success that surrounded D'Antoni and Nash when they were reunited here. The Lakers will sink or swim with the ball in Bryant's hands.
"I've been on teams where scoring the ball kind of drives the team, but here, the facilitator drives the team," Bryant said. "So it's really about figuring out what drives the team and adapting to it. I'm opened up to all possibilities. I'm just trying to figure out what are we going to do, what can I do to help us win ball games? It seems like I've kind of got my finger on the pulse right now."
It doesn't seem that way. It is that way.
This is what Carmelo Anthony wanted no part of when D'Antoni was in New York. Anthony could not bring himself to adapt his game to D'Antoni's unselfish, anti-isolation, hero-ball-be-damned demands. By running the Lakers' halfcourt offense -- becoming the focal point and the fulcrum of the team, the way Nash was supposed to be -- Bryant is doing exactly what he'd publicly warned Anthony not to do for D'Antoni in New York at the height of the Linsanity craze last season.
Here is what Bryant said of Anthony last season, when I asked him about the seemingly incongruous marriage of Melo's Kobe-like, mid-post isolation game with D'Antoni's point-guard driven, ball-moving offense:
"You need to get the ball to Melo in the mid-post and the post because that's where he operates and it frees him up to do what he does best. He's not going to be a facilitator, so people need to stop expecting that from him. That could be Jeremy Lin's job, and Melo can put the ball in the basket and do what he does best."
And this:
"I hope he has the stubbornness to stay with it and not let you guys talk him into changing anything about his game, because I damn sure wouldn't."
Melo didn't. D'Antoni had no organizational clout because the Knicks let him try to coach Anthony in an offense that was antithetical to his instincts without a contract that lasted beyond that season. We all know who lost that tug of war. We also know that the Knicks, second in the East behind Miami under Mike Woodson, wouldn't go back in time and do it any differently.
Now, here we have Bryant, adapting and changing his game and doing things he advised Anthony not to do when faced with nearly identical circumstances -- except the lame-duck part for D'Antoni, who is only 34 games into a four-year contract with the Lakers. On Sunday, D'Antoni dismissed my theory that his lame-duck status led to his demise in the battle of wills with Anthony and others on that Knicks team, and candidly rejected the notion that his job security has anything to do with his current players knowing they have no choice but to embrace what he wants.
"I don't know about that, either," D'Antoni said. "I think that's fair. Players are players. They don't sit down and study that."
Whatever the reasons, the Lakers emerged from the depths of rock bottom in Memphis as a team that is starting to play like one. Whether this facilitating binge from Bryant is an act of unselfishness, self-preservation or both, it doesn't matter much as long as it works.
"We feel more like a team," Nash said. "It feels like we're pulling in the same direction, and it's a beautiful thing when that happens in this game. It's unfortunate it took this long."
Nash's history as D'Antoni's trigger man, Bryant's instincts to exert his shot-making greatness on every game, Pau Gasol's grumpiness about being benched and/or traded, Howard's uncertain free-agent future -- the combined drag was enough to ground a 767, much less a basketball team. The Lakers couldn't function that way, couldn't go anywhere with so many personal agendas to hurdle.
"Everybody was worried about their own situation and their own issues," Gasol said. "And when you start doing that, it takes away from the team." For Howard, whose free-agent future looms over his every word, it was part desperation and part realization that individual play and goals could no longer carry the day -- for anyone, including him.
"You can't do it by yourself," Howard said. "We tried that, and it doesn't work. When we do it together, we're unstoppable."
D'Antoni is reluctant to characterize Bryant's recent playmaking approach as a "sacrifice." (Is it a sacrifice, after all, to play the right way?) But he did say Sunday that Bryant has to play by the same rules as everybody else. The rules are simple.
"If I'm covered, I pass," D'Antoni said. "If I'm open, I shoot. ... It's like Steve Nash; everybody wants him to shoot a little bit more, and that's cool. If the ball moves, he will. But if he starts to go one-on-one, we're done."
And if Bryant does?
"One-on-one's OK," D'Antoni said. "It's the one-on-twos and one-on-threes that get you in a little bit of trouble. And that's where he has to understand that, 'OK, this team, because I've got a lot of good teammates with me, I can't just do that. I've got to be aggressive ... but understand at a certain point when they start to collapse on you, the ball's gotta go.'"
The ball went Sunday against the Thunder, 14 times from Bryant's fingertips to a teammate with a better shot. It went from Bryant to Nash for a driving layup (assist No. 12), and from Bryant to Gasol on a dive to the basket (assist No. 14), which turned a two-possession game into a six-point lead, 101-95, with 1:09 left. On the next trip, Bryant shook Thabo Sefolosha off the dribble for a jumper and a seven-point lead, 103-96. For the first time in a long time, the Lakers had a plan -- and it was working.
"When we slow it down and Kobe has the ball and is looking at the defense, we screen for him and they have to choose their poison," Howard said.
It isn't a trend until the Lakers sustain it for more than two games, and the seven-game trip that begins Wednesday in Phoenix -- the stomping ground of D'Antoni and Nash -- is as good a time as any to finally make a stand for their season. It's still not all lollipops and birthday candles in paradise; there are issues still to be resolved. Howard is still brushing off questions about whether he's comfortable enough here to re-sign as a free agent. Gasol is playing better, but still having trouble accepting his bench role. Nash? Playing off the ball with Bryant in control is "a big difference for me, a big change."
"It's not going to be the same as it was in Phoenix," Nash said. "It's going to be different and I've got to accept it and embrace it and try to help any way I can."
Just don't fall into the trap of thinking that Bryant won't be able to sustain his role as the facilitator, because doing so would be ignoring who he is -- how he's built. He who initiates D'Antoni's offense has the control, and Bryant has seized it. It took him a while to find the pulse of this Lakers team, but now that he's found it and placed his finger there, it's not coming off.